There is nothing like homemade, thick crust pizza topped with ricotta, mozzarella, and tomato slices that roast in the oven.
By Anita Schecter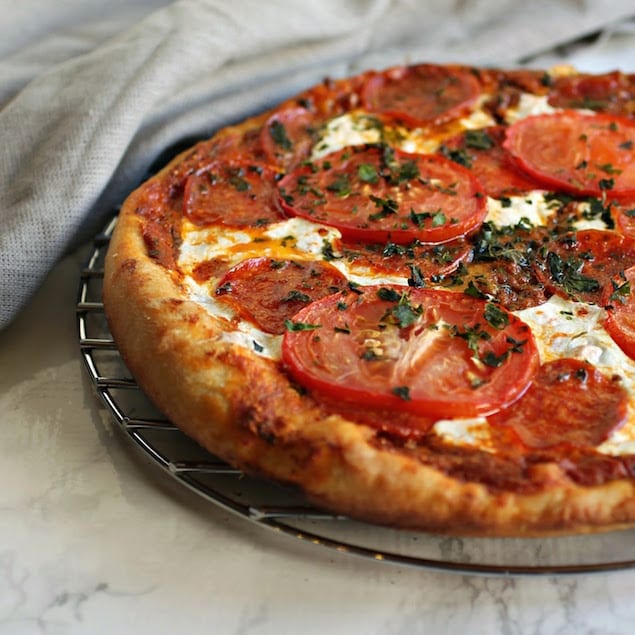 I'm a lazy pizza maker. There, I've said it. Living in New York, it's easy enough to satisfy a pizza craving by simply walking two blocks in any direction of my apartment but I don't so much care for those thin pizza parlor slices. OK, I may have just jeopardized my right to live here but I've said that now, too.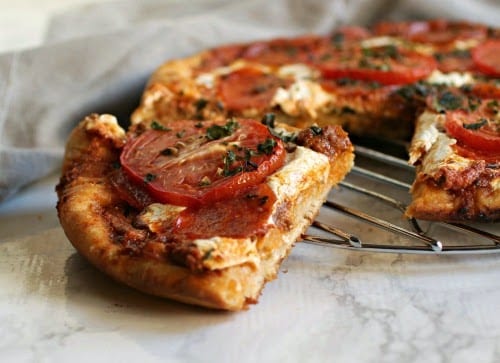 I decided it was time to do my homemade pizza justice by taking care how I made it. And since I seriously favor the thicker crust, thicker pizza option, I went a little deep dish and used my cast iron pan. An excellent option for homemade pizza, by the way, since I think most people don't have a proper pizza stone.
The fillings are really a matter of personal choice and somewhat based on what you have in the house. I had some leftover chili but any ground beef will do. And why choose between red sauce and white ricotta. I love both so I used both, but probably one of the best things I did here is the cheese. When I was at the butcher over the weekend for the chili meat, I saw they had balls of fresh made mozzarella and I bought one. I could seriously just eat the whole thing standing up in my kitchen but what a fabulous addition it made to my pizza.
See Also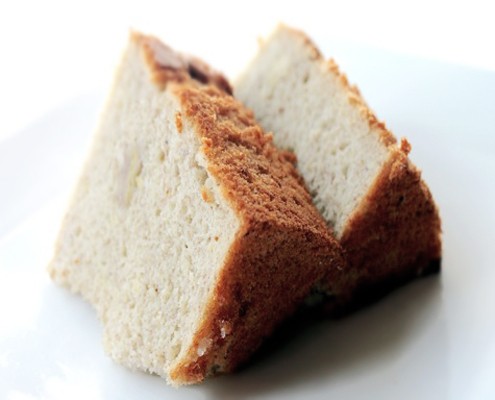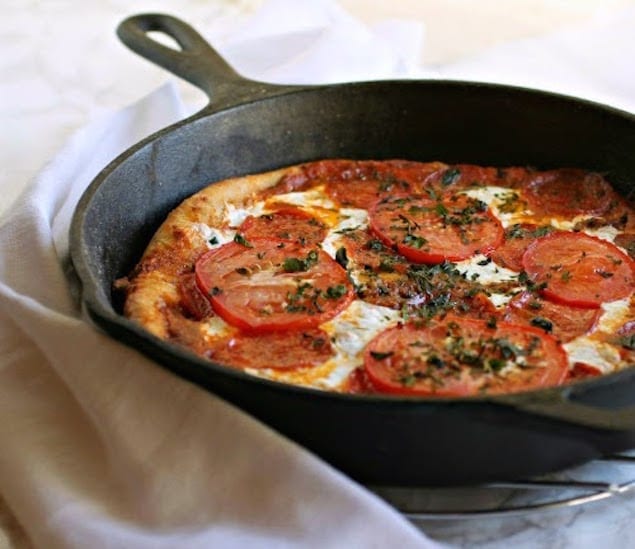 One taste and I was in pizza heaven and I knew there was no going back, ever. And the roasted taste of the tomatoes on top? SO not optional. And now I'm not a lazy pizza maker anymore, homemade dough or not. Enjoy!

Deep Dish Skillet Pizza
There is nothing like homemade, thick crust pizza topped with ricotta, mozzarella, and tomato slices that roast in the oven.
Cuisine:
Italian-Inspired
Ingredients
1 Tablespoon olive oil
1 Ball pizza dough (approx. 9 oz.)
¾ Cup ricotta cheese
¾ Cup tomato or marinara sauce
¾ Cup cooked ground beef (I used leftover chili)
6 Slices fresh mozzarella cheese (approx.)
20 Slices pepperoni, or however many fit on your pizza
½ Large tomato, sliced
2 Tablespoons chopped fresh basil
Instructions
Pre-heat the oven to 450F degrees.
Add the olive oil to a 9" cast iron pan. Roll out the dough on a floured surface and place in the pan.
Stir half the basil into the ricotta cheese and spread on the bottom of the dough. Top with the tomato sauce. Crumble on the beef followed by the mozzarella cheese. Top with the slices of pepperoni and the fresh tomato. Sprinkle on the remaining basil.
Place the pan on high heat on the stovetop and leave for 2 minutes to heat up the pan and get the bottom of the crust started cooking. After the 2 minutes, move the pan to the oven and cook for an additional 18 minutes.