Bring brightness, silkiness, and decadence to risotto with this recipe.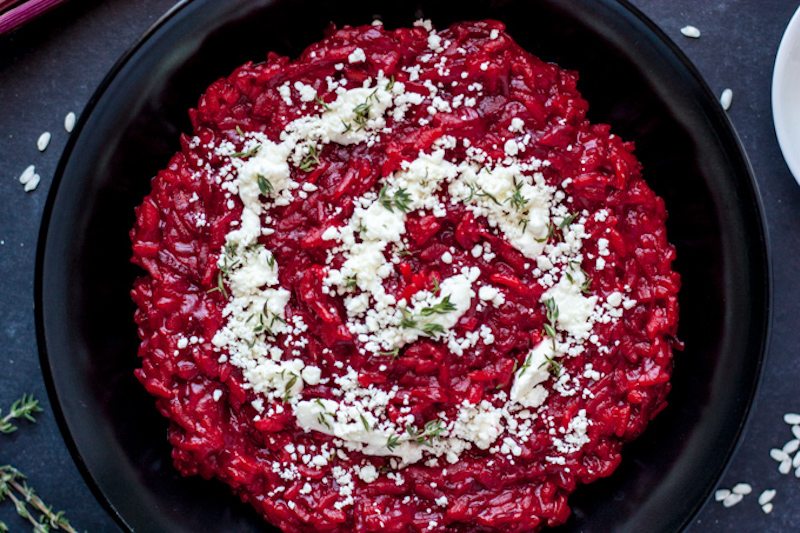 I'm a sucker for beets. Roasted cubes, shredded raw, whatever way you're serving them, I'll have seconds. Maybe even thirds. While many people dislike beets (why?!), I'm convinced this silky, rich, and earthy Beet Risotto with Goat Cheese, Honey & Truffle Oil will convert all the beet-haters in the world. You're probably wondering how I developed this love affair with a humble root vegetable that isn't traditionally part of Chinese cooking or extensively grown in Southern California. (We're actually the strawberry capital of the world and produce all the jalapeños for Huy Fong Sriracha!)
This recipe is so easy, there's no reason to go out when you can whip up a whole pot in your PJs with minimal effort. Start with some fresh beets. I wouldn't use the pre-cooked vacuum sealed packs for this risotto since we are going to cook down the beets with the rice. Your store might even have pre-shredded packs of beets, but if they don't, grab a bunch of raw beets from the produce section. If you're feeling fancy, grab the golden ones instead of the traditional red. Personally, I love the deep red color and always gravitate towards them.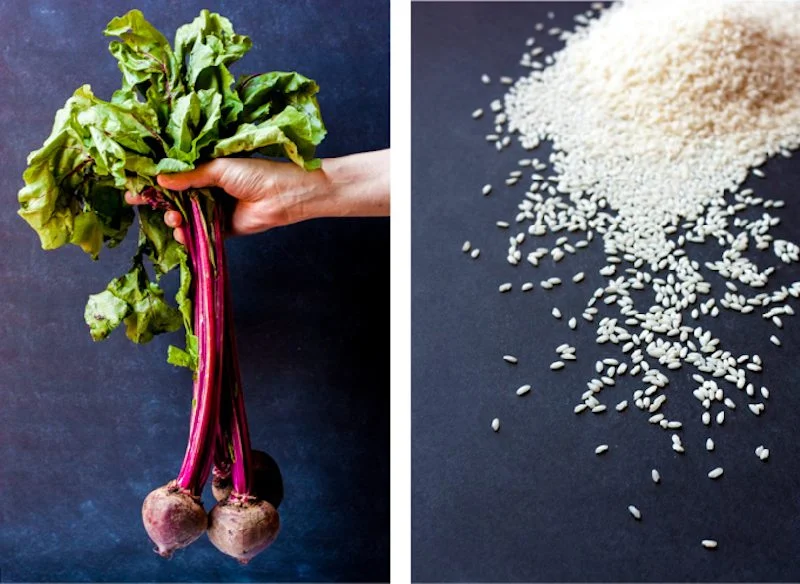 Now let's talk about the backbone of our beet risotto, rice. I usually use brown jasmine rice for all our rice dishes, but for risotto, I prefer to stick to the traditional arborio variety. Arborio rice has more up its sleeve than the Denominazione di Origine Protetta (DOP) label. While it's only grown in the town of Arborio in the Po Valley, it also has an unusually high starch content. This lends risotto its famed creamy texture. Technically, we want a rice with a high amylopectin level as this particular starch breaks down easily and creates a "stickiness" conducive to building up a saucy texture. If you use a rice with a higher amylose level, think jasmine or basmati, it will cook up firm and discrete.
Preparing your beets for our beet risotto is where it gets a little messy. As you can imagine, beet juice stains. Badly. If you have a nice wooden cutting board, it probably best to stow that away for this task. Instead, I use my plastic cutting board and snap on a pair of disposable rubber gloves. You don't need gloves, but I don't like have purple and pink hands for days after handling beets! They make cleanup quick and easy. And make sure to put on an apron too. Usually, I get away without wearing one while cooking, but beet juice will spatter and once it hits your favorite white sweater, say goodbye. Peel the beets and grate them on a large box grater. The shaggy texture will almost melt into the risotto so you won't find chunks of beets once done cooking. If you have a food processor or a mandolin with a fine matchstick setting, those would work too. Dice up your shallot and garlic as well.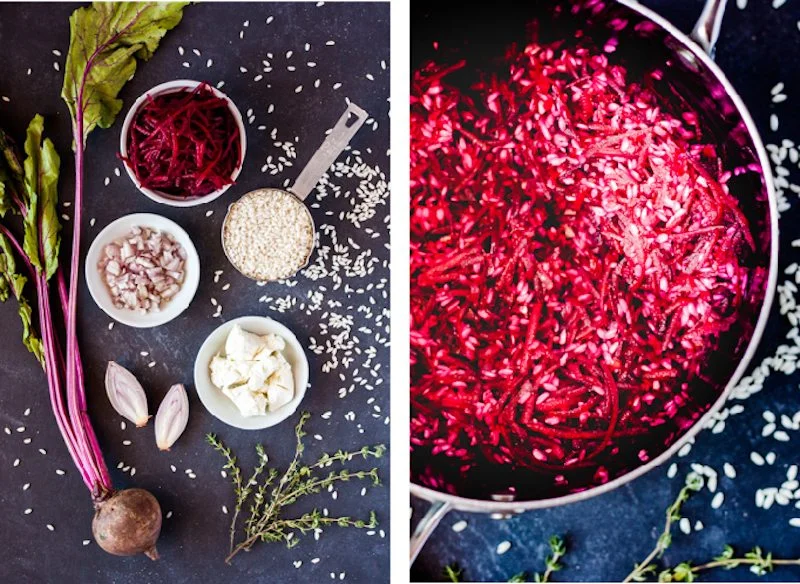 Risotto is a little more involved than letting the rice simmer on the stove or plopping the rice into the rice cooker (how Asians make rice). We need to have a pot of hot stock to constantly stir into the risotto. To keep the beet risotto vegetarian, we can stick to vegetable stock. If you only have chicken stock, that would work too, but I would stay away from beef or seafood stock as the flavors are overpowering. Just keep a small stockpot on low heat so your stock stays hot during the risotto making process.
There are three main steps for making the beet risotto, but they are very easy and intuitive. Only the third step is unique and requires a little bit of elbow grease!
A soffrito is the base of many Italian recipes, especially for sauces and risotto. Start by sautéing your shallot and garlic in a generous amount of oil or butter until aromatic.
Add in the rice and shredded beets and toast until the grains of rice are slightly translucent at the edges but opaque in the center. This is known as tostatura. You'll be able to smell the rice and should see them beginning to take on a magenta color from the beets. It's essential that you have enough fat in the pot to completely coat every grain, so add a little more butter or oil in to make it happen. Go on, don't be shy!
Now comes the unique risotto technique. Cottura refers to the way we incorporate liquid to the risotto. Instead of pouring in all the liquid at once, we add in the hot liquid one ladle at a time. Between ladles, stirring encourages absorption ensures the rice releases its starch to create the definitive creamy sauce. Only add in more liquid once the previous one is absorbed.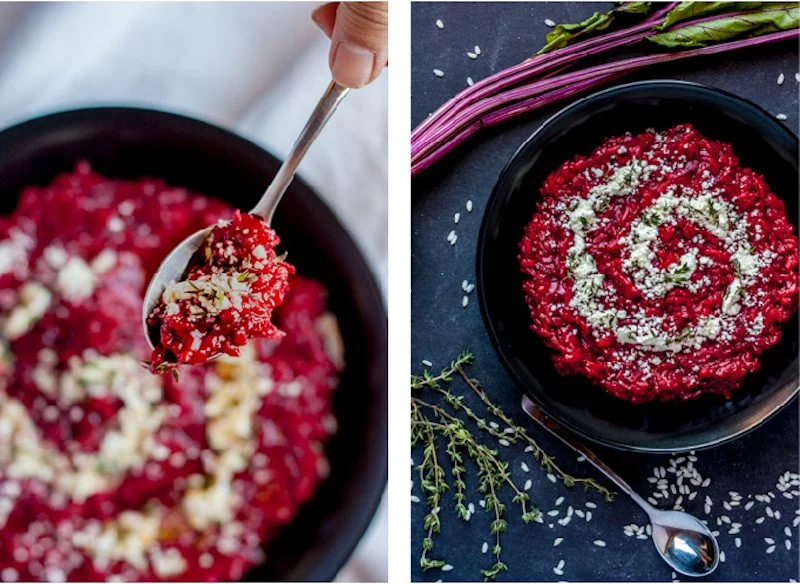 While some say that the stirring is not necessary for risotto, I find that the no-stir methods turn out more of a casserole type rice dish or a pilaf than a silky smooth risotto. Stirring in ladles of hot stock isn't a massive strain and I think it's totally worth the 10-12 minutes spent standing. It's not a strenuous activity; most people just find it boring! But if you're all about minimizing kitchen work, you can try this no-stir risotto and method from the illustrious Ina Garten. Let me know how it turns out! I haven't tried it with beet risotto but have an inkling that the addition of beet strands really calls for some manual agitation for the best results, texture wise.
Once your rice has soaked up all of the hot broth and is tender on the outside but still maintains a good bite at the center, it's time to take it off the stove. Serve piping hot and top with goat cheese crumbles, a drizzle of honey, and a couple drops of truffle oil. Of course, if you are fancy enough to get your paws on real truffles, by all means, shave some of that baby on top. But for those of us who don't any, truffle oil is a close second. If you have some fresh thyme left over, garnish with some leaves or small sprigs for a stunning color contrast. Whoever you're serving this beet risotto to will surely be impressed with the deep ruby red color, rich & creamy rice, and fancy finishing touches, and they'll never have to know how easy it was to make!
P.S. Have recently discovered that I highly dislike raw beet juice. Oh well.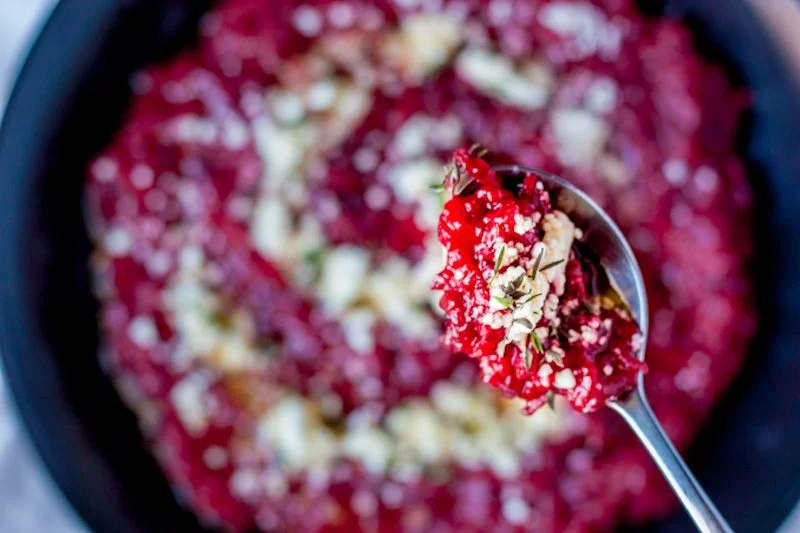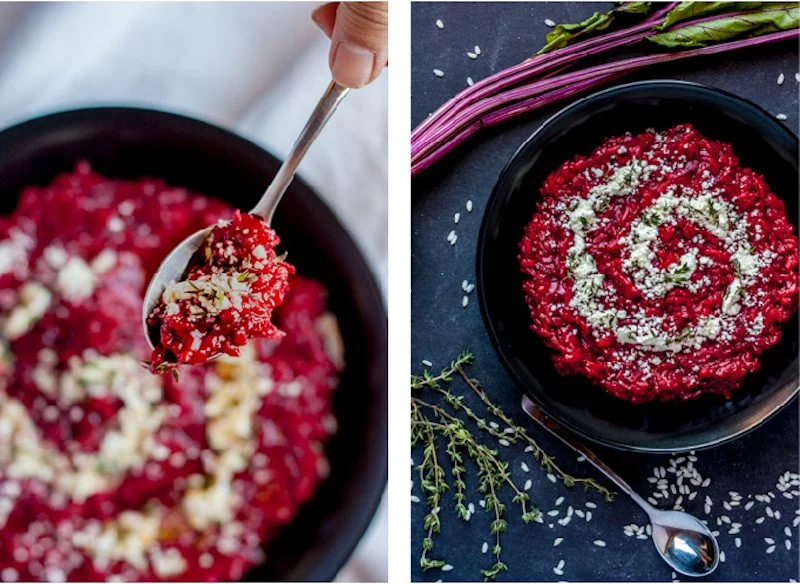 Print
Author:

Sasha Yan

Yield:

2

1

x
Category:

Side
3

medium red beets (about

10 oz

)

1

large shallot

2

cloves garlic

5

thyme sprigs

4 cups

chicken stock (or vegetable)

1 cup

arborio rice

1 tablespoon

butter

¼ cup

goat cheese crumbles
honey to taste
truffle oil to taste
Instructions
Dice shallot and garlic finely. Peel beet and grate on the large holes of a box grater. Wear gloves or an apron to prevent beet juice spatter. Be aware the beets will also stain your cutting board.
Bring a small pot with 4 cups of stock to boil. Turn heat to low to keep it at a simmer. In a second pot, heat some olive oil over medium heat. Add shallot and garlic and cook until aromatic. Add arborio rice and shredded beets and stir. Toast for 1 minute. Add a couple ladles of broth just to "veil" the rice. Stir, only adding more broth once the rice absorbs existing liquid. Continue process, adding broth a little at a time and stirring often, until rice is tender, 20-25 minutes.
When risotto is nearly finished, stir in butter. Top with goat cheese crumbles. Drizzle with honey & truffle oil to taste.