Tania Cusack serves a delicious tart with a lovely chocolate base and light ricotta custard.
By Tania Cusack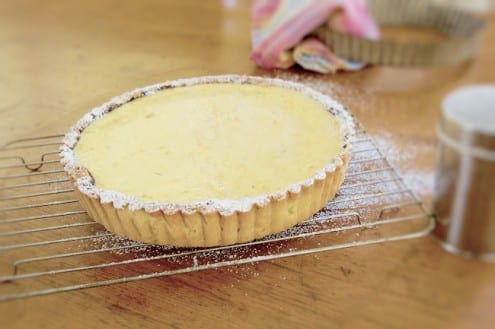 Decadence - Chocolate and Ricotta Tart
Tania Cusack serves a delicious tart with a lovely chocolate base and light ricotta custard.
Ingredients
Pastry
use a 23cm ( 9-10in) tart case with a removable bottom
1- ½ cups plain flour (200gm)
¼ cup pure icing sugar (40gm)
125 gm (1 stick)chilled unsalted butter, chopped
1 egg ( 70gm)
1 Tablespoon of cold water
Filling
100gm melted dark chocolate
500gm ricotta
5 eggs ( 4 separated)
3 tablespoons cornflour
90gm (1/3 cup) castor sugar
½ vanilla bean scrapped
zest of a small lemon
Instructions
Pastry
Never feel guilty about making pastry in a food processor. It brings it together quickly, and without overworking.
Put the flour, sugar and cold butter pieces into the food processor and blitz till it is combined and crumbled, with no lumps of butter left.
Put the egg and water into a cup and whisk together lightly.
With the machine going pour all but a teaspoon of the egg mixture into the machine and let it mix for several seconds until the dough comes together in a ball. If it appears too dry add the remaining liquid. Dont be tempted to add extra liquid, until you are sure. Wet pastry becomes tough and hard. Rest till cold, the freezer makes this quicker.
Fill
Roll out to fit a 23cm ( 9-10in) tin with a removable bottom and chill.
Bake the case blind ( full of beans or rice). In a 170 (240F) degree oven until golden.
Trim the case and spread the melted chocolate over the base of the pastry and leave to dry.
Beat the egg yolks, and whole egg, sugar and vanilla till combined well. Add the ricotta and beat till very smooth. Pour the mixture into the pastry case leaving 1 cm at the top for expansion.
Bake the tart at 160 (320F) till just set. Approximately 20-25 minutes
Cool in the tin before removing from the tin.
Tania Cusack
After completing Culinary School in Sydney, Tania travelled the world working as a Chef in restaurants, doing catering and cooking on road for a travel company in Europe and the US. Once back at home, the birth of her son meant a change, and during his small years, she enjoyed jobs in wholesale food, buying Artisan food products, testing and recipe writing as sales and educational tools. Tania is now back to what she loves, working as an in house Chef for a large retailer, conducting Cooking Classes and writing recipes for her blog.