A hearty lamb mutton curry with a generous dose of spice, inspired by the colonial Indian outposts called Dak Bungalows.
By Rinku Bhattacharya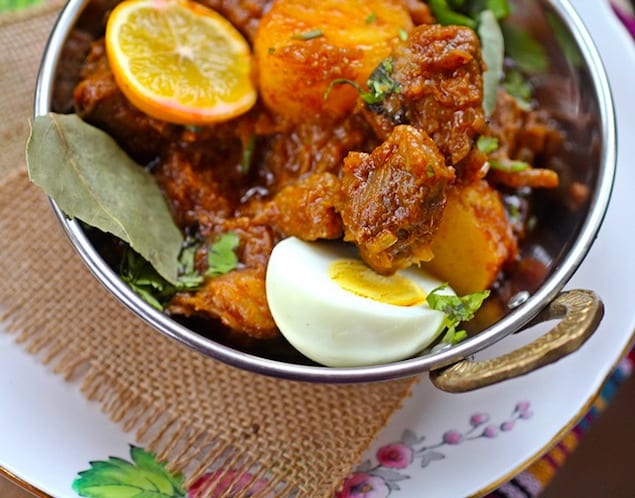 A Dak Bungalow is a outpost or guest house, dating back to British times in India and served as the official stopping points of rest for officers during their travels. It would be fair to say the general recipe of the Dak Bungalow depended on the cook in the particular Dak Bungalow.
We are now seeing a fair number of these dishes re-surfacing in the menus of Kolkata's Bengali restaurants. One of the general features of consensus tends to be the addition of both potatoes and eggs to this recipe, again a much loved Bengali addition to fancy dishes, especially the Kolkata style birayani. Now, having said that, odds are this dish was at best prepared with country chicken or goat as it was unlikely that lamb was a part of the culinary universe at that point. In this recipe, the potatoes are essential and the eggs while they are interesting you can leave them out if you really wish, as the dish is plenty rich without that.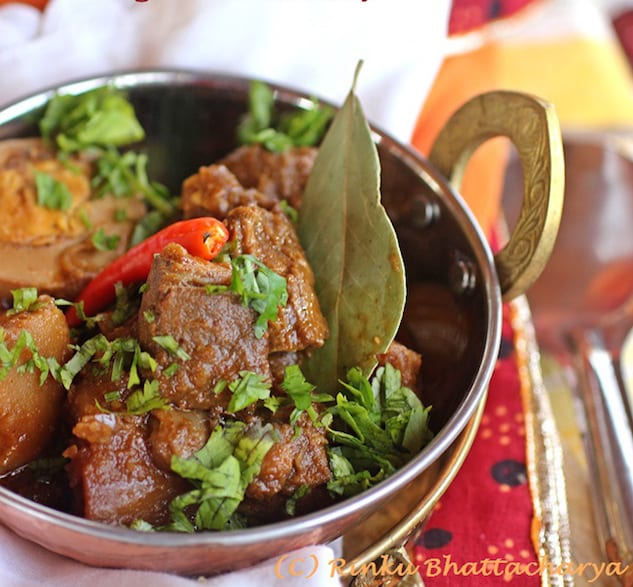 Dak Bungalow Lamb Curry
A hearty lamb mutton curry with a generous dose of spice, inspired by the colonial Indian outposts called Dak Bungalows.
Author:
Rinku Bhattacharya
Ingredients
For the Lamb
1 pound of lamb cubed and trimmed
2 limes
1 tablespoon freshly grated garlic
¾ tablespoon freshly ground ginger
1 teaspoon salt
For the curry
4 tablespoons olive or canola oil
2 large onions, diced (about 11/4 cups)
1 large stick of cinnamon (2 inches), broken into smaller pieces
2 to 3 cloves
3 green cardamoms
1 black cardamom (optional)
2 bay leaves
2 teaspoons red cayenne pepper (adjust to taste)
1 tablespoon cumin powder
¾ tablespoon coriander powder
½ teaspoon salt
1 teaspoon sugar
2 medium sized potatoes, quartered
¾ cup water
2 hard boiled eggs
¼ cup chopped cilantro
Instructions
Place the lamb in a mixing bowl, cut and squeeze in the lime juice. Add in the grated ginger and the garlic and salt and set aside for 4 to 6 hours.
Heat the oil on medium low heat and add in the onions and cook the onions for about 7 minutes stirring occasionally until the onions are a pale toffee color. Add in the cinnamon, cloves, green cardamoms and the black cardamom if using and mix well.
Add in the lamb and the bay leaves and cook on medium heat for another 6 to 7 minutes, until the lamb is no longer pink.
Stir in the cayenne, cumin and coriander powder with the salt and sugar and cook the mixture for 3 to 4 minutes. Stir in the potatoes and the water.
You can either half the eggs and gently mix in, or cut slits along the sides and add them whole.At this point, cover the mixture and simmer for 1 hour until the lamb is very tender.
Check for seasonings and stir in the cilantro and serve with rice or chapatis.
Rinku Bhattacharya
Rinku Bhattacharya, is a teacher of Indian Cooking and the author of the blog, Spice Chronicles. A busy working mother Rinku is committed to offering a practical approach of flavorful, everyday cooking often with an Indian Accent. An author of three cookbooks, Instant Indian, Classic Foods for Every Region of India made easy in the Instant Pot, Spices and Seasons, Simple, Sustainable. Indian Flavors and The Bengali Five Spice Chronicles. Rinku's passion for food starts with cooking and trying new recipes and extends to pairing and drinking wine with food and trying usual combinations by fusing various culinary influences. Rinku and her family are very committed to a sustainable lifestyle, and she uses mostly local produce for her recipes. She is joined in this effort by her husband who is an avid gardener and her children, Deepta and Aadi.