PARTNER POST: Discover how delicious dairy-free sweet and savory cooking can be with DREAM Ultimate Almond.
This nutty almond and coconut ice cream is unbelievably creamy and delicious despite having no cream.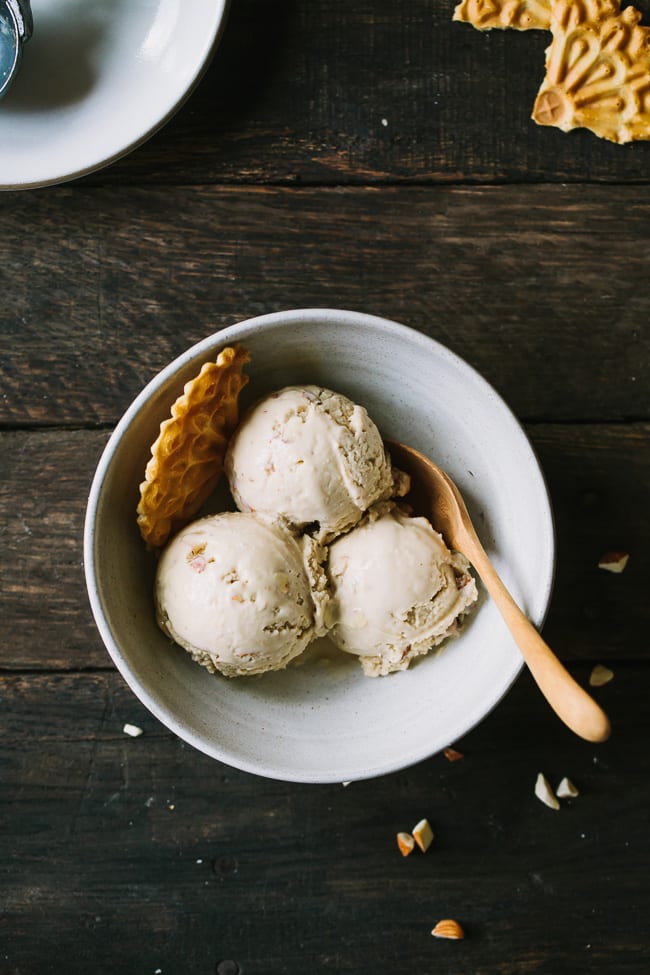 As we approach the official start of summer, there is so much anticipation and excitement about the months ahead. Among the many delights of summertime, for me homemade ice cream comes near the top. There's nothing quite like the taste and texture of freshly made ice cream.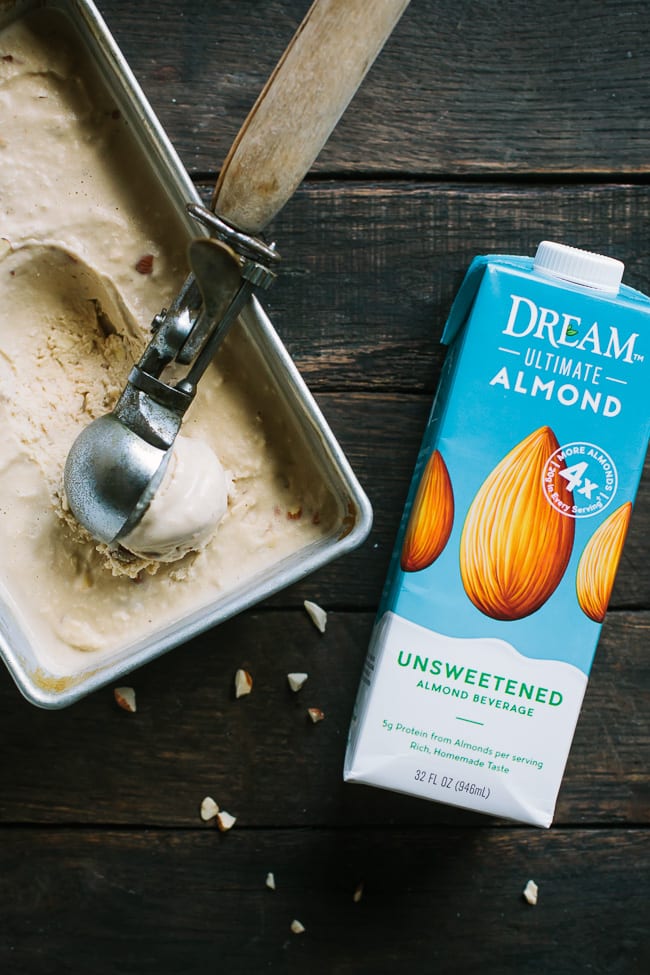 I tried Dream's new Ultimate Almond Beverages, homemade ice cream immediately came to mind after my first sips. Dream Ultimate Almond is made with four times as many almonds as their original almond drink so it's rich and creamy with a concentrated almond flavor.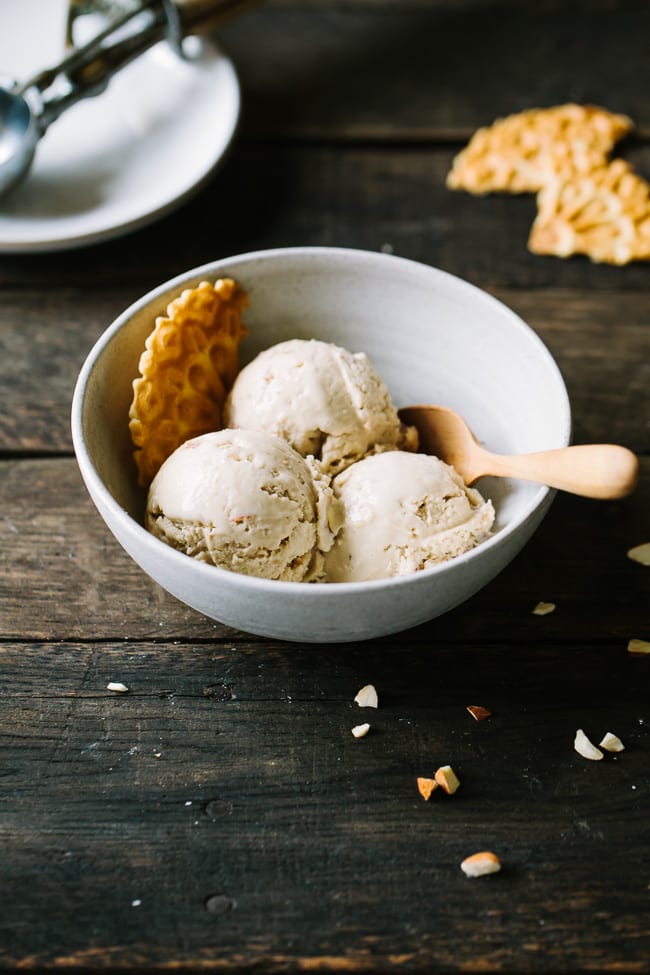 For the ice cream, I combined it with coconut milk cream for a nice balance between the almonds and coconut. Throughout the ice cream are bits of toasted almonds for a pleasant crunch, and the shredded coconut reminds me a bit of eating a macaroon cookie. Toasting the almonds and coconut are absolutely essential for depth as are both the coconut sugar and maple syrup for flavor, so no substitutes here. With three months of summer ahead, I hope it's filled with plenty of good ice cream.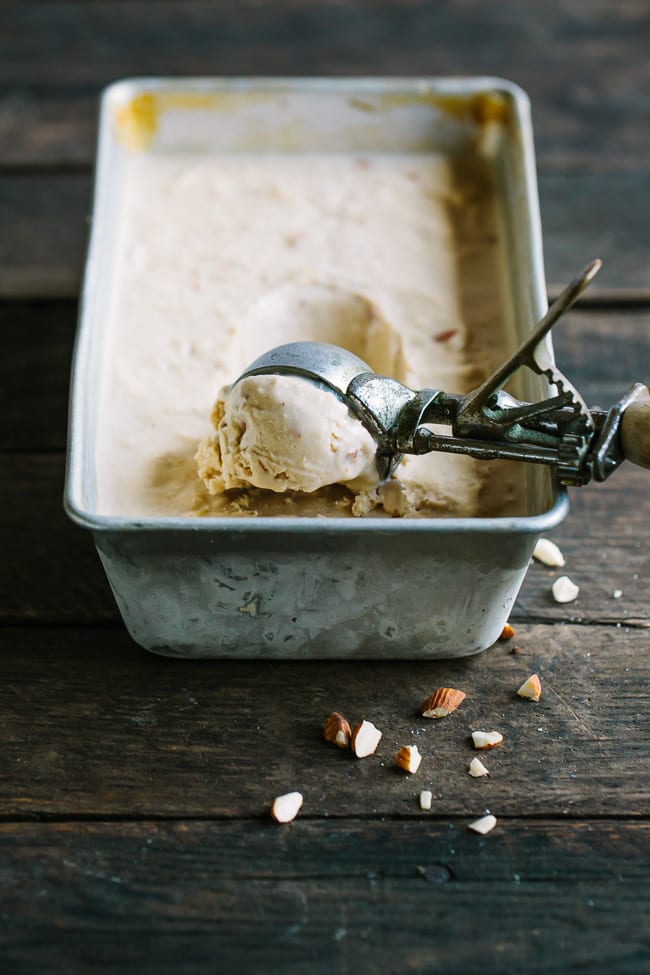 The new DREAM Ultimate Almond beverage can be found now at Whole Foods and soon at your local Sprouts. Click here for a coupon.
For more inspiration, check out this grilled Caesar salad with a dairy-free dressing:



d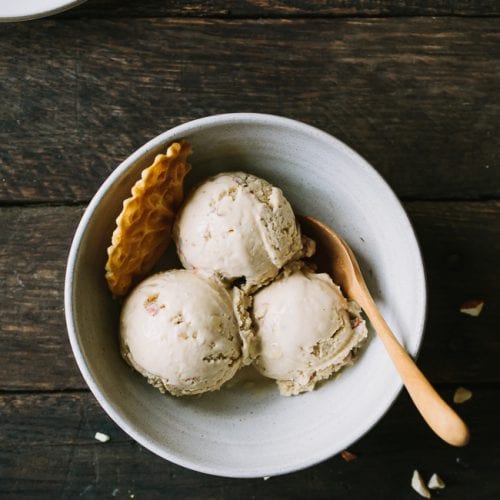 Emily Nelson
Course
Dessert, Ice Cream
Ingredients
1½

cups

unsweetened Dream Ultimate Almond

divided

2

tablespoons

arrowroot

or cornstarch

2

cans full fat coconut milk

chilled overnight in the refrigerator

1/3

cup

coconut sugar

1/3

cup

maple syrup

1

teaspoon

vanilla

pinch

of sea salt

½

cup

raw unsalted almonds

½

cup

shredded coconut
Instructions
In a small bowl, whisk together ½ cup Dream Ultimate Almond with arrowroot. Set aside.

Scoop out 1½ cups of the top solidified coconut cream from the cans of coconut milk. (Save the remaining liquid for another use.) Combine the coconut cream, remaining Ultimate Almond Beverage, coconut sugar, maple syrup, vanilla, and salt in a medium saucepan. Whisk together over medium-low heat until mixture becomes smooth and sugar is completely dissolved. Add the arrowroot mixture and continue to heat until slightly thickened, whisking constantly, about 5 minutes. Transfer to a mixing bowl. Cover and refrigerate until completely chilled, at least 4 hours.

While ice cream mixture is chilling, preheat oven to 350. Place the almonds on a small baking sheet and the shredded coconut on another baking sheet. Toast almonds in the oven for 9-11 minutes, stirring halfway. Toast coconut for 8-10 minutes, stirring halfway. Almonds should smell fragrant and nutty and coconut should be light golden. Set aside to cool. Coarsely chop almonds.

Freeze ice cream according to manufacturer's directions, adding the chopped almonds and coconut during the last five minutes. Transfer ice cream to a container to chill for 2-3 hours in the freezer for a firmer consistency. If left in the freezer for more than a few hours, allow ice cream to soften on the counter for 20-30 minutes before serving.
Emily Nelson
Emily is a self-taught cook and photographer with a passion for creating beautiful and wholesome food for the family. Her focus is mostly on whole grains, fresh and seasonal produce, and naturally raised meats. When she's not in the kitchen, she loves playing music and spending time with her husband and two children.