Sweetened, dried currants are blanketed with a flaky pastry in this traditional family recipe, paired with its perfect carbonated counterpart. 
By Amanda Brooke Bothwell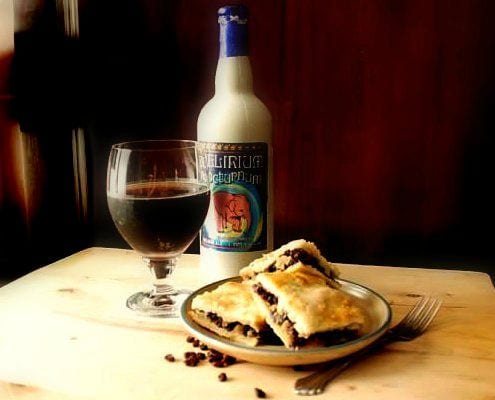 You know those recipes, the ones that are family heirlooms passed down from one generation to the next. Recipes with so much history and character, you know your childhood just wouldn't be the same if it weren't for the moments spent in the kitchen as a family whipping up one of these classics. It seems to mark a sort of coming-of-age moment when you're finally able to produce its bounty on your own. These recipes are like gold, and when you're holding that torn and tattered recipe card in your hand, you know you've got something good. I've always longed for one of these recipes, one with a bright-eye story beyond its practical uses.
Well, I didn't get to spend my youth perfecting these Currant Cakes; it wasn't until this year that I was introduced to this traditional family recipe. But I can surely make up for lost time. I finally have my hands on a handed-down recipe that has long been used in times of gathering and celebration, or just pure comfort. And now I can delightfully pass it on to you.
In an effort to preserve these recipe heirlooms, their ingredients and procedures are typically left untouched. However, that doesn't mean what they're served with can't take some tinkering. I paired these "cakes" with one of my most beloved beers: Delirium Nocturum. It's a Belgian ale with a subtle roasted fruit flavor, a nice accompaniment to the dried currants in this dessert. Beyond the brew itself, its opaque bottle and the pink elephant gracing its label seem to encourage some curiosity. This beer really makes the currants the star of the show, which, without a doubt, is just what this recipe's creator had in mind.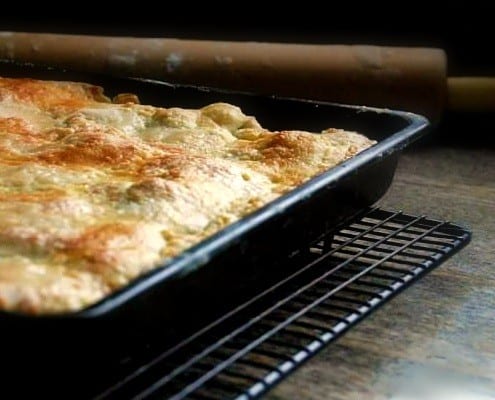 Layers of flaky pastry dough surround a mixture of dried currants and apples in a simple, comforting dessert.
Author:
AnneMarie Jansen Bothwell
Ingredients
1½ cups (340g) cold shortening, cut in cubes
4 cups (397.5g) flour
1½ tsp (7.5g) salt
¾ cup (177.4ml) milk
4 green apples, peeled and grated
1 lb (454g) dried currants
¾ cup (144g) sugar
Egg wash (one egg beaten with water)
Instructions
Preheat oven to 425F (218C).
In a bowl, combine flour and salt.
Cut in shortening with a pastry blender until mixture is crumbly.
Stir in milk until just combined.
Divide dough in two, wrap and chill for at least 30 minutes before rolling.
Roll out each pastry to fit the size of a jelly roll pan.
Line the pan with one pastry layer.
Mix together grated apple, dried currants and ½ cup (96g) sugar.
Spread currant filling over the dough, and top with the second layer of pastry.
Prick dough with fork and brush with egg wash.
Sprinkle with ¼ cup (48g) sugar.
Bake for 25-30, until golden.
Cut while still warm.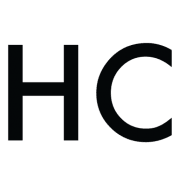 Amanda Brooke Bothwell
Torn between a world of beer and baking, Amanda has embraced both in her life of home-brewing and cake-making, occasionally "spilling" a bit of the former into the latter. Beyond baking and fermenting, she is in the search for some of the world's greatest food offerings perfectly paired with a cold one.