A refreshing sorbet from Alisha Randell. Featuring cucumber, apple and white tea, it works just as well as a refreshing drink.
By Alisha Randell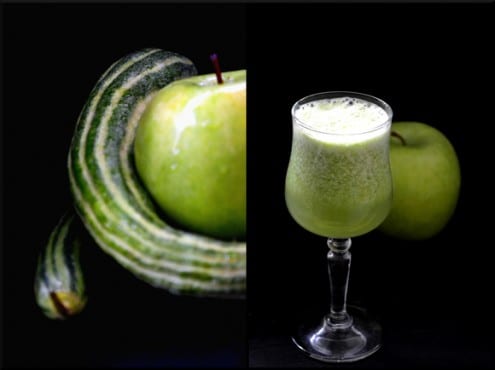 Cucumber, Apple and White Tea Sorbet
A refreshing sorbet from Alisha Randell. Featuring cucumber, apple and white tea, it works just as well as a refreshing drink.
Ingredients
3 cups prepared tea, chilled
1 large Armenian Cucumber
1 large apple
2 cups evaporated cane juice, or raw sugar
A pinch of salt
Ice cream maker
Instructions
Begin by slicing your cucumber and apple into sizes appropriate for your juicer.
Once you have your juice place in fridge to chill completely. Note: you will need
about 2 cups of juice, if you did not yield enough juice add
more chilled tea to total 5 cups.
Now prepare a simple syrup by placing tea, juice and sugar into a
medium sized saucepan. Over medium heat, simmer this mixture until the sugar
has completely melted. Allow this mixture to rest for 20 minutes
then chill in refrigerator 4-6 hours or overnight.
Once mixture has completely chilled, stain through a fine mesh sieve to
remove all solids. Your mixture is now ready for your ice cream machine.
Follow your machines manufacturer instructions for sorbet.
The mixture will typically reach desired consistency in about 20 min.