Slow cooked in a crockpot, this butter chicken is to tender, flavorful, and easy so make.
By Vanessa Vickery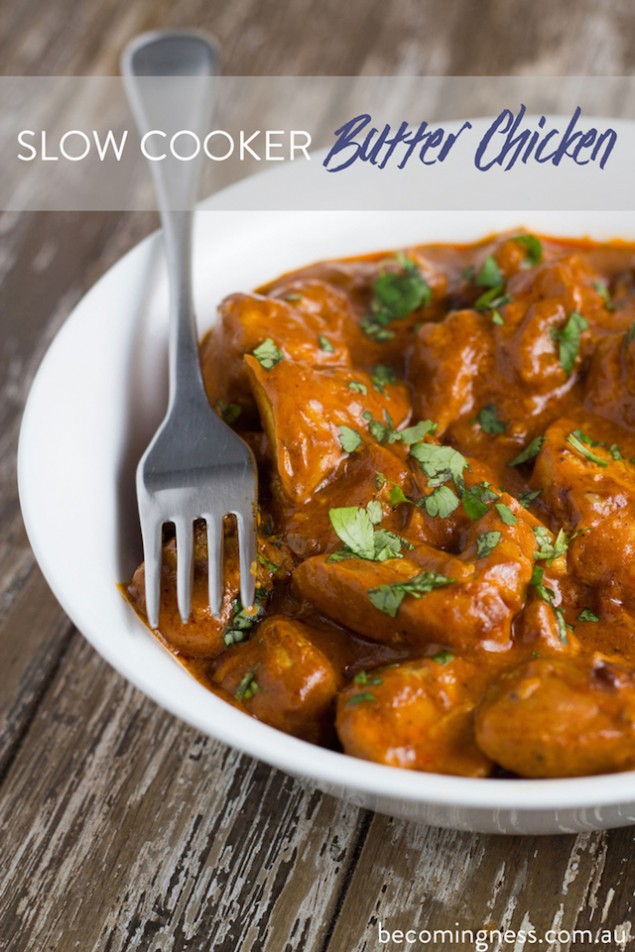 I used to eat out and get takeaway a few times a week. I did love to cook, but when I was getting home late from work, it was easier to buy dinner. When we would eat at an Indian restaurant (or get Indian takeaway), I would order one of two dishes – Butter Chicken or Chicken Tikka Masala.
These days I like prefer to make my meals and use fresh, whole foods and a variety of herbs and spices. I have made Butter Chicken several times before from scratch, but never using a slow cooker. Seriously, why did I not have one of these babies before, it is so easy! If you are cooking meat, it is always really tender or falling off the bone.
This version of Butter Chicken is delicious, healthy and so easy to prepare. I would have to say it is in my top five slow-cooker meals, along with my Slow Cooker Cashew Chicken, Slow Cooker Lamb Shanks, Slow Cooker Osso Bucco and Slow Cooker Beef Ribs.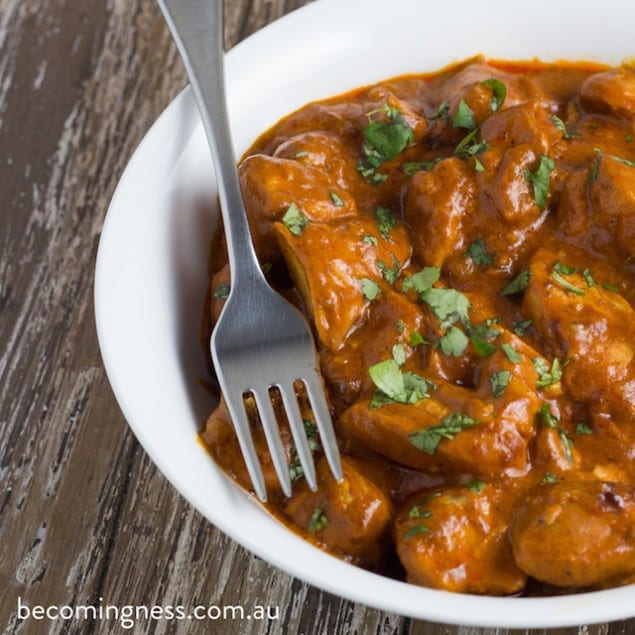 Crockpot Butter Chicken
Slow cooked in a crockpot, this butter chicken is to tender, flavorful, and easy to make.
Ingredients
1 tablespoon coconut oil
3-4 cloves garlic, crushed
1 onion, diced
1 + ¾ cups coconut milk
¾ cup organic tomato paste
2 tablespoons tapioca flour
2 teaspoons garam masala
1 teaspoon curry powder
½ teaspoon ginger powder
½ teaspoon chili powder (add more if you like it hotter)
Sea salt and black pepper, to taste
1.25kg chicken thighs (or breasts), cut into small pieces (I use free range chicken, Lillydale brand)
Fresh coriander, to serve
Instructions
Heat coconut oil in a large saucepan on medium high heat
Add onion and garlic, cook, stirring frequently for approximately 3 minutes or until the onions have become translucent.
Add coconut milk, tomato paste, tapioca flour, garam masala, curry powder, chili powder and ginger powder, stirring until well combined and the sauce has started to thicken. Season with salt and pepper.
Add chicken to the slow cooker, then add the sauce and mix through the chicken
Cover and cook on low heat for 5 hours.
Serve with the coriander and your favourite side (mine is quinoa).