Crispy Fish Tacos with Avocado Sauce and Cilantro Slaw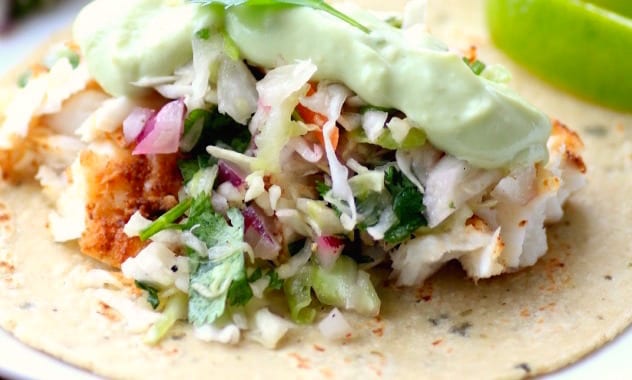 For a taste of Mexican cuisine, try these corn tortillas filled with spiced fish, smooth avocado cream, and simple cilantro slaw topped with lime juice.
By Tara Noland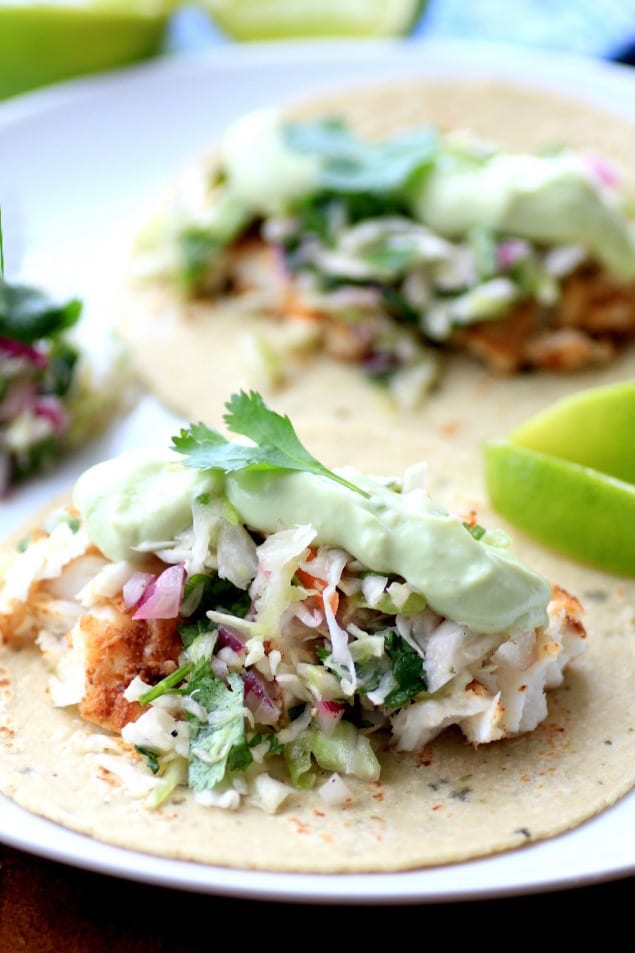 Spiced fish that is piled high with creamy slaw that is then topped with a divine avocado cream makes for awesome tacos.
The avocado cream was my favorite part of these tacos. It added so much great flavor and went brilliantly with the slaw and fish. The fresh flavors of these tacos and the pretty colors will help to brighten you day.
Tilapia is a great fish to work with and cooks up fast in a skillet with a little oil. The whole dinner was took so little to put together and my family raved over it.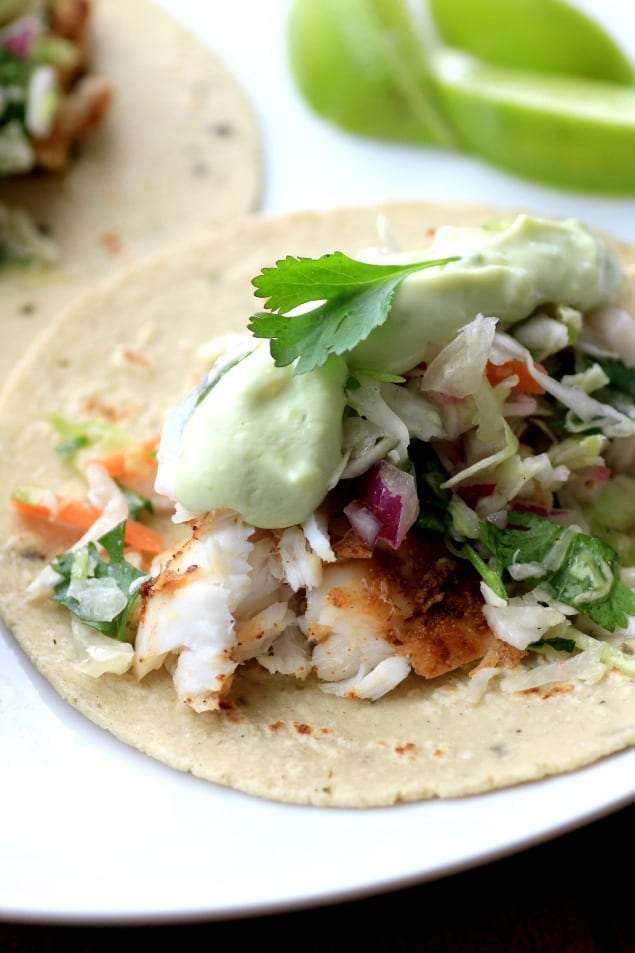 Crispy Fish Tacos with Avocado Sauce and Cilantro Slaw
For a taste of Mexican cuisine, try these corn tortillas filled with spiced fish, smooth avocado cream, and simple cilantro slaw topped with lime juice.
Cuisine:
Mexican Inspired
Ingredients
Fish
4 Tilapia fillets
Ancho chile powder, to taste (3/4 tsp.)
Garlic powder, to taste (1/2 tsp.)
Cumin, to taste (1/4 tsp.)
Salt, to taste
1 Tbsp. canola oil
Avocado Cream
¼ tsp. grated lime rind
2 Tbsp. fresh lime juice, divided
¼ cup light sour cream
2-3 Tbsp. milk
½ ripe peeled avocado
Salt, to taste
Cilantro Slaw
2 cups shredded slaw
¼ cup red onion, finely diced
¼ chopped fresh cilantro
1 Tbsp. canola oil
Salt, to taste
To Serve
8 (6") corn or wheat tortillas (I found a wheat and corn tortilla with green chilies)
Lime juice, optional
Instructions
In a blender or food processor, mix the avocado cream ingredients together. Use more or less milk to get the right consistency that you like. Set aside.
Mix the slaw ingredients together and set aside.
Season the fish with the ancho chili powder, garlic powder, cumin and salt. Use more ancho than cumin and a moderate amount of garlic powder. See approximates in brackets.
Heat the 1 Tbsp. canola oil in a non stick fry pan. Cook the fish for 3 min. per side or until desired degree of doneness.
Meanwhile heat the tortillas as per package. Flake the fish and place on one taco, top with slaw and avocado cream. Serve immediately.
Tara Noland
Cooking, baking and entertaining have been a lifelong passion for me. I started at a very young age to bake and cook for my family. Even attempting many of Julia Child's recipes as a young teenager and cooking meals for the family or for company. Now I love entertaining and celebrating the holidays. My husband Ken loves being in the kitchen creating right along with me. Our daughter has been doing cooking classes with me for a number of years and also enjoys everything that the kitchen has to offer.