Recreate Tonkatsu: Fried Pork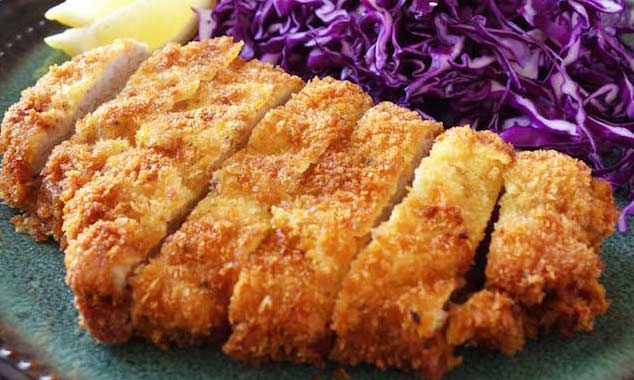 The iconic Japanese fried pork is a traditional, delicious comfort food served with a flavorful sauce and shredded cabbage.
By Ai Ping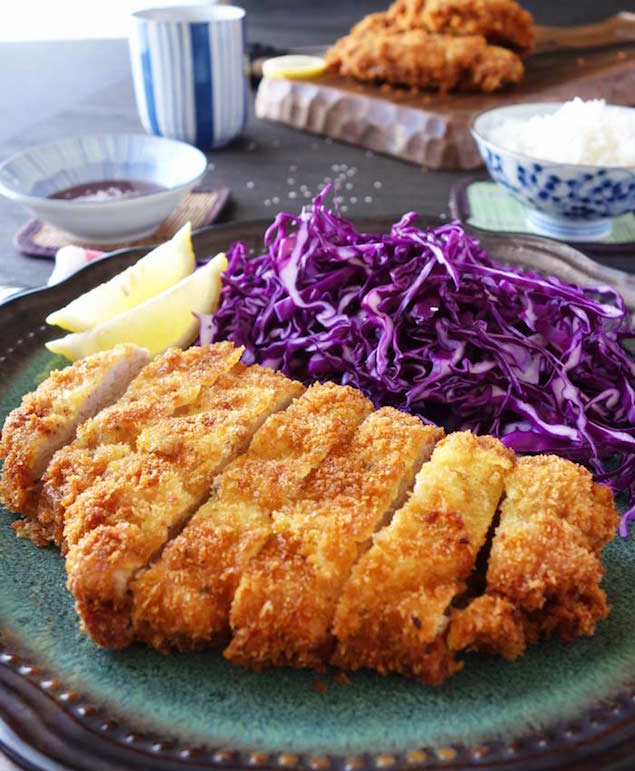 Tonkatsu is the pinnacle of Japanese fried pork.
You know when's the perfect day for Tonkatsu?
Today.

Recreate Tonkatsu: Fried Pork
The iconic Japanese fried pork is a traditional, delicious comfort food served with a flavorful sauce and shredded cabbage.
Ingredients
5 boneless pork chops, ½? thick, excess fats removed
Salt and pepper
¾ cup all purpose flour
1 tbs oil and 2 eggs, beaten together
2 cups panko crumbs
5 cups shredded cabbage
Lemon Wedges
Tonkatsu sauce
½ cup ketchup
¼ cup Worcestershire sauce
4 tsp oyster sauce
1 tsp soy sauce
4 tsp sugar
1½ tablespoons black sesame seed, roughly grounded
Instructions
Use a knife to make a few tiny slits around the sides of the pork with fat. This is so the pork doesn't curl up when frying.
Pound the pork to ¼ inch thick. Use a meat tenderizer, back of knife or bottle.
Fill a pan or skillet with oil, about ½ inch. Heat the oil to 350F.
Sprinkle salt n pepper on both sides of pork.
Dredge both sides of pork in flour. Shake off excess flour. Dip both sides of pork in the eggs and then into the panko. Gently press to get the panko crumbs to stick.
When oil is ready, fry the pork (1-2 pieces at a time) for 2-3 minutes or until brown to your liking. Flip and fry on the second side for 2-3 minutes or until meat thermometer inserted reads 150 F.
Place Tonkatsu on a wire rack. Let the meat rest for 5 minutes.
Slice by pressing the knife directly down so that the breading won't come off. Serve with thinly shredded cabbage and steamed rice. Squeeze some lemon on Tonkatsu or dip it in Tonkatsu sauce.
Tonkatsu sauce
Combine all and pour over grounded black sesame. Mix and dip away.
Notes
Tonkatsu is served with very fine shredded white cabbage. And by fine, I mean almost like Alfafa sprouts. You may be able to achieve this using the thinnest setting on a mandoline slicer or a food processor. Since I didn't have the slicer nor the white cabbage, I used a knife and a purple cabbage. Whatever works.
If you want a little dressing on the cabbage, mix equal parts of soy sauce and vinegar, a touch of sugar, salt and pepper and dilute it a little with water. The role of the cabbage is to cut the heaviness from the pork so it's meant to be fresh and light.
The oil in the eggs helps the panko breading stick to the meat even after frying.
Pounding the meat tenderizes it. I like my Tonkatsu ¼? thick. If you like yours thicker, start with 1? thick pork chops and pound it to ½? thick. Adjust the time for frying to 3-4 minutes.
Ai Ping
Ai Ping is from Malaysia but also calls Taiwan and the U.S. her home. Though armed with an IT and business background, she still prefers cooking, photography & blogging. Her website, Curious Nut says it all with its motto 'exploring life through the lens'. She loves to eat and cook, eat and play, eat and explore and share the love with everyone.