This is delicious comfort food that is perfect for a snowy night.
By Taylor Kadlec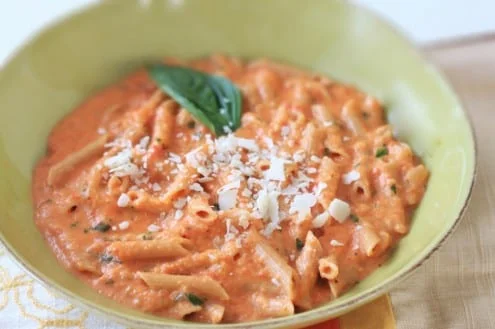 The sauce is simple, yet full of flavor and has the feel of a tomato sauce yet much more creamy and, in my opinion, delicious. I already have plans to make this again and freeze the sauce for an even quicker weeknight meal! We served this with homemade garlic bread (carbs + carbs = win) but it would also pair well with a salad or green vegetable.
This is delicious comfort food that is perfect for a snowy night.
Ingredients
3 tbsp olive oil
1 white onion, diced
3 cloves garlic, minced
2 tbsp flour
½ cup half & half
¾ cup milk
1 (14.5 ounce) can diced tomatoes
1 cup shredded Mozzarella or Parmesan cheese
¼ cup fresh minced basil
salt and pepper, to taste
10-12 ounces your favorite pasta, we used whole grain Penne
Instructions
Bring large pot of water to boil for the pasta.
While waiting for water to boil, start the sauce.
In large saucepan, heat olive oil over medium heat. Add onions and and saute until translucent, about 5-7 minutes.
Add garlic and cook one more minute.
Add flour to onion mixture and stir to combine. Let cook another 1-2 minutes.
Slowly add half and half and then the milk, stirring continuously.
Add tomatoes then cook another 7-10, stirring often, to let sauce thicken.
While the sauce cooking, add pasta to boiling water and cook according to package instructions.
With an immersion blender, puree sauce until your desired consistency. I left a few chunks, but wanted my sauce pretty smooth.
Add basil and Parmesan and stir until melted. Season with salt and pepper, to your liking
If sauce is too thick, add about ⅓ cup of the pasta water to thin it out, if you feel that is needed.
Add pasta to sauce and stir to combine.
Serve topped with additional Parmesan cheese. Enjoy!
Taylor Kadlec
Taylor Kadlec is a lover of all things food including baking, cooking, and of course, eating. She is a self-taught baker and cook, and she shares her kitchen adventures on her blog Greens & Chocolate, where healthy cooking meets sinful indulgence.