This dish gives you all the richness and creaminess of garlic mashed potatoes while still staying low carb.
By Dawn Myers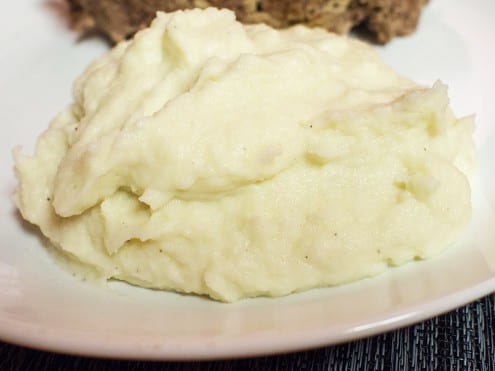 Creamy Pureed Cauliflower
This dish gives you all the richness and creaminess of garlic mashed potatoes while still staying low carb.
Ingredients
1 large head of cauliflower, heavy stalks removed, cut into florets
3 tablespoons of cream cheese, divided
3 tablespoons of butter, divided (I used European Style, which has more fat content)
¾ teaspoon granulated garlic, divided
Salt and Pepper
Instructions
Steam cauliflower until soft. I used a steamer insert and placed it over boiling water and it took about 13 minutes.
Place one third of the cauliflower into a food processor (if yours can take more, great, mine couldn't). Add 1 tablespoon cream cheese, 1 tablespoon butter, and ¼ teaspoon granulated garlic to the food processor. Puree until the consistency desired and there are no remaining chunks of cauliflower. Place in a serving bowl and cover. Repeat process until the cauliflower is all pureed. Salt and Pepper to taste and serve.