This cranberry quinoa crunch lettuce wrap is a sure fire way to get your grains, protein and satisfy a sweet tooth for lunch, dinner, or as a snack.
By Carolyng Gomes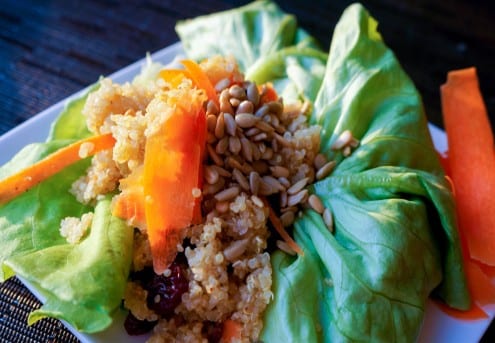 Cranberry Quinoa Crunch Lettuce Wraps
Crunchy, salty, sweet and portable, these lettuce wraps will keep you satisfied wherever you take them because, you know, they are wraps!
Ingredients
1 cup of Quinoa
2 tablespoons of Dried Cranberries
1 tablespoon of Sunflower Seeds
3 leaves of lettuce (large is best)
Coarse Sea Salt
Black Pepper
Instructions
Warm quinoa on the stove top or in the microwave to take off the chill of the fridge, or use fresh quinoa.
Mix quinoa, dried cranberries and sunflower seeds. Toss to combine. Season with coarse sea salt and fresh cracked black pepper.
Using one lettuce leaf at a time, spoon about two – five tablespoons (depending on size of leaf) of the quinoa mixture and place at the base.
Roll up the leaf by folding in the side first, then rolling up.
Place rolls seam side down on a plate and repeat the process with the remaining quinoa and wraps.