Cool and Creamy Salmorejo Soup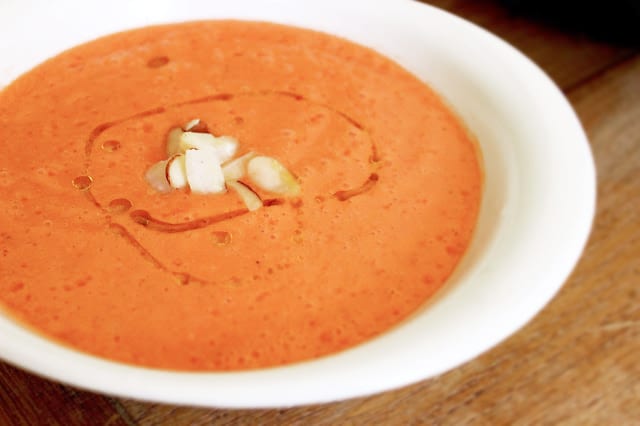 Salmorejo soup simply showcases fresh tomatoes and bread, without the addition of other vegetables.
By Kara and Marni Powers
The garnish varies from crumbled hard boiled egg to crispy jamón serrano or, in Marta's recipe, slivered Marcona almonds.
Cool and Creamy Salmorejo Soup
Salmorejo soup simply showcases fresh tomatoes and bread, without the addition of other vegetables.
Author:
Kara and Marni Powers, adapted from Señora Marta
Ingredients
6-8 medium-sized vine ripe tomatoes, quartered
2 cloves garlic
2 T red wine vinegar
¼ c EVOO
⅓ of a day old baguette, cubed
salt and pepper to taste
slivered Marcona almonds for garnish
Instructions
In a blender, puree the tomatoes, garlic, vinegar and EVOO into a chunky puree. Transfer the tomato mixture to a bowl and add the cubed bread. Let the mixture soak for 20 minutes. Return the blend back into the blender and puree until smooth. The soup should be thick, but it is too thick, add a little water and EVOO. Season with salt and pepper and strain through a sieve. Ladle the soup into bowls with a sprinkle of Marcona almonds and a drizzle of EVOO.
Kara and Marni Powers
Kara and Marni Powers are twin sister cooks, dining and blogging their way through Boston's North End and beyond. They see the act of cooking and entertaining as a form of creative expression, an art that encourages the mixing of flavors, spices, techniques and stories. Their interest in cooking dates back to their Greek grandmother's open-arms approach, letting them taste her savory creations like her famous spanakopita. Kara and Marni's fascination with food and culture continued during their travels abroad in Europe where they saw firsthand the limitlessness of cooking.