Natalie McLaury considers herself a bit of a hoarder when it comes to magazines. Never one to pass up a good deal on a subscription, it's to the point where she now finds herself receiving a magazine in the mail several times a week. Most of the time, she rips out pages of recipes but fails to actually create the recipe in her kitchen. Not anymore! Join Natalie as she cooks the magazines.
By Natalie McLaury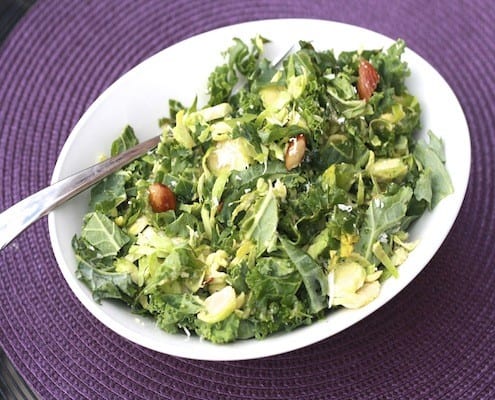 As I put this salad together on Christmas Eve, I commented to my mom, "you, Ryan, and I are probably the only ones who will eat this." "No," she said, "Dad will eat it too."
My younger siblings, with ears like a hawk immediately chimed in from the other room. "Ooooh I guess Natalie doesn't have to think we have sophisticated enough palates for this dish. Fine, we don't want your stupid salad!"
It wasn't their palates I was skeptical of necessarily, but I do know that kale is a scary enough vegetable for people. Raw kale (and raw brussels sprouts) were likely that much scarier!
As it turned out, everyone put some of the salad on their plate that evening…and from what I could tell, most finished their portion of it. When you flavor it appropriately, raw kale and brussels don't have to be scary. The addition of salty toasted almonds, a lemony dressing, and plenty of parmesan cheese made this a unique but tasty salad!
Ryan and I liked it so much (surprise surprise) that I made it again for us a few days later…at which point our friend Mike also fell in love with this salad. Though I made the recipe as is both times, I plan to try it with the addition of dried cranberries next time, which I think would "normalize" this salad even more.
You might meet some resistance depending on who you try to serve this salad to, but I think you just might win kale some new fans with it! Let me know if you give it a try.
Kale and Brussels Sprouts Salad
A flavorful salad featuring raw kale and brussels sprouts tossed with a lemony vinaigrette
Recipe Type:
Side Dish, Salad
Ingredients
¼ cup lemon juice
2 tbsp Dijon mustard
1 tbsp minced shallot
1 garlic clove, finely grated
¼ tsp kosher salt
freshly ground black pepper
1 large bunch of kale, center stem discarded, leaves thinly sliced
12 oz. brussels sprouts, trimmed and finely grated or shredded with a knife
½ cup extra-virgin olive oil, divided
⅓ cup almonds with skins, coarsely chopped
1 cup finely grated Pecorino
Instructions
In a small bowl, combine lemon juice, mustard, shallot, garlic, ½ tsp salt, and a pinch of pepper. Stir and set aside to let flavors meld.
In a large bowl, mix kale and brussels sprouts.
Heat 1 tbsp olive oil (from the ½ cup total) in a small skillet and add almonds, stirring frequently until toasted and golden brown (approximately 2-3 minutes). Transfer nuts to a paper towel-lined plate. Sprinkle almonds lightly with salt.
Whisk remaining olive oil into the lemon juice mustard. Season dressing to taste with salt and pepper. Toss dressing with kale mixture. Add almonds and cheese and stir to combine.
Notes
*Note--almonds, kale mixture, and dressing can be prepared up to 8 hours ahead of time. Chill kale mixture and dressing separately. Cover almonds and let stand at room temperature until ready to prepare salad. (I like to let the dressing sit on the salad for 30 minutes or so to soften the kale a bit. Also, this dressing makes for a very lightly dressed salad...make an extra half batch if you prefer a more heavily dressed salad!) *From Bon Appetit November 2011