Farm-to-table. All-natural. Organic. All buzzwords being thrown around by restaurants and cooks these days, but even they might still be missing the point. Many parts of vegetables, like their leaves or roots, aren't being used to their full potential; reserved for the compost pile. It's time for things to change. Every single part of the vegetable is usable and edible, and can transform any dish. It's a celebration of using whole vegetables in day-to-day cookery.
By Andrew Asistin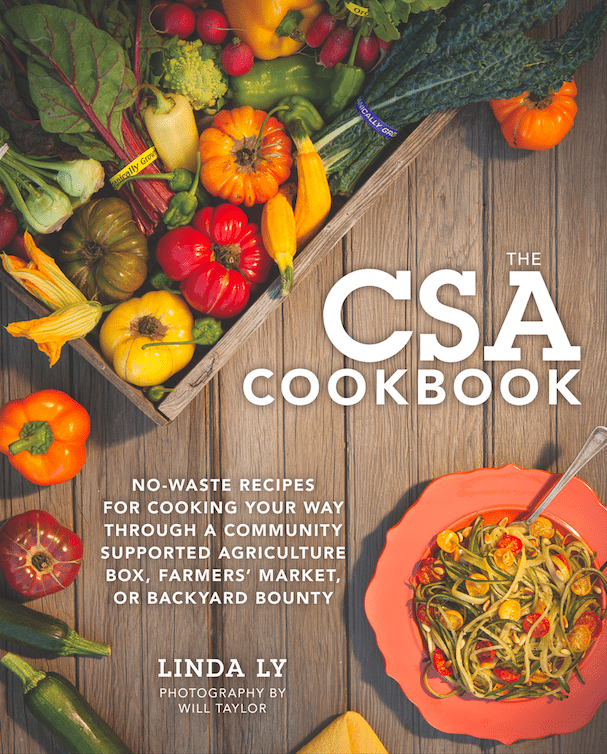 The CSA Cookbook by Linda Ly, Voyageur Press, 2015
You can purchase a copy of the book here.
The farm-to-table craze has gripped the restaurant world for the past few years, but what about the home cook? Growing your own produce has always been an option. Another option is CSA, or Community Supported Agriculture. CSA is a program where local farmers send some of their produce to residents who pay for that service. Since the farmers get the money directly, it strengthens local support and ensures fresh produce for the community. With fresh produce comes great potential. Roots, leaves and other bits of vegetables that some would resign to the compost bin, are actually edible and usable! This is where Linda Ly comes in.
The acclaimed blogger behind GardenBetty.com, Linda is an advocate of using EVERY part of the vegetable in home cooking. Copious amounts of flavor and nutrition are packed in the parts that some cooks (even restaurant chefs) would just discard. Linda gets abundant joy from growing and harvesting her own produce from her garden, and utilizing every part of them. It's that joy and thrill that she intends to share in her book. We had a chance to talk to Linda after her book launch tour.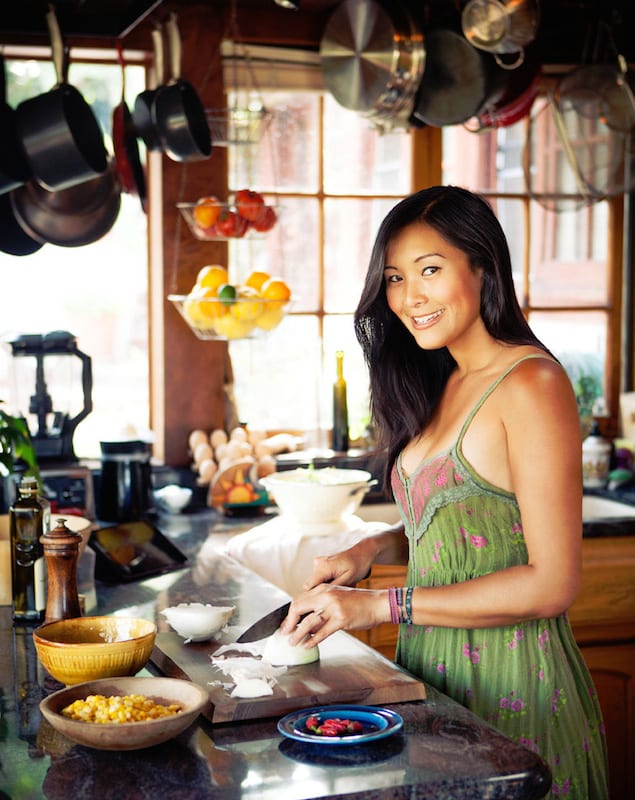 Author Linda Ly
In her book, Linda breaks down the ins and outs of grow-your-own cooking, encouraging home cooks to not only try new vegetables and produce, but to also take a closer look at the parts of "everyday" vegetables. Avoid the compost pile and use it for a stock or an ingredient in a dish. In Linda's own words:
"Growing my own food has made me more inclined to use all the edible parts of plants from my garden. Once you realize how much work goes into them—the seeding, watering, weeding, feeding, trimming, and harvesting—you don't want to waste them."
This style of cooking has always been with Linda. From her childhood, her family has always turned every edible part of a vegetable into something delicious. She credits her family's cooking for her current curiosity, and adventurous appetite, for food. "If it's edible," Linda says, "I want to try it." Adventurous seems to be the apt word for Linda, as her love for organic food has led to her owning a chicken coop. Yes a chicken coop, in SoCal.
The chickens are, in Linda's own words, endless entertainment and surprisingly intelligent. Beyond that, they're a valuable learning experience. Raising chickens has given her a newfound appreciation for eggs. Since most people take eggs for granted, seeing an egg being laid made her cherish and appreciate what nature has given. That's something that she hopes everyone can experience at least once. The whole process is incredibly rewarding on an emotional level.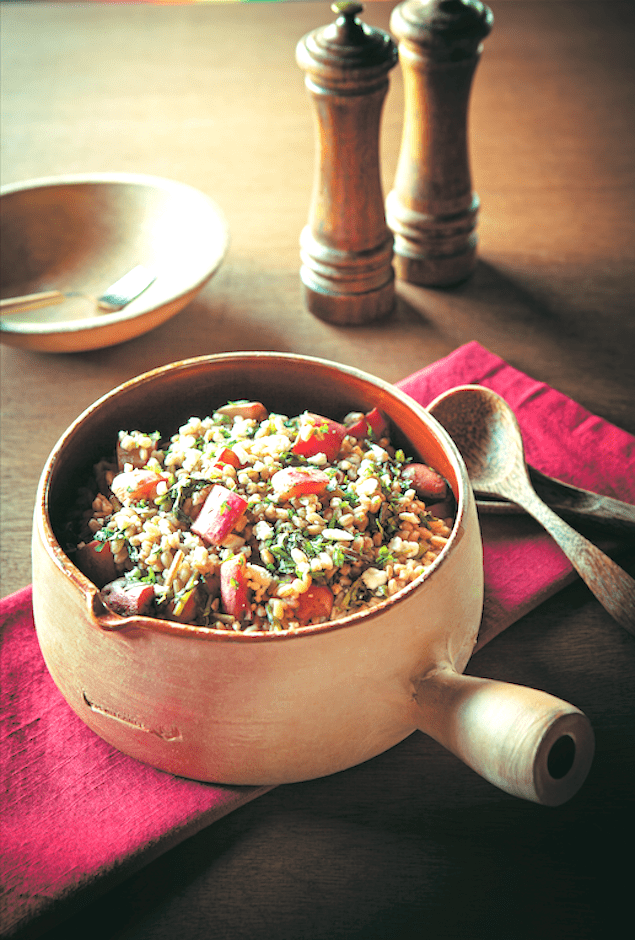 Butter Braised Radish Salad
When asked about the benefits of growing one's own food, Linda had this to say: "There's nothing quite like seeing a plant all the way through to harvest, feeding your family and friends from it, and appreciating the work that goes into raising your own food from the soil. It makes you feel more connected to what you're putting in your body." More than that, it made her realize how diverse plants and vegetables truly are. The number of tomato species alone are in the thousands! Linda also cites a sort of "natural high" that comes from growing your own food.
It turns out, that the act of digging your hands in the dirt and stirring up that sweet smell of soil can give you a natural high. A harmless bacterium called M. vaccae lives in the earth and when you inhale it, it releases serotonin in your brain. This is also why taking a walk in the woods, especially after a rain, feels so energizing. So growing your own food isn't just good for your body, it's also good for your brain.
Linda offers some advice to those who would like to try growing their own food: Start Small. It might sound like common sense, but a lot of people get overly excited and end up trying to grow a dozen different plants that they don't know what to do with. Start off only with what you know, and then branch out once you've mastered the basics. According to her, there are no black thumbs, only green thumbs in-training.
Touching on the restaurant industry, Linda commented that she would like to see more restaurants and chefs embrace this style of cookery, not just to maximize flavor in dishes, but to also minimize the amount of waste. According to her, many people don't realize parts like carrot tops or radish leaves are even edible because they don't often see them on menus and they're rarely called for in recipes. They tend to be reserved for "avant garde restaurants," or they're elevated into culinary delicacies when they're just as common as the rest of their parts. Top-to-tail cooking needs to be encouraged in the mainstream view, remove the elitism that often comes with it, and just see it for what it is: delicious and nutritious food made with as little waste as possible. This is a message that Linda would love to give to future chefs/culinary school students, if given the chance.
Growing your own food isn't just fun, it's healthy. It's a way of living that, while full of hard work, is sure to provide fresh, delicious, seasonal produce to your dinner table each day. That's the message that shine through in The CSA Cookbook.
All photos by Will Taylor.
Here's a recipe from the book that showcases all the versatility of this style of cooking, and takes advantage of delicious, seasonal vegetables. Enjoy!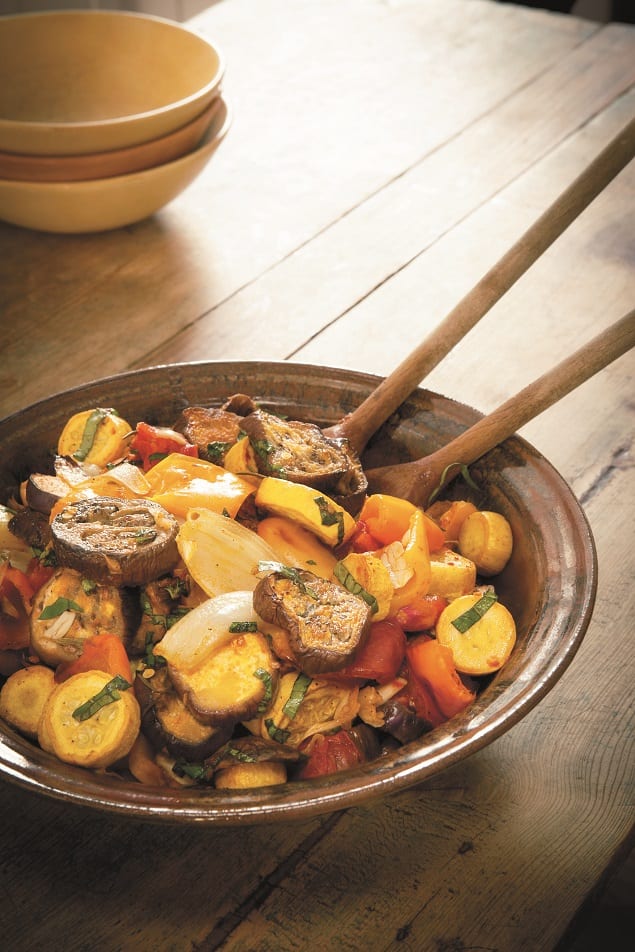 Peak-of-Summer Roasted Ratatouille
Print
Peak-of-summer roasted ratatouille
Originating in France, ratatouille is a Provençal classic that puts all of summer's abundance together into one savory stew. Though this dish is traditionally sautéed, roasting the vegetables brings out a richness and sweetness that you just don't get from the stovetop. Little more is needed than a generous glug of olive oil, a fresh sprig of rosemary, and some salt and pepper to marry the flavors while they caramelize. You can serve the ratatouille as a side dish or make it a full meal with a loaf of crusty bread and a glass of red wine. Leftovers go great on a bed of mixed greens the next day.
Author:

Linda Ly

Yield:

6

servings

1

x
1 ½

pounds tomatoes, cut into

1

-inch chunks

1

pound crookneck squash, cut into

½

-inch slices

1

pound Japanese eggplant, cut into

½

-inch slices

2

bell peppers, cut into

1

-inch pieces

1

yellow onion, cut lengthwise into

eight

hs

10

garlic cloves, smashed with the flat side of a knife

¼ cup

olive oil

1 ½ teaspoons

kosher salt

¼ teaspoon

ground black pepper

1

rosemary sprig

¼ cup

thinly sliced fresh basil
Instructions
Preheat the oven to 400°F. If your oven cannot fit two large baking sheets side by side, place one rack in the top third of the oven and one rack in the bottom third of the oven.
As you prepare all the vegetables, cut the tomatoes first and let them drain in a colander while you break down the remaining ingredients.
In a large bowl, gently toss all the vegetables with the garlic, oil, salt, and pepper until evenly coated.
Strip the leaves off the rosemary sprig and scatter them on top.
Spread the vegetables across two large rimmed baking sheets in a single layer, with the tomatoes cut sides up. You want the vegetables packed in tightly, but not piled on top of each other.
Roast until most of the vegetables are soft, shriveled, and slightly browned, about
minutes. If your baking sheets are on two separate racks, swap their positions halfway through the roasting time for even cooking.
Transfer the vegetables and all their juices to a serving bowl and toss with the basil. Serve warm or chilled.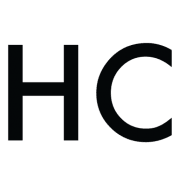 Andrew Asistin
Combining a love of writing and food, Andrew's culinary journey has walked many paths. From university, to the Culinary Institute of America, to the restaurants of NYC. Now finally settled in as an editorial intern at Alimentari, the next step of his journey can begin.