Erika Elia
Erika from CuocheinVacanza (www.cookingclassesintuscany.net), Tuscan DOC, is a Cooking Classes…
Cooking on the rooftops of Florence? Done!
When Mary Lynne wrote me an email asking for a Private Cooking Class in Florence downtown I couldn't imagine that we would have run it over the roofs.
Furthermore there were 120 stairs to arrive to the attic where she and her family were on holiday.
We go to Florence many times a years, usually for a trip to the Market "Centrale" followed by a cooking class with shopping done; CLICK HERE to see our experience in Florence Market.
Our Cooking School is ITINERANT.
We go all around Tuscany to run Cooking Classes and Private Dinners directly to the holiday homes of our customers. Our job is very physical (load-unload the car, to drive a lots of hours a day…).
That's why I was very scared by all these stairs to arrive toi the apartment: once you have been injured the job season is over.
However Mary Lynne immediately reassured me:"My 4 "children" are young adults in their 20's and are willing to help you carry everything up and down the stairs. My mouth is watering already!"
We couldn't ask for a better treatment…let's go to Florence for a Private cooking class, cooking on the rooftops ;)

One of the best things of my job as cooking classes coach and private dinners chef is the possibility to meet new people coming from all around the world. Each one has his own background, but they all have an insane love for Tuscany and genuine-fresh food.
Every cooking class or private dinner is often an adventure:
new people, new roads to drive, new villages or landscapes to visit, new holiday homes and villas.
Oxana (my assistant) and me were very thrilled to live this new adventure and very curious to watch the view once that you're cooking on the rooftops.
So, after 120 stairs we finally arrived to the apartment: can't imagine the view; it seemed to touch the Santa Maria's cathedral!
We could really say: cooking on the rooftops of Florence
The amazing family that hosted us came from Texas: 4 sons and an incredible, smiling and sweet mother.
I've to declare all my love for Texans! Many customers and students from over there and all full of joy for life, love for simple but important things, desire of have fun together.
They chose the classic Italian menu:
starter, first course fresh handmade pasta based, main course meat based and typical dessert.
And so: Bruschetta to start, fresh handmade egg pasta, Arista Tuscan Style, and Tiramisu.
See Also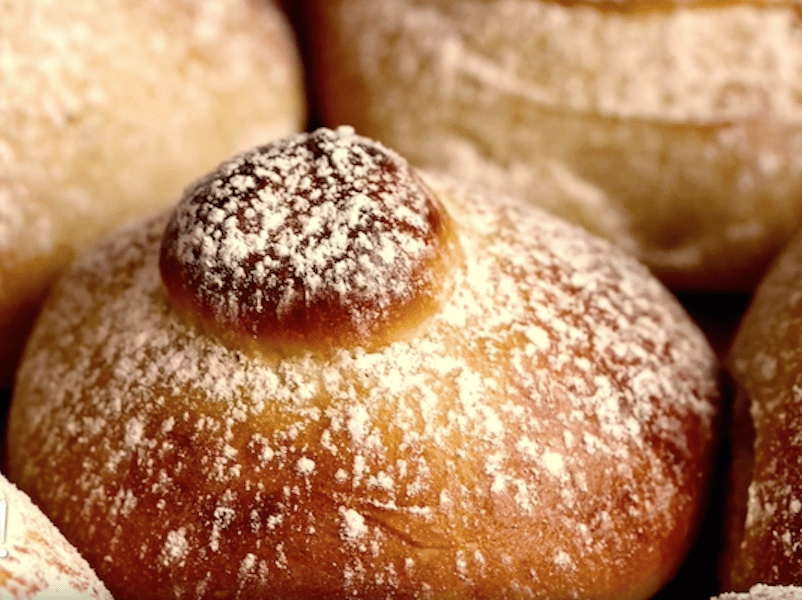 Anyway the queen of this cooking class in Tuscany was the sauce for the fresh handmade pasta,
fresh tomatoes (Piccadilly or Cherry) that you let "caramelize" and "flambè" in the pan. Everyone is asking me the recipe and the students in our cooking classes are starting to send pictures about their sauce and pasta, once they're at home.
And so my friends here's the recipe (by popular demand) of: Caramelized Tomatoes Sauce. It's incredibly simple, incredibly tasteful, I'd better say Amazing!!
Just a few suggestions to obtain the best performance from this excellent mediterranean condiment;
follow the tips and be sure you'll delight your guests:
First of all the pan: a no-stick one! you can't use another kind because the result will be completely different
Tomatoes to buy: Piccadilly (in some countries you can find Santorini tomatoes, as my friend Jeannie told me on facebook) or Cherry tomatoes.
Buy the tomatoes on Summer (the best months here in Tuscany are July and August). During the rest of the year you can cook a very good tomatoes sauce (salsa di pomodoro) like that one in THIS RECIPE for Parmigiana Aubergines.
Tomatoes must be ripe, but firms and without stains.
Here in Italy we can find very sweet tomatoes, so you can flip the step to add some sugar: in fact the sauce goes away and still remains the fruit with all its sweetness. You could maybe add 1 or 2 teaspoons max depending on amount of tomatoes.
Add salt immediately after pouring the tomatoes and flip them (high fire) "flambé". Be careful to your kitchen and switch on your kitchen fan.
Cooking on the rooftops was a new experience for us, but meeting this amazing family was even better. They were very happy with our sauce and I'm sure they cooked it once at home.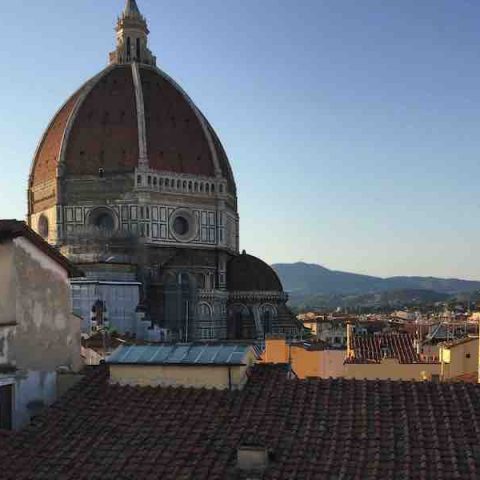 Caramelized Tomatoes Sauce for Pasta
Erika Elia
Ingredients
1

Kg

2 lb Fresh ripe tomatoes (Piccadilly or Cherry)

10

leaves

basil

3

cloves

garlic

to taste salt and pepper

5

tbsp

extra virgin oil
Instructions
Chop the tomatoes in medium pieces (about the half part of a cherry tomato)

Pour extra virgin oil in a no-stick pan (large), to cover the bottom

add the cloves of garlic

cook on medium fire

as oil is starting making bubbles around cloves, pour the chopped tomatoes

immediately add salt

while they're frying (noisily) you can now flip them and "flambè" (skip this step if you don't have a big kitchen hood, because they're going to make a big flame)

spread the tomatoes with a wooden spoon over the pan and let them cook (medium fire) for about 10/15 minutes (it depends on the juice they've inside)

cook until almost all of the liquid is absorbed

now cook high fire 3 or 4 minutes until it smells "burnt": caramelization is starting

stir the tomatoes with a wooden spoon the tomatoes until they're a bit brown on one side

leave cooking 1 minute more

turn off the fire

add basil leaves (broken by hand)

Season your PASTA directly in this pan with the tomatoes
Can you find "Piccadilly tomatoes" in your country? Do they have the same name?
Would you like to inform me about a simple but tasteful sauce for pasta that you usually eat in your country?
Salva
Save
Erika Elia
Erika from CuocheinVacanza (www.cookingclassesintuscany.net), Tuscan DOC, is a Cooking Classes Trainer and Private Dinners Chef who comes directly to your holiday home in Tuscany. Respect for Nature is her paramount, and is fundamental to Tuscan home cooking. Food Blogger and Trip Lover, she pays the utmost attention to the seasonality and authenticity of all the ingredients. If you're looking to take some of Tuscany home, what better way than to learn to cook your favorite dishes or have them cooked for you?