Connecting the community, Chef Mike Davis of restaurant Terra gives diners a bite of Columbia's delicious history through ingredients while evolving with the ever-growing food scene of the city. Plus, try a bite of Terra at home with their famous butterbean succotash.
By Annelise McAuliffe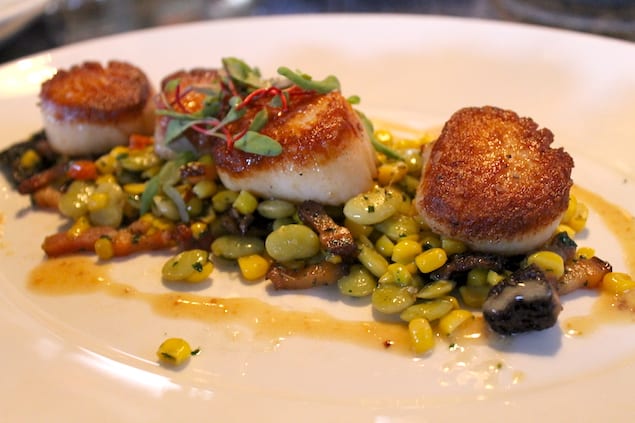 Located just over the Gervais Street Bridge that connects Columbia and West Columbia sits the restaurant Terra, owned and operated by Chef Mike Davis. Opening its doors in 2006, Terra has been a leading establishment as the Columbia restaurant scene continues to mature and multiply. However, Chef Mike made sure his restaurant wasn't just a passing fad. Rather, Terra acts as a community connecter that not only changed the dining scene, but altered diners mindset to focus on the delicious local flavors around them.
At the time of their opening, being on the "other side" of the bridge in West Columbia was a restaurant faux pas. However, Chef Mike and his team's menu broke down the mental barrier and successfully encouraged people to venture over for a great meal. Since its opening, Terra has not only brought customers to the area, but its presence has encouraged new restauranteurs to set up shop in West Columbia, too. With a great reputation and loyal following, the West Columbia eateries have contributed delicious dining options and helped to connect a geographically divided Columbia community.
"The bridge and crossing it was a big thing when we first opened. I heard that getting people to cross it to go to dinner was going to be hard. I think it was just mental, 'we don't go to West Columbia to eat kind' of thing, but once we built our reputation, they came to see what the fuss was about. Now, with our success, @116, and Cafe Strudel we feel the bridge stigma is a thing of the past."
A member of Slow Food Columbia, Chef Mike, an Alabama native, has curated a menu that speaks to visitors about the agriculture of the surrounding areas and reintroduces local favorites to born and raised regulars. Having cooked in other cities like New Orleans, Mike Davis has mastered southern comfort food. Diners stop in throughout the year for his famous lamb mac and cheese or wood oven pizza, but we especially saw his Columbia passion shine through in the seasonal dishes. Featuring ingredients like butterbeans, morels, summer squash, heirloom tomatoes, or local Anson Mills grains, the Terra menu is always in motion. While Chef Mike admits that there were some skeptical diners in the beginning, it wasn't hard to win them over with winning dishes like seared scallops plated beside corn and butterbean succotash with Benton's bacon.
"Good food squashes doubts."
The best part of being a player int the exciting expansion in Columbia is that there is always more room to grow. For Mike Davis, it is stimulating to connect with the new chef-driven restaurants popping up around the city that are looking to collaborate and continue to build the community rather than compete. Although Terra is one of the "big kids" of the restaurant scene, they are still on the move, always emerging to meet the needs of the food-loving city.
"We just need to keep evolving at Terra, that's what I am always saying to the staff. Don't get complacent with our success, now that we have expectations, what can we do to exceed them. As long as we keep growing and pushing ourselves, we feel like we can do our part to help the food scene here evolve."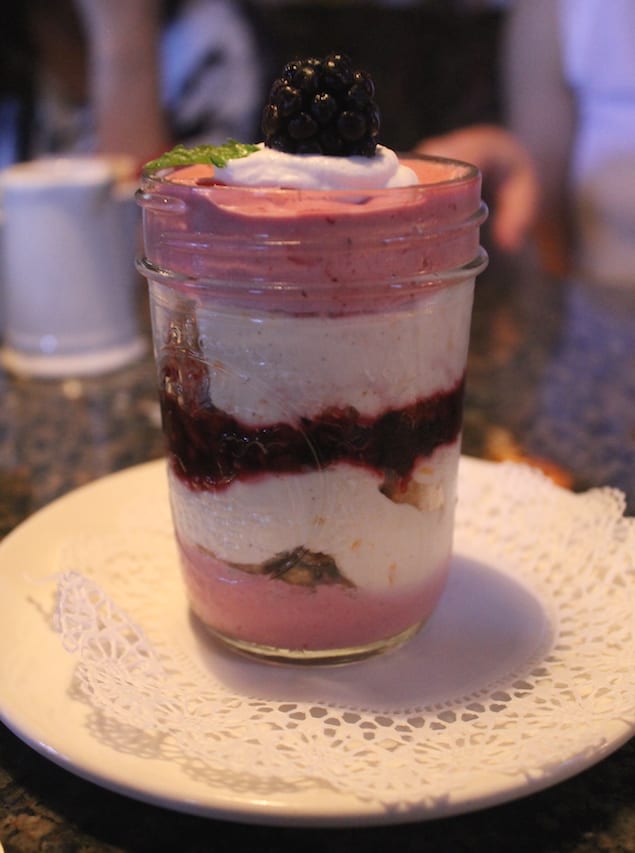 This time of year, Chef Mike loves featuring his favorites of the season, especially blackberries and peaches. We tried his blackberry trifle when we visited, and you can truly taste his appreciation for the berry — it is summer in a jar. Heirloom tomatoes from local growers are the secret weapon for some of Terra's coolest summer dishes. All year round you will find the infamous Anson Mills grains and rices on the menu in a variety of ways. The heirloom grower and miller is a fixture of Columbia that chefs and eaters are so proud to be associated and cooking with. Not only do these food item have amazing flavor, but they also have an important history to the area that is shared and relived around the table.
When you visit Columbia, be sure to stop in at Terra for dinner. In the meantime, recreate Chef Mike's amazing butterbean succotash.
Print
Terra's Butterbean Succotash
Serve as a beautiful summer side to seafood or meat dishes. Or just grab and spoon and devour!
Author:

Chef Mike Davis of Terra in Columbia, SC

Yield:

6

servings

1

x
Category:

Side

Cuisine:

South Carolina, Southern
3 Tbsp

bacon lardon
Kernels of corn cut off of 3 ears.

1

lb of fresh butterbeans, cooked until tender, cooled in cooking liquid

2

roasted red peppers diced

1/2 cup

seared shiitake mushroom, cut in quarters

1

garlic clove sliced

1

shallot minced

1 Tbsp

Canola oil

2 Tbsp

chopped herb mix (equal parts parsley, chive, thyme)
Instructions
Heat a pant until hot over mediumhigh heat, add canola oil, then add bacon and render until mostly crispy.
Turn the heat down to medium, add the shallot and garlic and sweat until translucent.
Add corn, butterbeans, and mushrooms and heat until warmed through.
Add diced roasted peppers, herbs and stir well for even heat.
Add salt and pepper to taste. Enjoy!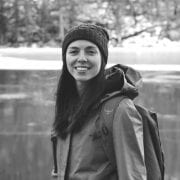 Annelise McAuliffe
Mandatory family outings to the Detroit farmers' market and nightly home-cooked meals cultivated Annelise's respect and curiosity for food. A graduate of The Culinary Institute of America, she spends her free time in New York City recipe testing, eating breakfast all day, and dreaming up international culinary adventures.