Brenda Benoit visits La Bottega in Coconut Grove, and sits down with Chef Carmen Trigueros for a chat about food and inspiration.
By Brenda Benoit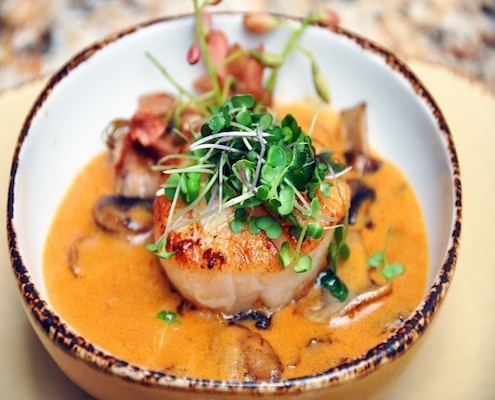 At a recent visit to La Bottega with friends and family we had some lovely Coconut Soup, Crab Cake and Warm Octopus Salad. The service was so warm, the food so fantastic and Chef Carmen Trigueros was so friendly and open, that I decided to ask her a few questions about her inspiration and dishes.
Tell me about your Restaurant
– La Bottega by Carmen Trigueros is part of the Grove Garden Trilogy of restaurants, situated around a charming court-garden setting at 3540 Main Highway, Coconut Grove, including Calamari Italian Restaurant, and Taurus…Another Round, the Grove's most legendary Bar. It is what Italians call an "enoteca sociale," a relaxing venue where one can experience instant gratification by shopping for, uncorking and enjoy extraordinary wines from boutique vineyards, and enjoying them with charcuterie, tapas and entrees.
The hallmark of the intimate setting is a state-of-the-industry open kitchen, right on premises, where guests can pull up a banquette to the counter and watch Chef Carmen Trigueros as she celebrates the tradition of well-being found in the Mediterranean lifestyle, combining the ingredients of Italy, Provence, and Spain's Basque region together with a dash of Miami's own Latin flair.  The result is a versatile array of culinary offerings, from freshly concocted tapas to enjoy with wine, to elegant multi-course dinners served in the intimate private dining room at La Cava, the private membership wine club situated, literally in La Bottega's exclusive wine cellar.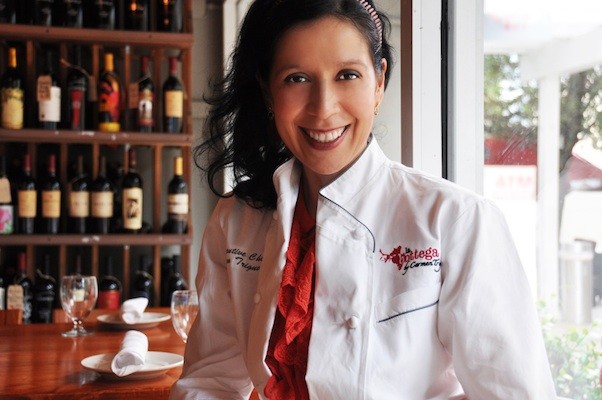 How did you come up with the menu, who/what was your inspiration?  
– My inspiration comes from my travels throughout the world where I had the opportunity to meet and work with extraordinary chefs and culinary institutions. I also enjoy exploring the history of food through customs of different countries, their cookbooks and traditions.
What is your favorite dish on the menu and why? What is the most popular dish with your guests?  
– My favorite dish is the crab cake, which is a recipe I cherish with culinary passion, as the technique is unique and differs from many other crab cake recipes in that it is lighter– almost a souffle.  It also happens to be among the most-ordered by our guests, although recently the Warm Octopus Salad has become quite popular.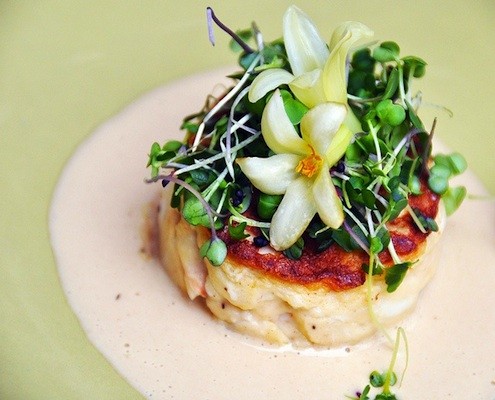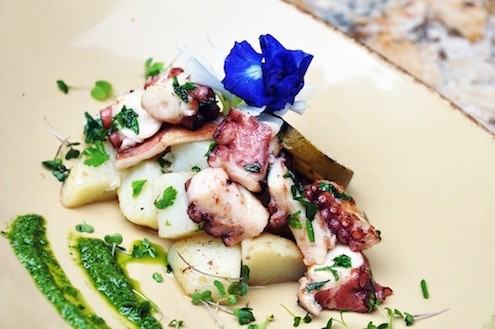 Why this particular cuisine and this particular location? 
– I never wanted to be limited to one type of cuisine.  I am greatly inspired by the variety found in the Mediterranean. This location with a beautiful courtyard and intimate setting seemed the ideal venue, especially with its foundation as a source for enjoying wines. It provides the ideal environment for pairing diverse culinary offerings, and offering an interactive experience through Cooking Classes, Wine Appreciation and Wine Tastings.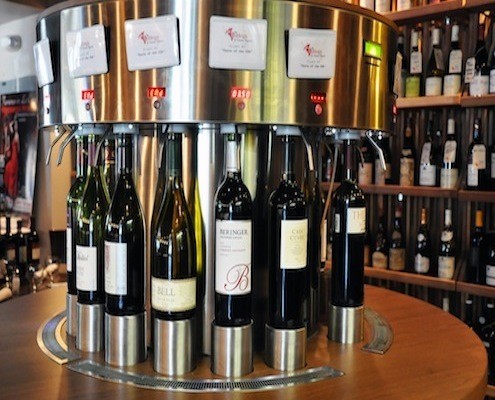 What is your opinion about the food scene in Miami? The future?  
– Miami is very international, I see a lot of trends in organic, light, raw foods.  The food scene is a reflection of so many cultures coming together, and I can interpret those cultural offerings at La Bottega.  Everybody wants to learn about wines and food. The curiosity of our clientele is growing.
What did your Mother cook for you when you were a child that you still remember fondly today?  
– I always remember chicken soup on Sundays with lots of cilantro and chickpeas.  Simple comforting foods to feed the spirit– it is this memory that informs our slogan: A world of flavors that feed the soul.
La Bottega by Carmen
3540 Main Highway
Coconut Grove, Florida 33133
T: 305.444.3493
Website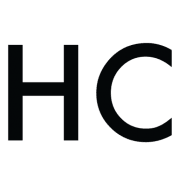 Brenda Benoit
Brenda Benoit was born in the city of St. George's in Grenada and grew up in Caracas, Venezuela. She has been living in Miami for over 20 years, loves to cook, eat and to try new restaurants & cuisines - always with her camera as a companion. She's a dedicated cookbook collector and is in the process of writing one of her own.