Master this famous French dessert and you'll be set to wow any and all dinner guests.
by Sowmya Dinavahi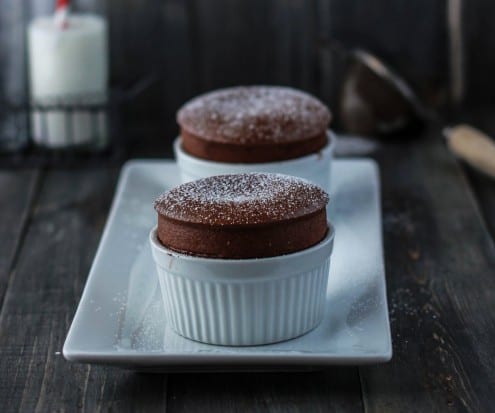 Classic Chocolate Soufflé
Master this famous French dessert and you'll be set to wow any and all dinner guests.
Author:
Sowmya Dinavahi, adapted from Martha Stewart
Ingredients
2 tbsp of Unsalted Butter,at room temperature
½ Cup of granulated sugar ,plus more for ramekins
3 Large egg whites plus 3 large egg yolks at room temperature
⅛ tsp of cream of tartar
5½ ounces of bittersweet chocolate,melted
⅔ Cup of whole milk
¼ tsp of vanilla extract
1 tbsp plus 1½ tsp of corn starch
⅛ tsp of salt
3 tbsp of sourcream
Confectioner's sugar for garnish
Instructions
Preheat oven to 400 degrees. Brush four 7-ounce ramekins generously with the butter; coat with granulated sugar. Whisk whites with a mixer until frothy, about 2 minutes. Add cream of tartar; whisk until soft peaks form. Add ? cup granulated sugar; whisk until medium peaks form, about 5 minutes.
Set chocolate in a bowl. Whisk milk into cornstarch and salt in a saucepan. Bring to a simmer. Cook, stirring, until thick, 1 to 2 minutes. Whisk into chocolate (mixture will separate). Whisk in yolks and creme fraiche. Gently fold in egg whites.
Fill ramekins evenly with batter. Bake on a baking sheet, rotating halfway through, until souffles rise but centers are still liquid, about 14 minutes. Dust with confectioners' sugar.