Sponsored Post: We're celebrating Vinho Verde wines this season. These Portuguese bottles are young, fresh, vibrant, and affordable. It's the perfect wine for all your favorite summer recipes, beach trips, and vacations. It truly is like no other wine in the world.
This quick and easy recipe for Citrus and Herb Grilled Shrimp is an insanely delicious flavor-packed summer meal that is perfect with a glass of Vinho Verde wine.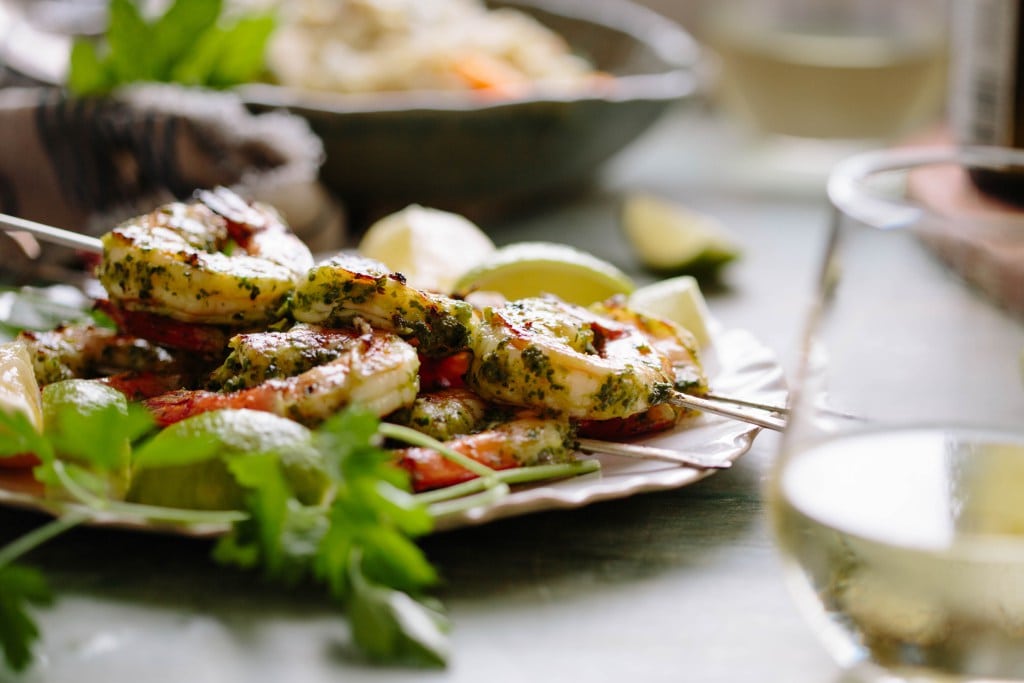 Nothing says summer like grilled seafood. Not only is it light and flavorful, it's also one of the easiest things you can throw together on a day when you don't feel like spending hours in the kitchen (aka all summer long). This recipe for Citrus Herb Grilled Shrimp uses one of my favorite freezer staples – frozen peeled and deveined shrimp. I always keep them on hand because they defrost quickly, cook even more quickly, and always taste like something special.
These shrimp are packed with flavor thanks to a simple marinade made with lemon and lime zest, a bit of garlic, a generous glug of olive oil, and all the fresh herbs you can get your hands on. Use the ones you like, and leave out the ones you don't (I'm looking at you cilantro haters). That's the beauty of this recipe – it's extremely forgiving, and will basically taste great whether you use one herb or all five listed in the recipe.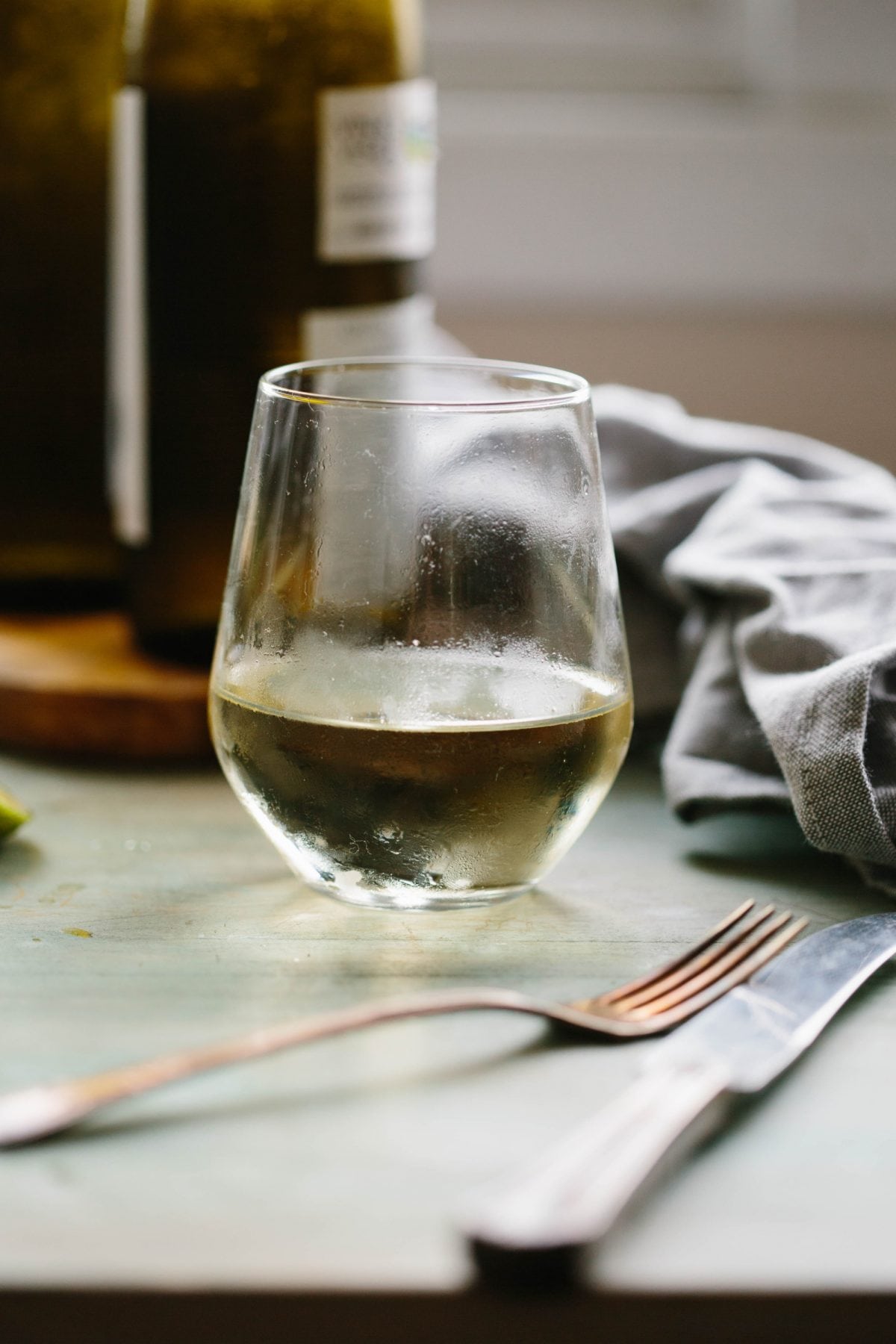 Shrimp do not take very long to marinate, but because there isn't any acid in this marinade, you can let them hang out in the fridge for as long as 24 hours. This is great for parties or anytime you want to have a meal prepped ahead of time. It's always best to leave acids like citrus juice out of seafood marinades because they break down the protein within a matter of minutes, like ceviche. This marinade ensures the shrimp stay tender, juicy, and full of flavor without any weird textural compromises. I like to add a squeeze of fresh lemon and/or lime juice right before serving to give them a pop of brightness.
I'm pairing this dish with a lovely Vinho Verde wine. Vinho Verde is the largest wine region in Portugal, encompassing over 8% of the country's land surface. For this post, I was generously sent two bottles and was completely smitten after taking just one sip. I've been growing tired of the few whites and rosés that have been rotating through my repertoire, and tasting this unique wine was a breath of fresh air.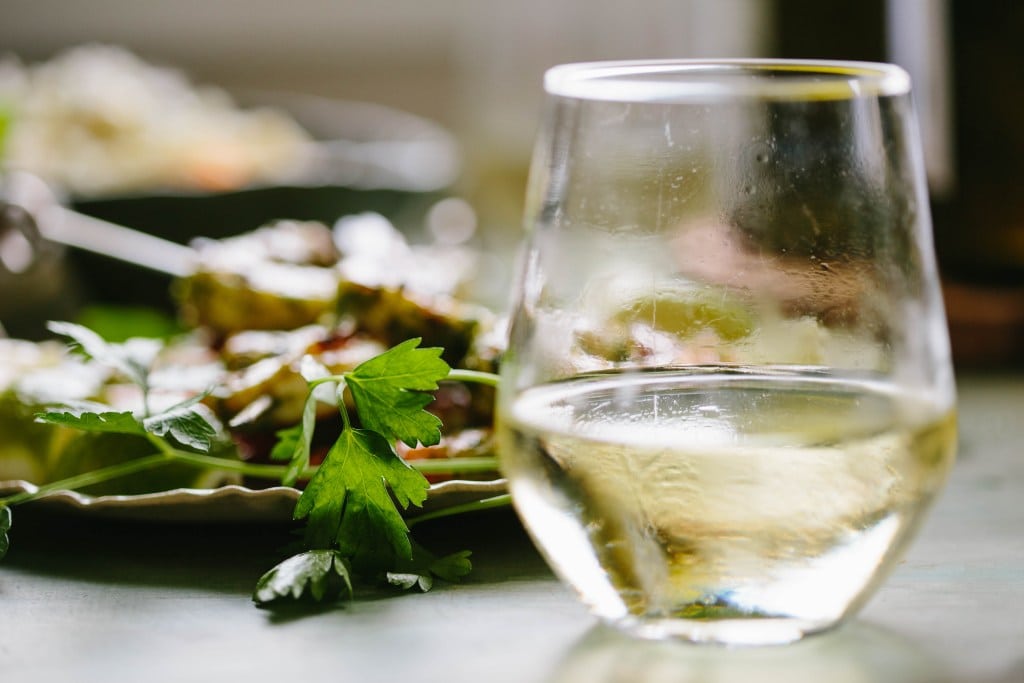 he wine I received was a bright, crisp, and refreshing white with just a subtle tingle of effervescence. Not all Vinho Verde wines possess this characteristic, but I was pleasantly surprised to find that this one did. It tickles your tongue ever so slightly, making it incredibly food friendly and perfect for sipping on a hot summer day. It's fruity, but not sweet, is well balanced and pairs effortlessly with all kinds of light summer foods – like these citrus herb grilled shrimp!
I've become slightly obsessed with Vinho Verde wines ever since this experience, having purchased and tasted at least four different bottles in the past few weeks. Each one differed slightly in flavor and mouthfeel, but they were all easy drinking, food friendly, affordable, and absolutely delicious. I've never experienced such a high quality of wine at such a reasonable price outside of Europe. Even the highest quality Vinho Verde's won't set you back more than $10 a bottle.
See Also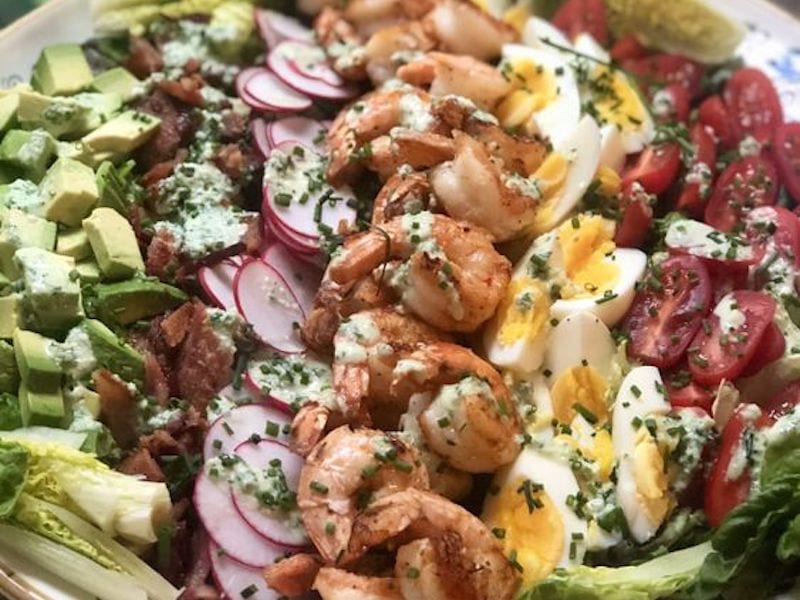 I'm thrilled that summer is here, and even more so that I have an entire new catalog of crisp, easy-drinking white wines to enjoy all season long. Ask about Vinho Verde wines the next time you're at your local liquor store, or purchase one online and give it a try.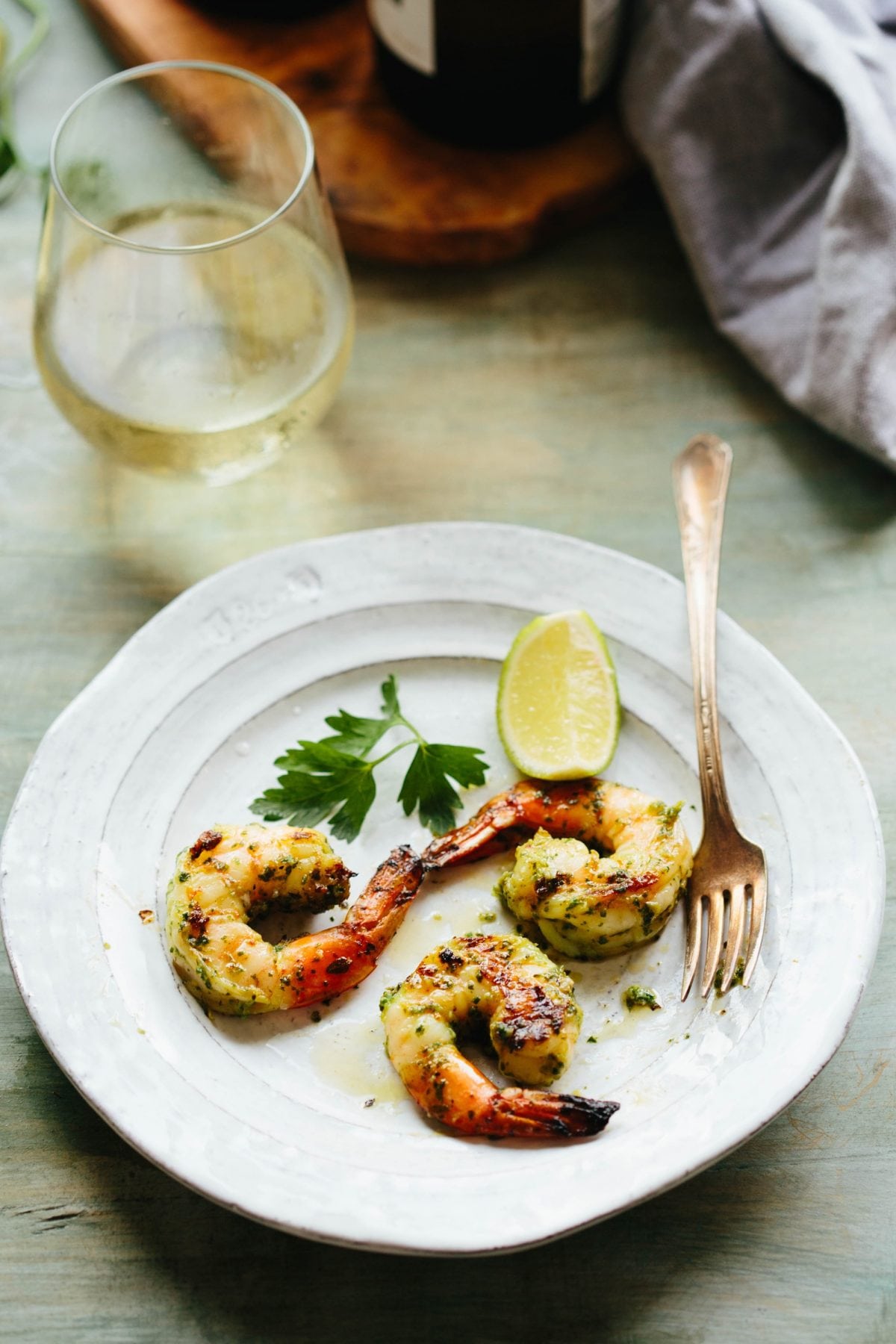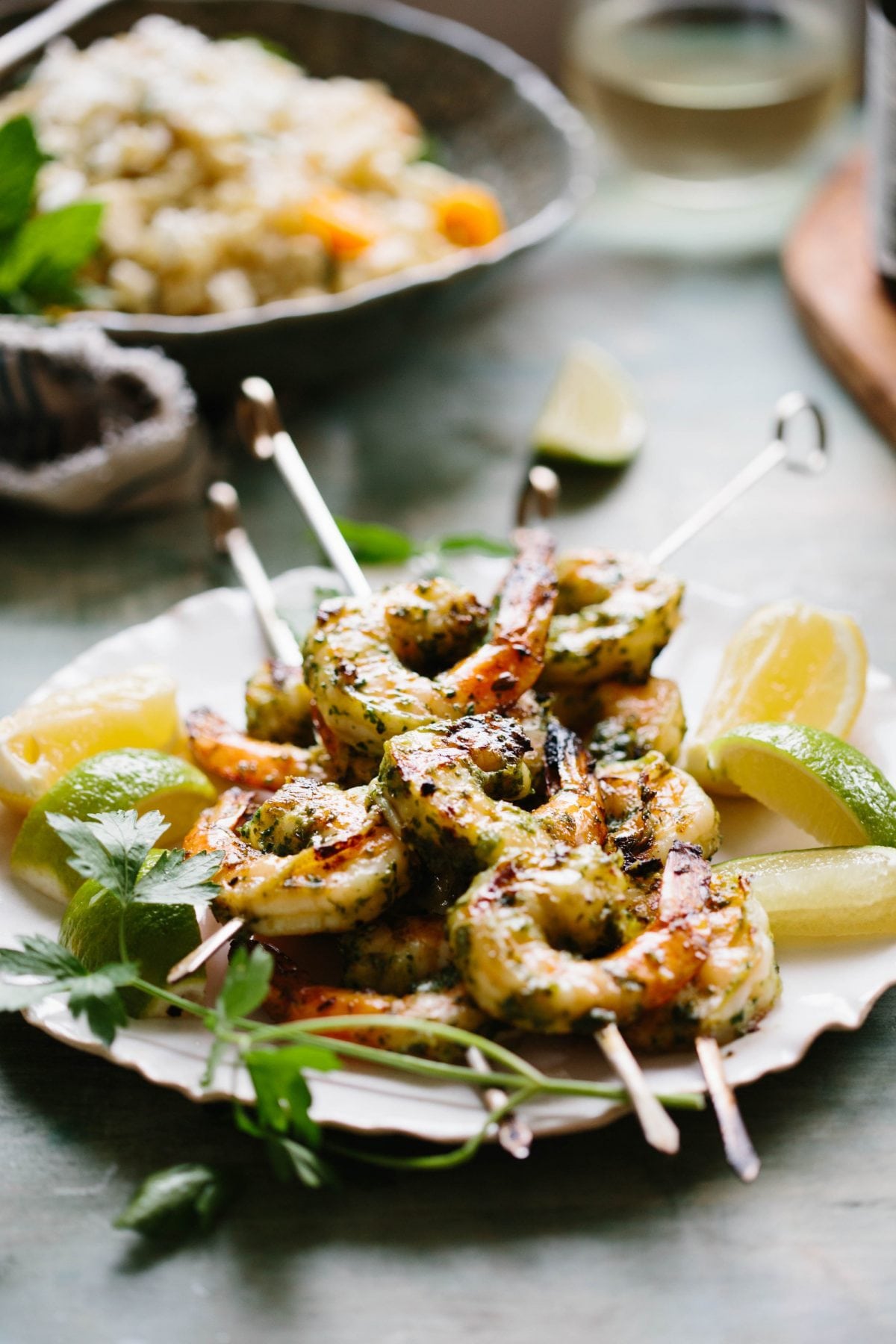 Print

Citrus and Herb Grilled Shrimp with Vinho Verde Wine
---
zest from

1

lime
zest from

1

lemon

1 teaspoon

kosher salt

1/2 teaspoon

freshly ground black pepper

1

large (or

2

smaller clove garlic, peeled)

1 cup

fresh basil leaves (loosely packed)

1 cup

fresh cilantro leaves (loosely packed)

1/2 cup

fresh parsley leaves (loosely packed)

1/4 cup

roughly chopped fresh chives

2 tbsp

fresh thyme leaves

1/2 cup

extra virgin olive oil

2

lbs large shrimp (

16/20

count or larger, peeled and deveined)
metal or wooden skewers
extra herbs for garnish (optional)
lemon and/or lime wedges for serving
---
Instructions
Add the lime zest, lemon zest, salt, pepper, and garlic to the bowl of a food processor. Pulse a few times until the garlic is broken into little bits, then add the basil, cilantro, parsley, chives, and thyme. run the motor for about 5 seconds to get everything moving, then slowly stream in the olive oil until everything is well combined.
Transfer marinade to a zip-top bag with the shrimp, seal the bag, then squish everything around until the shrimp are all fully coated. Marinate in the refrigerator for at least 1 hour, or up to overnight, turning the bag every so often to make sure the shrimp are marinating evenly.
When ready to cook, preheat a grill to medium-high heat. If using wooden skewers, be sure to let them soak in warm water for at least 30 minutes prior to cooking so they don't catch fire. Remove shrimp from the marinade, then place 3-4 of them on each skewer.
Grill shrimp for about 2-3 minutes on each side, depending on size, or until they're slightly charred on the outside and pink / opaque throughout. Be careful not to overcook, as the shrimp will turn rubbery and tough. Garish with any leftover herbs and a few lemon and lime wedges. Pair with a chilled Vinho Verde wine and serve immediately.