Cinnamon Bun Bread Pudding, the ooey gooey deliciousness of cinnamon buns combined with the rich decadence of bread pudding and cream cheese icing.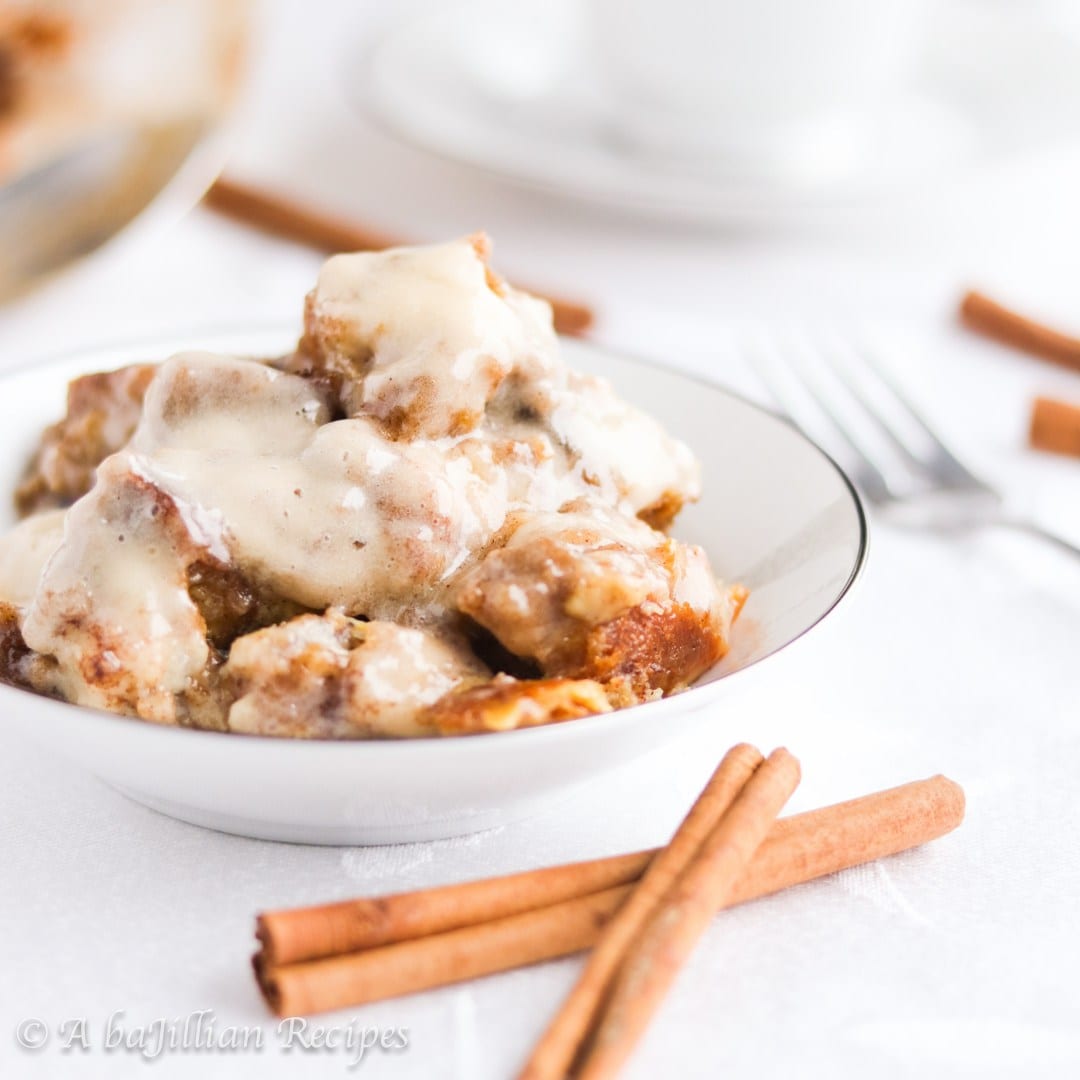 I've been obsessed with cinnamon lately. Well, cinnamon SUGAR to be more specific. Not too long ago I posted a recipe for Cinnamon Toast Crunch Cake (which was to-freaking-die-for), and since then I can't seem to get that cinnamon sugary deliciousness out of my head.
So this week, I decided to satisfy that craving by combining two of my favorite comfort foods–cinnamon rolls and bread pudding!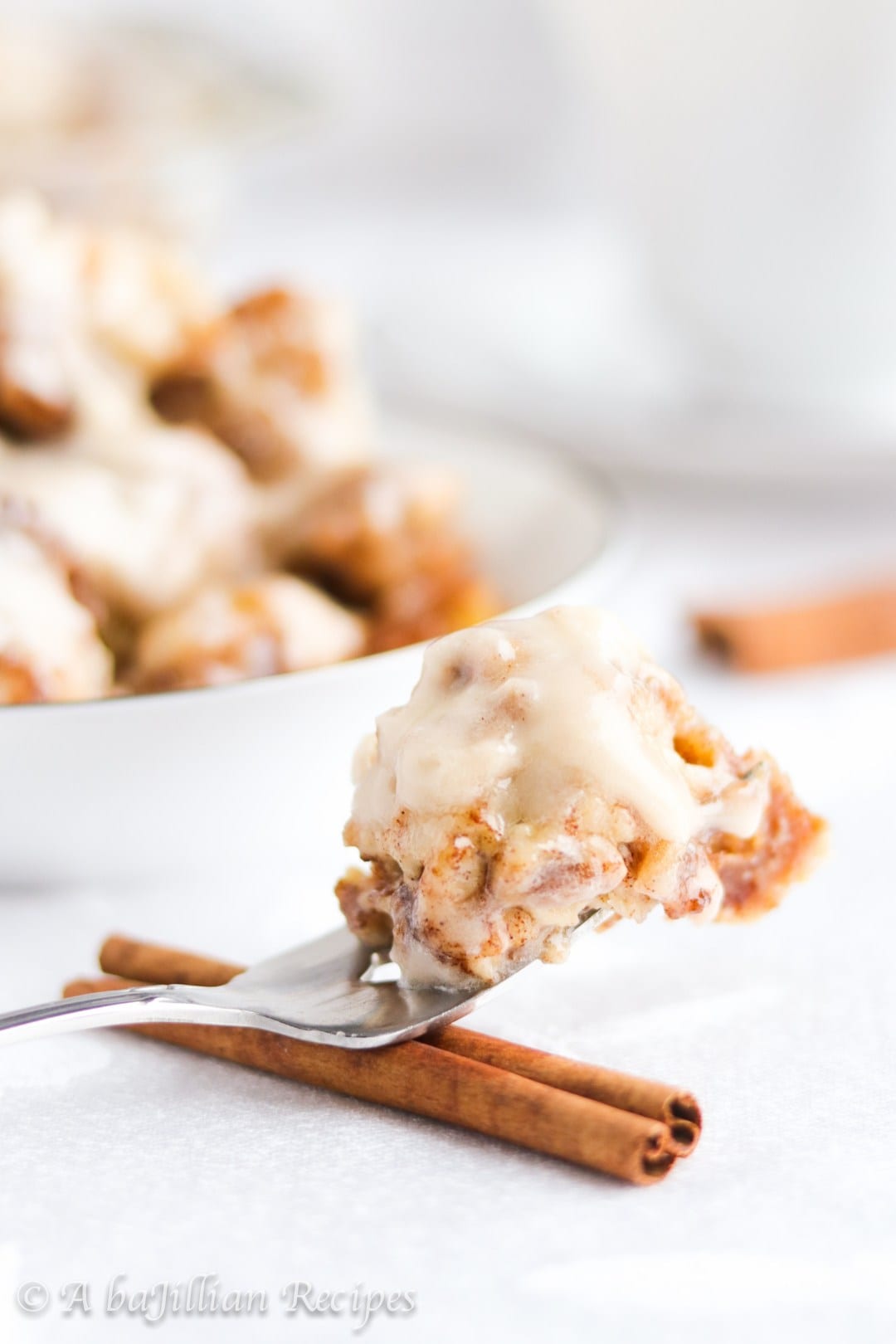 This Cinnamon Roll Bread Pudding is EXACTLY what my tastebuds needed. Warm, doughy, teeming with brown sugar-cinnamon sweetness, and buried in cream cheese icing, this dessert is heaven in a dish. I'm not even exaggerating.
My eyes were instantly captivated as I pulled this beautiful creation out of the oven. No words can describe how tortuous it was to photograph this temptingly sinful dessert as the smells of cinnamon sweetness wafted through the air. Really, you would think I'd be used to this by now.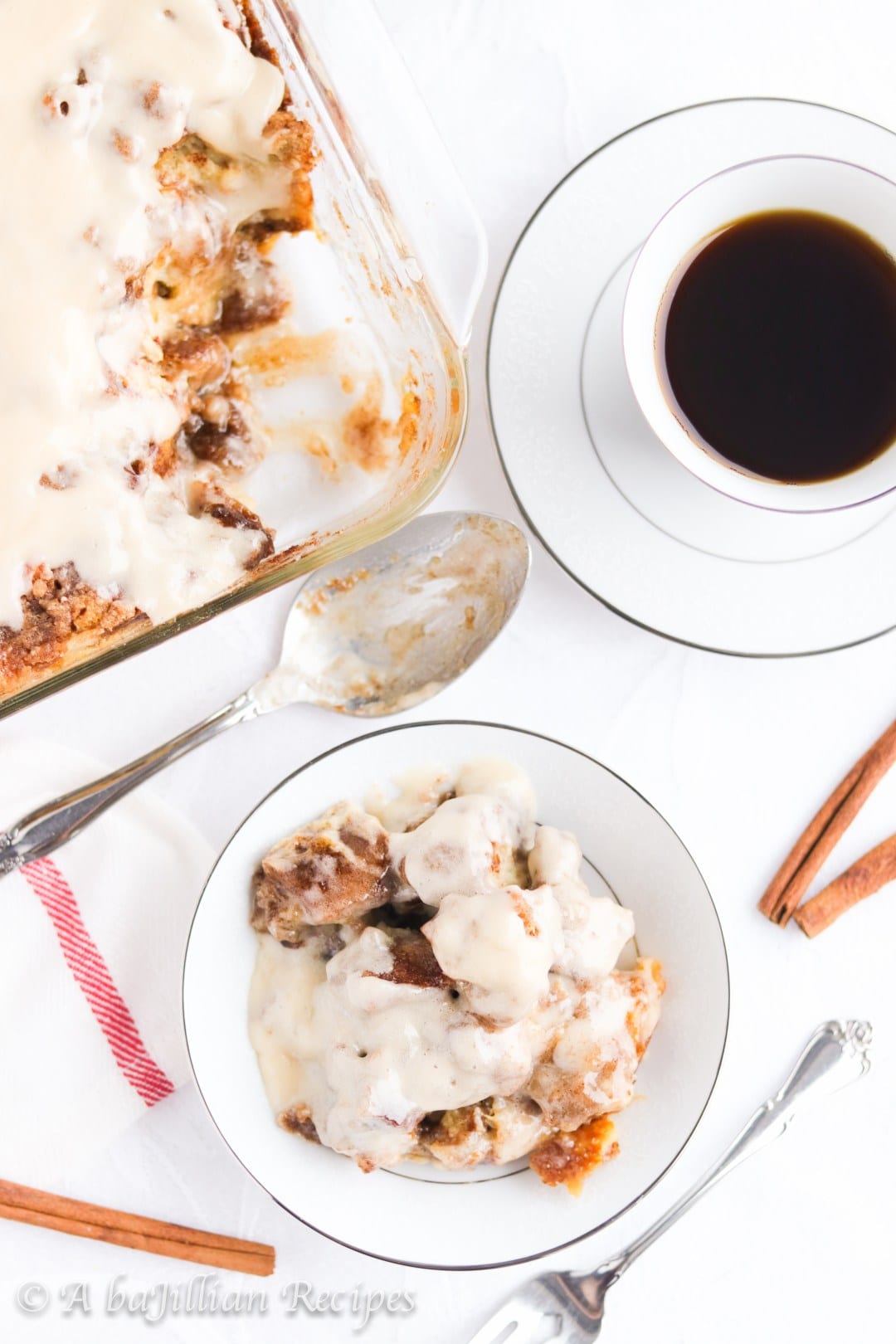 Although there are a few different components to this dessert, it really doesn't take that long to put together. For one thing, it starts with canned ready-made cinnamon rolls. These are quartered and then scattered into a dish along with some cubed, day-old bread. I ended up using a crusty artisan baguette which I found in the bakery clearance rack of my local grocery store. Really, any bread will due though. I would, however, use a heartier type from the bakery section (French, Challah, etc.), rather than the simple sliced kind you find in the bread aisle.
Once half of the bread and cinnamon rolls are placed into the dish, dollops of maple-sweetened cream cheese are scattered throughout. Because why not? Sure there's going to be cream cheese icing on top as well, but why not add little pockets of tangy cheesecake-like sweetness to the center of the dish? Best idea ever, right??
After the cream cheese dollops are "dolloped" into the dish, the remaining cinnamon rolls and bread are scattered on top. Next, a mixture of melted butter, brown sugar, cinnamon, eggs, and milk is poured over the entire dish. To allow the bread to soak up as much liquid as possible before baking, I let the dish sit in the refrigerator covered overnight. In the morning (or afternoon, if you're a sleeper-inner like me), it's ready to bake in the oven.
But not so fast! This dish gets topped with a generous layer of streusel first. Just combine a little butter with some flour, brown sugar, and cinnamon, and make it rain over the entire dish. THEN it's ready to bake in the oven for about 45 minutes. It should be golden brown and bubbling.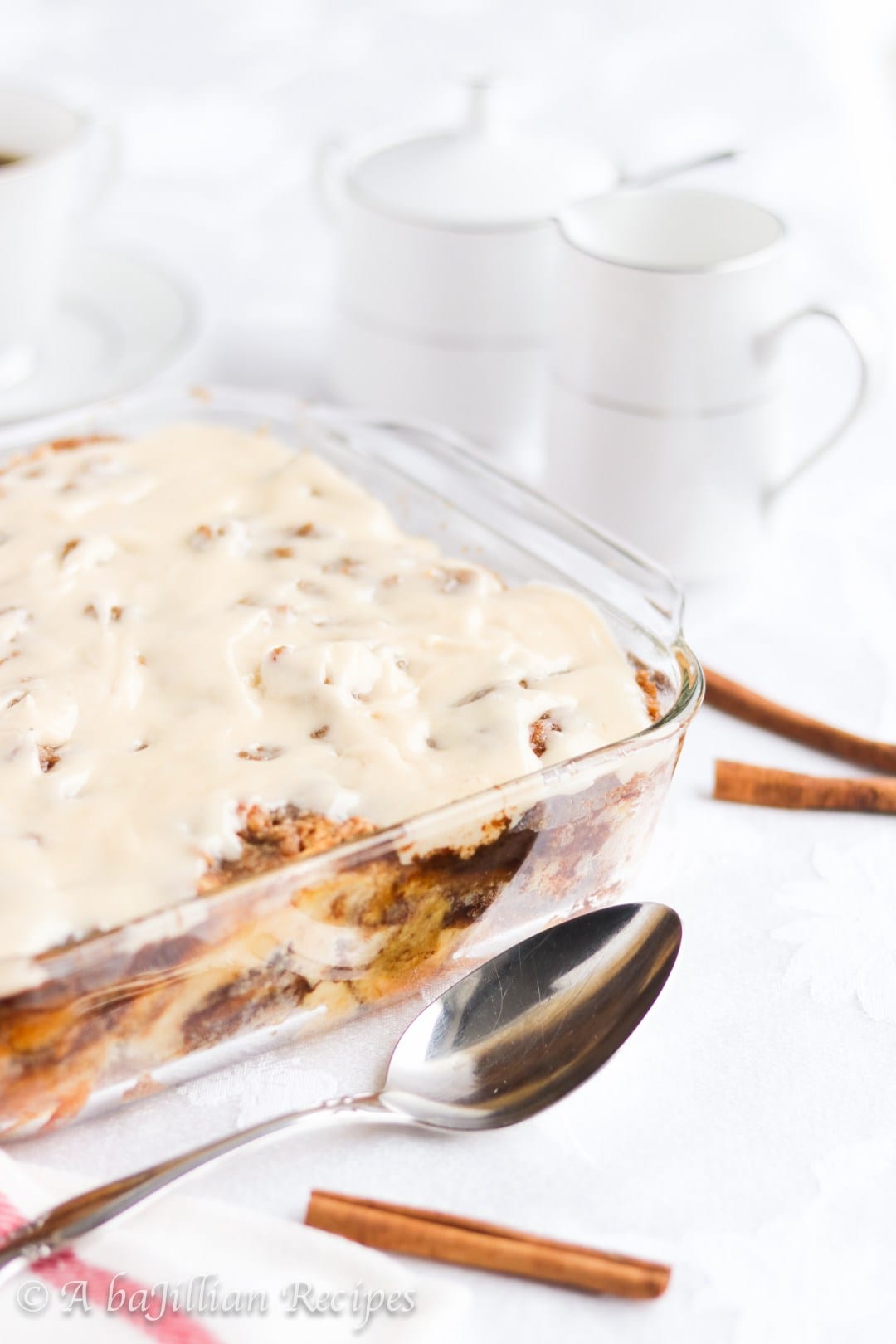 While it's baking, you can make the cream cheese icing. Whip together some butter, cream cheese, powdered sugar, and a little vanilla until smooth and creamy. Once the bread pudding is done, allow it to rest/cool for about 5 minutes before spreading the icing on top. It takes but just a few minutes for the icing to melt into every single delicious crevice.
I don't think you can get more comforting than this warm Cinnamon Roll Bread Pudding. With deliciously doughy bits of cinnamon roll, soft custard-soaked cubes of bread, creamy dollops of maple cream cheese filling, toasted brown sugar streusel, and tangy cream cheese icing…this dessert has everything you could ever want in life.
Click HERE for the cream cheese icing recipe.
Print

Cinnamon Bun Bread Pudding
---
Author:

Jillian Hatsumi

Yield:

8

servings

1

x
Cream Cheese Dollops:
6 ounces

cream cheese (softened)

1/2 cup

powdered sugar

2 Tablespoons

maple syrup

1 teaspoon

vanilla
Bread Pudding Base:
1

12.4 oz can of Cinnamon Rolls (

8

rolls)

4 cups

day-old bread (cut into cubes (French or Challah))

4 Tablespoons

salted butter (melted)

1/2 cup

packed brown sugar

1 Tablespoon

cinnamon

4

eggs

1 cup

milk

1 teaspoon

vanilla
Streusel:
4 Tablespoons

salted butter (softened)

1/4 cup

packed brown sugar

1/4 cup

all-purpose flour

1 teaspoon

cinnamon
Cream Cheese Icing:
Click the link above for the recipe.
---
Instructions
Make the Cream Cheese Dollops: In a medium bowl, stir together the cream cheese and powdered sugar until smooth. Add the vanilla and maple syrup and continue stirring until combined; set aside.
Make the Bread Pudding Base: Spray an 8-inch baking dish with nonstick cooking spray. Separate the cinnamon rolls and cut each into quarters. Scatter half of them in the baking dish along with 2 cups of the bread cubes. Spoon dollops of the cream cheese mixture evenly over the cinnamon rolls and bread. Scatter the remaining cinnamon rolls and bread cubes on top.
In a medium bowl, stir the butter, brown sugar, and cinnamon together until combined. Add the eggs, one at a time, beating well after each is added. Stir in the milk and vanilla, then pour mixture evenly over the bread. Refrigerate at least 6 hours, or overnight.
Preheat the oven to 350ºF. While oven is preheating, make the streusel. Use a fork to cut the butter into the brown sugar, flour, and cinnamon until mixture resembles coarse crumbs. Sprinkle streusel evenly over the dish. Cover bread pudding with foil, and bake for 40-45 minutes. Remove foil during last 15 minutes of baking.
Make the Cream Cheese Icing: Click the link above for the recipe.
Jillian Hatsumi
I'm Jillian, the writer, baker, chef, recipe creator, and amateur (very amateur) photographer of A baJillian Recipes. Though I'm not a classically trained chef, I like to think I know my way around a kitchen pretty well. Aside from baking, cooking, and EATING, I also enjoy acting, couponing (I LOVE saving money!!), running, working out, photography, and playing with my little fluffernutter, Olivia. She's a dog, if you're wondering...