This makes a great side to any Mexican meal, or you can mix in a protein of your choice for a one-dish dinner.
By Rachel Crawford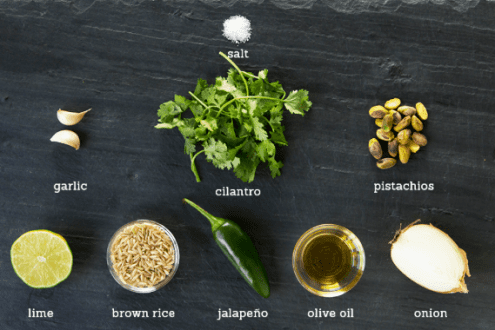 Cilantro Rice with Pistachios
This makes a great side to any Mexican meal, or you can mix in a protein of your choice for a one-dish dinner.
Ingredients
1 cup brown rice
½ onion
2 garlic cloves
1 cup packed cilantro
2-3 tablespoons olive oil
juice of half a lime
1 jalepeno pepper
handful of pistachios
Instructions
Chop onions, garlic and jalpeno. Cook over medium heat with olive oil until soft.
Cook rice.
In a food processor, combine the cilantro, onion mixture, lime juice and a splash more olive oil. Mix until finely chopped.
Stir cilantro mixture into rice and season to taste with salt and more lime juice.
Top with chopped pistachios.
Rachel Crawford
Rachel is a lover of vegetables and an avid home cook. She has catered parties, participated in cook-offs, hosted elaborate supper clubs, and volunteered with Slow Food teaching elementary school kids about seasonal food and how to cook. Recently, she left her full-time job as a branding consultant to spend more time in the kitchen. Her personal blog, madeweekly.tumblr.com, focuses on one seasonal ingredient every week, with a new recipe each day. She can also be found on kitchensurfing.com, a new site that allows anyone to search for and hire personal chefs online. Rachel studied acting at NYU's Tisch School of the Arts, and has lived in New York, NY for almost 12 years, which means she can officially call herself a New Yorker.