The ricotta adds a richness and density, much like sour cream would, but also creates a fudgey consistency.
By Liz Swartz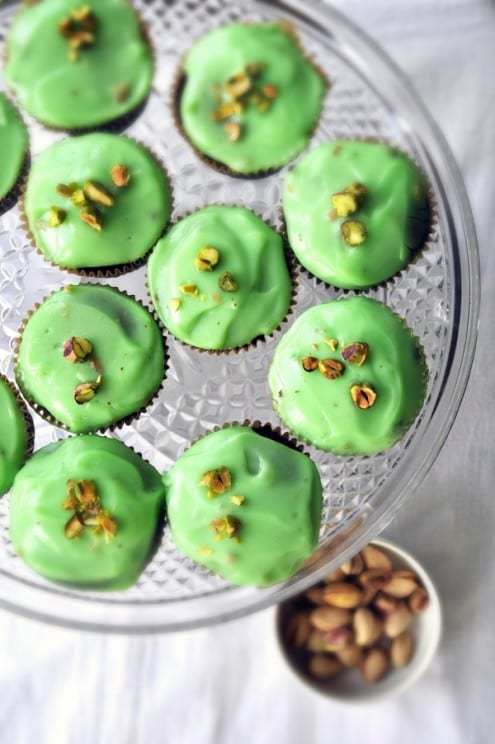 Chocolate Ricotta Cupcakes with Pistachio Pudding
The ricotta adds a richness and density, much like sour cream would, but also creates a fudgey consistency.
Ingredients
1 cup ricotta cheese
2 eggs
1⅓ cup milk
1 tsp vanilla
4 tbsp unsalted butter, melted and cooled
2 cups flour
1½ cups sugar
2 tsp baking powder
½ tsp salt
⅔ cup cocoa powder
Pistachio Pudding, prepared according to the box
Instructions
Preheat your oven to 350.
Whisk together all of your dry ingredients (cocoa, flour, baking powder, salt) so that they're mixed well.
With an electric mixer, cream the butter and sugar until it is light and fluffy - about 3 minutes. Then beat in your eggs, vanilla, and ricotta and mix thoroughly.
Mix in your dry mixture until just combined, don't overmix it. Spoon batter into cupcake liners and bake for 20-25 minutes, until they bounce back to your touch. Let them cool in the pan for 5 minutes then transfer them to a cooling rack. Let them cool completely before you spread the pistachio pudding on top.
The second half of this recipe is the pistachio pudding. It was as easy as using an instant mix and spreading that stuff all over the chocolate cupcakes.
Lizzy Wolff
Lizzy Wolff, creator of Sugar + Butter, loves to make you drool on your keyboard. It's a real thrill for her. For more recipes, click 'website' below.