Chocolate Marquise Loaf Cake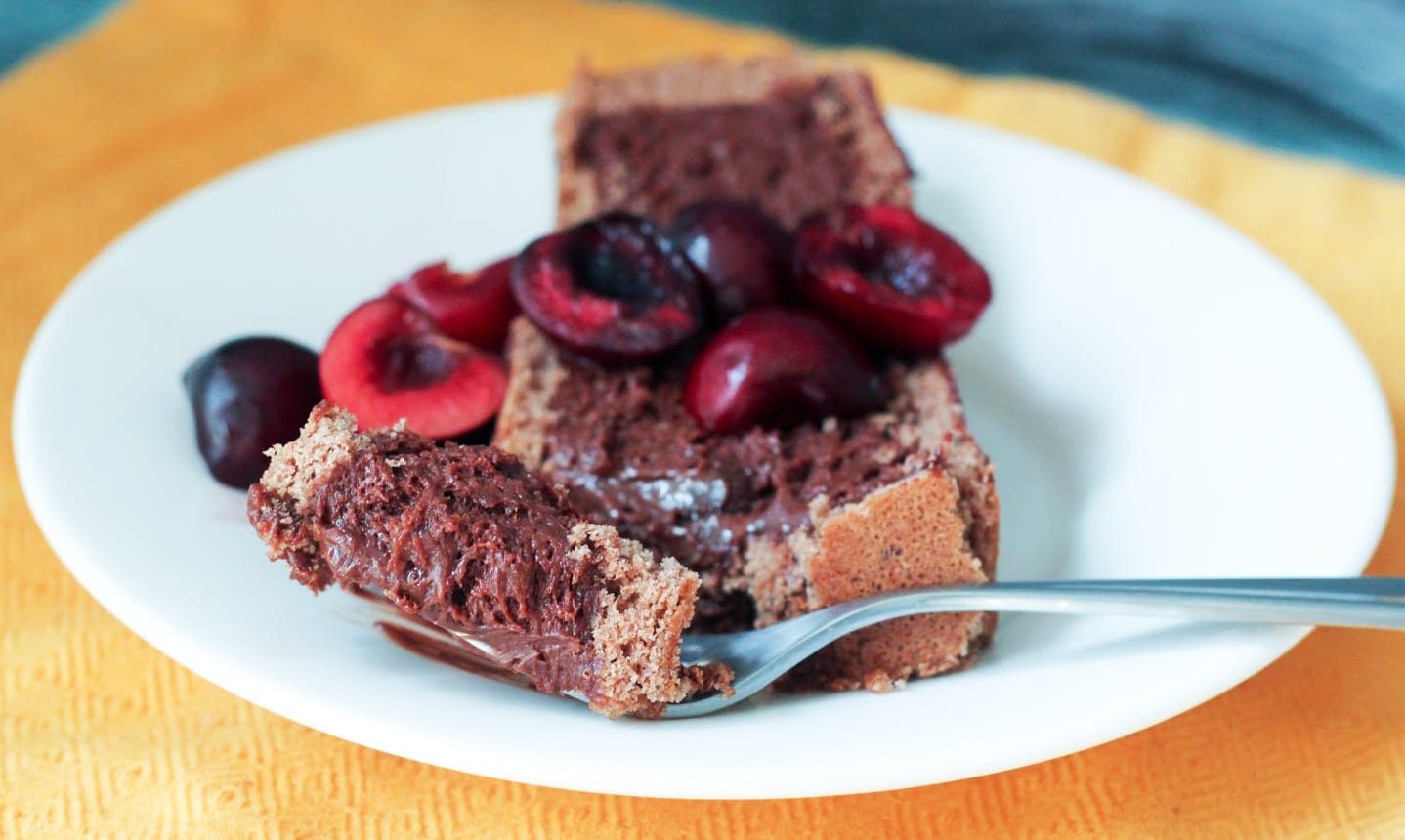 A simple chocolate sponge cake encases a rich chocolate mousse in this chilled dessert that can be stored in the freezer for unexpected celebrations.
By Amrita Rawat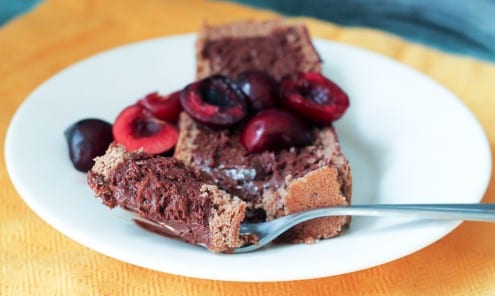 Chocolate Marquise Loaf Cake
A simple chocolate sponge cake encases a rich chocolate mousse in this chilled dessert that can be stored in the freezer for unexpected celebrations.
Author:
Amrita Rawat, adapted from Gourmet Traveler
Ingredients
Sponge Cake
3 eggs
¾ cup (140 g.) sugar
¾ cup (75 g.) all-purpose flour
2 Tbsp. Dutch cocoa powder
½ tsp. cinnamon
2 Tbsp. (30 g.) butter, melted and slightly cooled
Chocolate Mousse
12 Tbsp. (175 g.) unsalted butter
10.5 oz. (300 g.) good-quality chili chocolate, chopped
⅓ cup (60 g.) granulated sugar*
5 eggs
Pinch of salt
2 cups cherries, pitted
1 Tbsp. Kirsh or cherry liqueur
*If not using chili chocolate, use ½ cup (100 g.) of sugar
Instructions
Sponge Cake
Preheat oven to 425 degrees.
Grease a 13-by-18 jellyroll pan and line the bottom with parchment paper or a Silpat mat.
With an electric mixer, beat the eggs and sugar on high for 5 minutes, until pale and tripled in volume.
Sift the flour, cinnamon and cocoa powder into the mixture and fold. Then gently fold in the butter.
Pour the batter into the jellyroll pan and level it with a spatula (Don't worry if it's thin; just make sure the batter is evenly spread to every inch of the pan).
Bake for 5 to 7 minutes, until the cake springs back when lightly touched. Turn onto a wire rack and allow to cool completely.
Mousse
Melt the butter and chocolate together using a double boiler or using the microwave in 30-second intervals. Set aside.
Separate the eggs; reserve the whites. Using an electric mixer, beat the egg yolks and sugar for 5 minutes, until pale and frothy. Add the egg and sugar mixture to the melted chocolate. Stir until well combined and set aside.
In another bowl, whisk egg whites and a pinch of salt until firm peaks form. Gently fold the egg whites into the chocolate mixture.
Assembly
Line a standard loaf pan with plastic wrap.
Slice a piece of the chocolate sponge cake to fit the base of the pan.
Slice more pieces and build up the sides.
Fill the cavity in the center with the chocolate mousse mixture.
Slice another piece of sponge cake and cover the top of the filling, completely encasing it.
Cover the cake with plastic wrap and refrigerate at least 6 hours or overnight.
Just before serving, toss the cherries and Kirsh together in bowl.
Carefully remove cake from the loaf pan and cut thick slices with a warm knife.
Top the chocolate marquise with the cherry mixture or whipped cream, if desired.
Amrita Song
Amrita Rawat is the author of the blog Chai and Dumplings. Born in India and a lifelong resident of Atlanta, she recently moved to Saint Louis. Her love for food stems in part from its ability to bring cultures together and in part from how darn good it feels to eat a delicious meal. She loves traveling and has eaten her way through cities like Hong Kong, Paris, Budapest, Mumbai, and Shangri-la. Amrita is also a contributor to Sauce Magazine in St Louis.