Serve these lovely cookies after dinner with a cup of coffee or tea.
By Jennifer Donoghue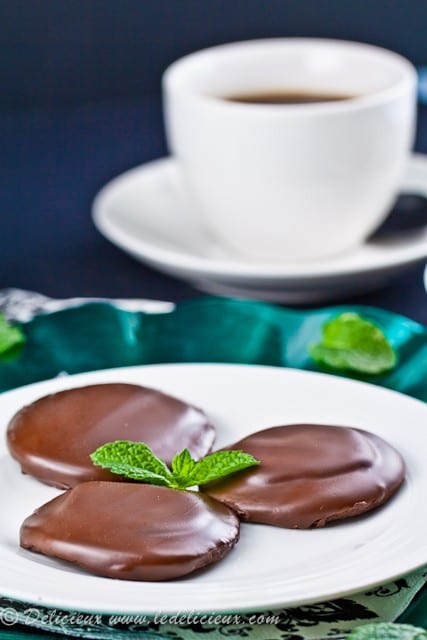 In Australia we have a cookie called Mint Slice and it's absolutely delicious. It's a chocolate cookie topped with a mint cream which is then smothered dark chocolate.  From what I've been told it's similar to the Thin Mint Cookies that the US Girl Scouts sell.
Mint Slice is one of my fiance's all time favourite biscuits, so I wanted to try my hand at creating my own version for him.  I started with a crunchy chocolate cookie base.  One of the great things about a mint slice is the combination of textures. The base is crunchy, then it has a creamy middle and chocolate coating.  So with the base nailed down I decided to tackle the filling, and for this I went with a simple combination of icing sugar and peppermint flavouring oil.
The peppermint icing was spread over the top of the biscuit and left to set.  Once set the whole cookie was dipped in a bowl of melted dark chocolate and left to set.  The only thing that didn't go according to plan was the fact I happened to pick two especially humid days in Brisbane to make and photograph my creations.  Melting chocolate aside, my cookies taste pretty close to the real thing.
While I'll admit making your own Chocolate Mint Cookies at home is a little fiddly, the great thing about it, apart from knowing every single ingredient that goes into making it, is the fact you can increase or decrease the intensity of the peppermint to meet your tastes.  You could even substitute the peppermint flavouring for another flavouring essence.  I think next time I'm going to try an orange flavouring……mmmm chocolate orange!
See Also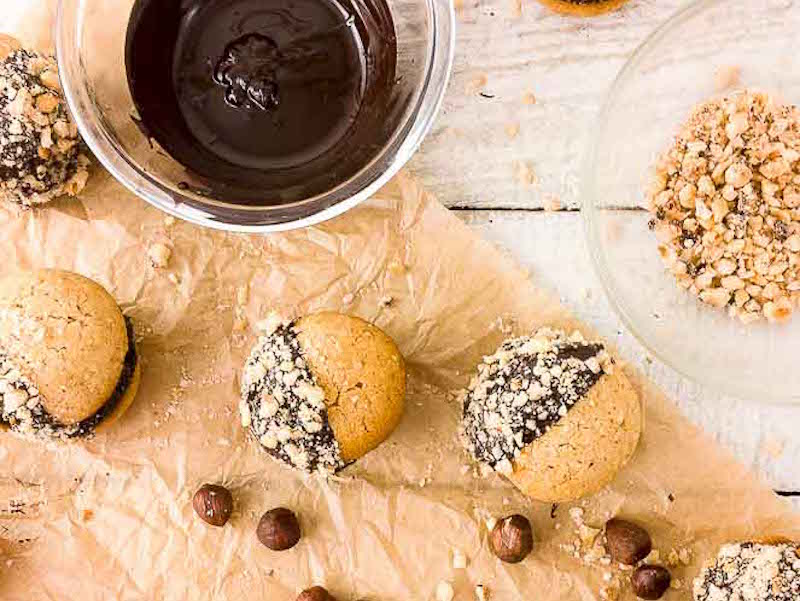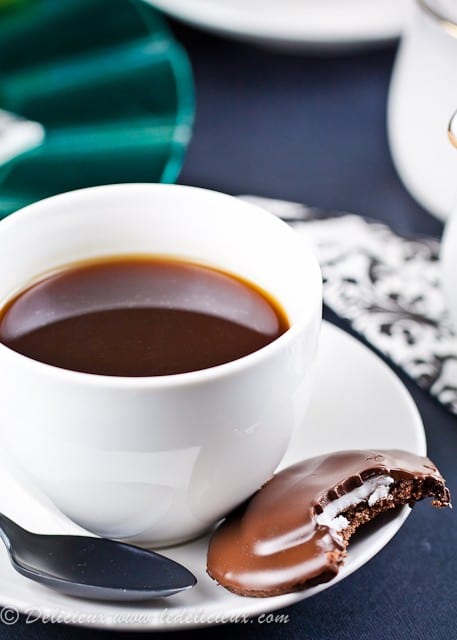 Print
Chocolate Coated Peppermint Cream Cookies
Serve after dinner with a cup of coffee or tea. Makes 24 cookies.
Author:

An original recipe by Delicieux

Prep Time:

30 mins

Cook Time:

10 mins

Total Time:

40 minutes

Yield:

2

4

1

x
COOKIES

100g

of butter, cut into cubes

135g

of plain (all purpose) flour, sifted

20g

of cocoa

1/2 cup

of caster sugar

1

egg yolk
PEPPERMINT CREAM

250g

of icing sugar, sifted

1/4 tsp

of peppermint essence

2 tbsp

of hot water
CHOCOLATE COATING

400g

of 70% cocoa chocolate, chopped into small pieces
Instructions
Preheat the oven to 180 celsius (350 farenheit) and prepare two baking trays by lining them with baking paper.
To make the cookies, combine the butter, sugar and egg yolk in a food processor fitted with a steel blade and process until well combined. Add the flour and cocoa and process until it starts to come together in a ball.
Remove the dough from the food processor and divide into two and flatten into a disc and wrap each disc in cling film and refrigerate for an hour.
Remove one disc of dough from the refrigerator and roll out between two sheets of baking paper until approximately 6mm thick. Using a small circular cookie cutter cut circles from the dough and place onto the prepared baking tray. Bake for 8 to 10 minutes. Roll out the second disc of dough while the first is baking and then bake that when the first tray is done.
Leave the cookies to cool on the tray until firm and then place on a wire wrack to cool.
Once the cookies are cooled make the peppermint cream. Combine the icing sugar, peppermint essence and hot water until it makes a smooth spreadable paste.
Spread the icing mixture onto the cookies and leave to set.
Once the icing has set, place a sheet of baking paper until the wire wrack to catch any chocolate drips. Melt the chocolate over a pot of simmering water and once melted remove from the heat. Dip each cookie in the chocolate and return to the wire wrack to set.
Notes
I used Peppermint Flavouring oil, which I found quite strong. You may need to use more or less peppermint essence depending on the brand you use so use sparingly at first and taste before deciding whether to add more. The last thing you want is for your cookies to taste like toothpaste!
Jennifer Donoghue
Jennifer Donoghue is a passionate foodie from Brisbane, Australia and author of her food blog Delicieux. She's a vegetarian who aims to prove that vegetarian food is not merely the domain of tofu loving hippies. Her vices are salted caramel, champagne, and collecting cookbooks.