Chinese-Spiced Chicken Noodle Soup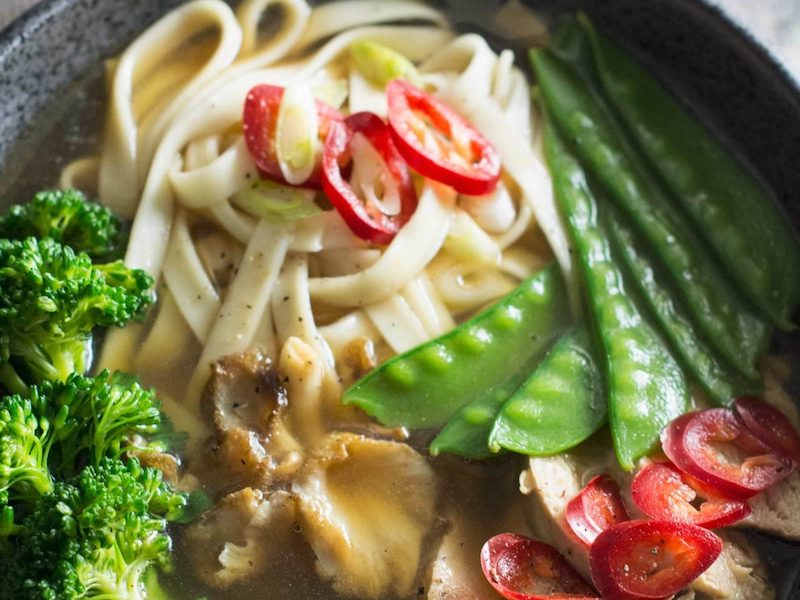 Loaded with veggies like broccolini and plenty of ginger, this Chinese-spiced chicken noodle soup is so warm and healing.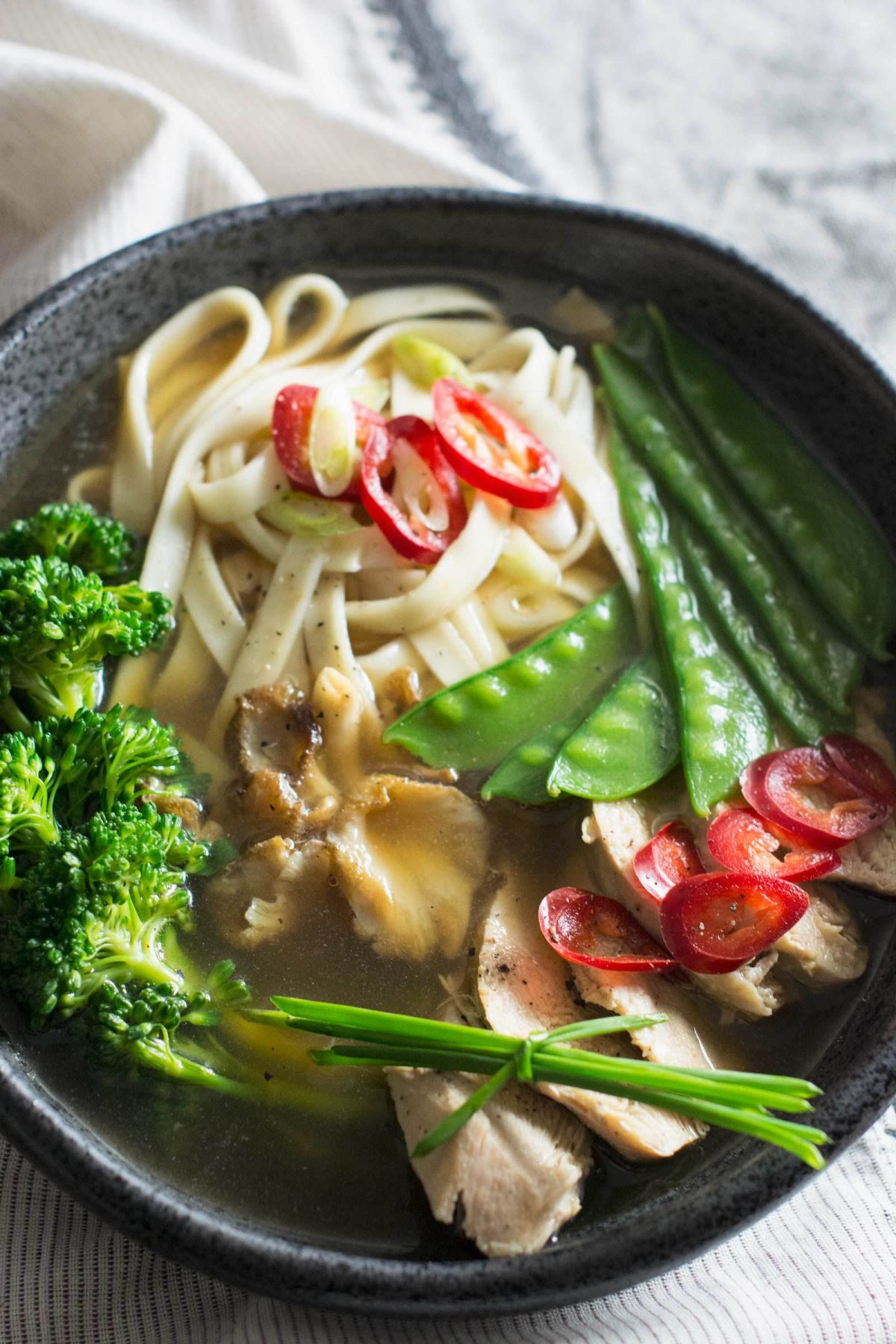 Chinese Chicken Noodle Soup is brightly flavored, with a hint of ginger and filled with plenty of veggies!
If you like Chinese cuisine, and a devotee to your old stand-by chicken noodle soup, then you have to try this Asian inspired version of the classic chicken noodle soup. It's infused with fresh ginger and garlic, in a simple chicken broth base, it's comforting without being "richly" flavored, and just might inspire you to plan a trip to see the Great Wall … or just maybe a walk in the park.
Click here to see my favorite Saffron Chicken and Yellow Rice Soup, it's a great alternative and makes the heart happy.
So what I love about this recipe, is that it's very adaptable to what fresh veggies you might find in season. My absolute picks are broccolini and plenty of red chili pepper! For the chicken, you can take it or leave it, the broth base of the soup is amazing! Really, it's the kind of broth you will want to just drink.
For the sake of time, I did use a high quality store bought chicken broth, but by all means, if you have the gumption and the time, making your own broth base would be ideal. But lately, my world is full of busy, so I've saved a bit of time using the store bought variety.
Not sure what veggies you want to use, well you can either enjoy the ones listed in the recipe below, Make it with the chicken, all veggies or even just as a broth. No noodles in sight? Well, it's also pretty darn tasty served over a nice bit of sticky rice. Nice.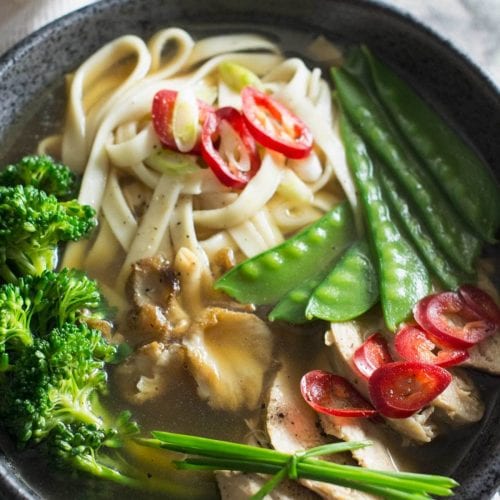 Chinese-Spiced Chicken Noodle Soup
Stacey M Doyle
Ingredients
32

oz

Chicken Broth

2

cloves

Garlic

only smashed with a knife, not minced

1

inch

fresh Ginger

peeled and cut into thick slices

2

Tbsp

Soy Sauce

2

tsp

Saki

or dry white wine, optional

1

tsp

Sesame Oil + Plus extra to saute Mushrooms

1

lb

Chicken breast

skinless, boneless (or about 1 cups shredded breast)

9

oz

Noodles

I used Wide Lo Mein but Soba, Udon or your favorite can be used

1/2

lb

Broccolini

Broccoli is good too, trimmed

3 - 4

oz

Sugar Snap Peas

8 - 10

Oyster Mushrooms

Crimini or your favorite mushroom can be used if desired
To Garnish:
Red Chili Peppers

sliced

Spring Onions

sliced

Chives

tied together or diced to sprinkle over

Crushed Red Chili Flakes

Lime or Lemon Wedges

Soy Sauce
Instructions
In a large stock pot over medium high heat, pour in the Chicken Broth along with the mashed Garlic, Ginger, Soy Sauce, Saki and Sesame Oil. Bring to a boil.

Add in the Chicken Breast and cook for about 20 - 25 minutes, depending on how thick your meat is, you may need to add extra time. You can check by pulling a piece out and cutting at the thickest part, if needed simply return for an additional 10 - 15 minutes.

Once Chicken has cooked through, remove from stock and allow to cook, then slice or shred and set aside.

Cook the Noodles according to directions while the chicken is cooking.

While the chicken is cooking, saute the Oyster Mushrooms in about 1 Tbsp of Sesame Oil in a skillet until starting to turn golden. Set Aside.

After the Chicken has cooked (and set aside), add the Broccolini to the broth and cook for about 5 minutes, then add in the Sugar Snap Peas and cook an additional 3 minutes, cook until both are bright green and crisp-tender.
To Serve:
In serving bowls, divide the Chicken and Noodles equally, then add several pieces each of the Mushrooms, Broccolini and Sugar Snap Peas, then pour the Broth over carefuly, and garnish with Chili slices, Spring Onions, Chives or your desired garnish.
Notes
You can use Broccoli in place of the Broccolini.You can use any seasonal vegetable to this soup.Can be served with or without the Chicken.
Stacey M Doyle
A Southern girl with a taste for travel, Stacey takes inspiration from her global pantry and cooks with a sense of adventure. Now she's raising her three young children to appreciate a wide world of food, even if she doesn't always tell them exactly what they're eating. Stacey is the food photographer, writer and creator of Little Figgy Food. She's also addicted to coffee. Addicted to olives. Fairly obsessed with dark chocolate.