Most of us are so used to having lettuce on salads and eaten raw, but in Asia there are many dishes where it is served warm. Like this dish – blanched lettuce simply but deliciously dressed in hot garlic oil.
Lettuce, in the West mostly enjoyed fresh in salads, takes on a completely different character when cooked, especially in dishes from Asia. In China, for example, quickly blanching lettuce and drizzling it with hot garlic oil is a quick and popular way to prepare this green. It's a fast dish that's both simple and flavorful.
If you're exploring different ways to serve greens, this one is definitely a must try. The sweet but earthy flavors of cooked lettuce complements stronger-flavored dishes, making it an excellent side for things like stir-fried meats or spicy tofu. It's a straightforward but truly delicious way to add a new twist to your regular vegetable lineup.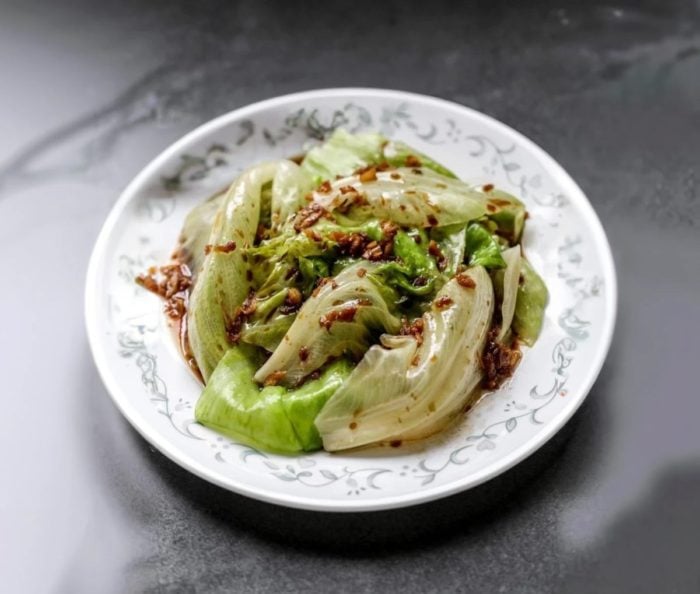 Step-by-Step Guide
Prep the Lettuce:
Begin by separating the leaves of the Chinese lettuce. Once separated, chop them into smaller, bite-sized pieces. Set these aside for the moment.
Blanching Process:
Bring a pot of water to a boil. Once boiling, carefully add the chopped lettuce. Let it blanch briefly, just until it softens slightly, then drain the water using a colander. Once drained, set the blanched lettuce aside.
Prepare the Garlic Oil:
In a small pan, heat the peanut oil over medium heat. Once the oil is hot, add the minced garlic. Sauté the garlic until it turns a golden brown color. This not only cooks the garlic but infuses the oil with its flavor.
Add Seasonings:
To the same pan with the garlic, stir in the brown sugar and light soy sauce. This combination will give a slightly sweet and savory flavor to the oil. Once combined, turn off the heat.
Serving:
Arrange the blanched lettuce on your serving platter. While the oil mixture is still hot, pour it over the lettuce. The hot oil will slightly wilt the lettuce and allow it to absorb the flavors of the garlic and seasonings.
Enjoy:
The dish is best served immediately while the lettuce is still warm and the oil aromatic. Consider pairing it with a protein-heavy main course, like a meat or tofu stir-fry.
Print

Chinese Lettuce in Garlic Oil
---
Author:

Ang Sarap

Total Time:

10 minutes

Yield:

Serves

2

-3

1

x
Description
Most of us are so used to having lettuce on salads and eaten raw, but in Asia there are many dishes where it is served warm. Like this dish – blanched lettuce simply but deliciously dressed in hot garlic oil.
---
1

large Chinese lettuce

2 tbsp

light soy sauce

1/2 tsp

brown sugar

4

cloves garlic (minced)

4 tbsp

peanut oil
---
Instructions
Separate and chop lettuce leaves in smaller pieces. Set it aside.
Blanch your lettuce in boiling water for 30 seconds. Drain then set it aside
In a small pan add oil then gently sauté the garlic over medium heat until golden brown.
Add the sugar and light soy sauce then turn the heat off. Mix well.
Place lettuce on a serving platter then pour hot oil mixture on top. Serve.
Prep Time:

5 mins

Cook Time:

5 mins

Category:

Side Dish

Method:

Blanching

Cuisine:

Asian
Keywords: Chinese, China, blanching, lettuce, salad, vegetable, vegan, asian side dish, side dish, garlic, scalding
Ang Sarap
Hi I am Raymund a Filipino living in New Zealand, I'm not a cook nor a chef but I love cooking and it is my passion. My real job is an IT Professional whose devotion is to develop applications (I have a Software Development blog for those who might be interested), my brain is abused at work on a daily basis so cooking at the end of the day acts as my therapy for stress release. I have been cooking since I was 7 years old and since then almost every day I prepare our dinner and weekend meals, I usually try to cook dishes that we had tried and ordered in different restaurants that's why you will see a lot of varieties at my blog Ang Sarap (angsarap.net). I learned cooking mostly by observing my Aunt who cooks for us when I was younger, I learned to bake by assisting my Mom during my younger years and for the native dishes I learned it from my Grandmother. My other passion is photography which explains the photos you see here and travelling which explains the variety of dishes and reviews of restaurants from all over the world.