This super-addictive snack is not for the faint of tastebuds, all that chili creates some serious heat.
By Reena Pastakia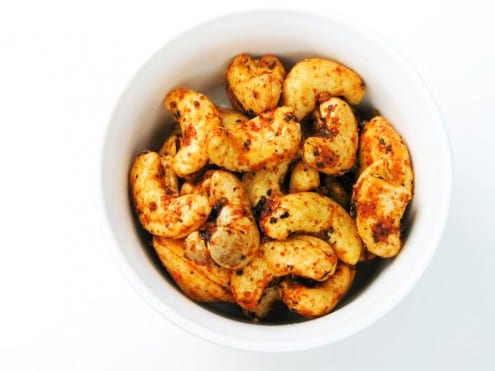 Chilli-Roasted Cashews
This super-addictive snack is not for the faint of tastebuds, all that chili creates some serious heat.
Ingredients
100 grams uncooked cashew nuts
½ tablespoon light tasting vegetable oil
½ teaspoon salt
½ teaspoon black pepper
1 teaspoon chilli powder
Instructions
Pre-heat the oven to 160 degrees centigrade.
Distribute the cashew nuts evenly on a baking tray.
Roast the cashews for 8 minutes.
In a large mixing bowl place the oil, salt, black pepper and chilli powder. Mix well to create a paste.
When the cashews are ready, add them to the mixing bowl and stir well to ensure they are all fully coated in the paste.
Now return them to the baking tray and roast for a further 2 minutes.
Let the cashews cool as they will have a slightly soft texture if eaten when warm.
Serve with beer (or cocktails for the more sophisticated).