During the warm summer months, there is almost nothing better to cool down than a refreshing cold soup.
By Joana Mendes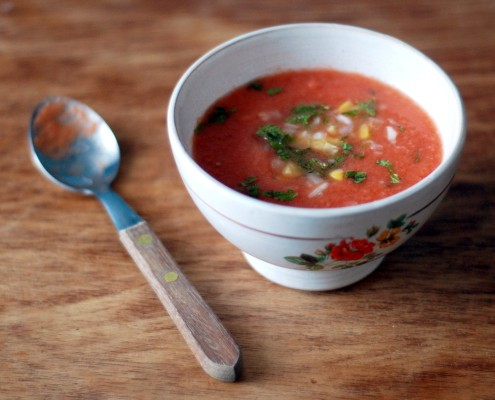 Cold soups have been in high rotation around here, and this Watermelon Gazpacho was the last one I've made (next on the list is a vegetarian version of Borscht). If you're looking for a summery and refreshing soup I encourage you to give this one a try – the sweet flavor of the watermelon is balanced with the addition of tomatoes, cucumber and onion, making for a delicate and light soup. As far as garnishes go, you can certainly play around a bit: corn kernels were what I add on hand this time around, but I bet homemade croutons would be equally good. Enjoy!

Ingredients
3 cups (450 grams) seeded and diced watermelon
3 medium sized tomatoes (about 1¼ cups or 300 grams), peeled, seeded and diced
1 small cucumber (about ¾ cup or 135 grams), peeled, seeded and diced
1 small white onion (about ⅓ cup or 50 grams), minced
2 tablespons minced fresh ginger
1 tablespoon red wine or balsamic vinegar
2 tablespoons olive oil
salt and black pepper to taste
garnish:
1 cup (140 grams) cooked corn kernels (cut from a medium sized corn cob)
1 medium sized onion, minced
a handful of chopped mint or basil leaves
Instructions
In a large food processor or blender, blend the watermelon until smooth. Alternatively, if your food processor or blender isn't large enough, you can work in batches.
Then, add the diced tomatoes, cucumber, white onion and ginger and purée until well blended. Finally, add the red wine or balsamic vinegar, olive oil and salt and black pepper to the mixture, and pulse once again for a couple of seconds to combine. Add a taste and adjust the seasonings, adding a bit more salt and pepper if necessary.
Pour the soup into a large bowl. Cover, and refrigerate for a couple of hours before serving.
In the meantime, mix all the ingredients for the garnish.
To serve, pour the soup into chilled bowls or glasses and scatter 2 to 3 tablespoons of the corn and onion mixture on top.
Joana Mendes
Based in Porto, Portugal, Joana Mendes is the cook, photographer and editor of the Veggies On The Counter food blog. She loves seasonal and natural produce, and her focus as a cook and writer is on whole foods and vegan cuisine.