Two Gildas can't seem to agree on the difference between chilaquiles and migas. Can a 40 year old recipe clear things up?
By Gilda Claudine Karasik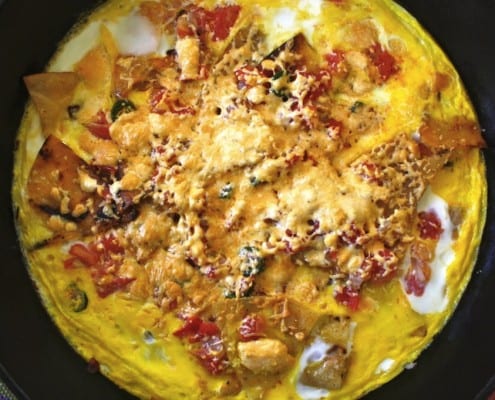 There is quite a bit of debate about the differences between chilaquiles and migas. They are both considered Mexican comfort foods and are made with some combination of corn tortillas, salsa, cheese and eggs, depending on whom you ask. Some argue that it has to do with the way the tortillas are fried and when the salsa is added. Others contend that chilaquiles are made with eggs and baked while migas are simply fried tortillas with onions, cheese and salsa. Is this a regional dispute? A case for a panel of Food Network judges? The stuff that family feuds are made of? Even my godmother, Gilda, and I can't seem to agree.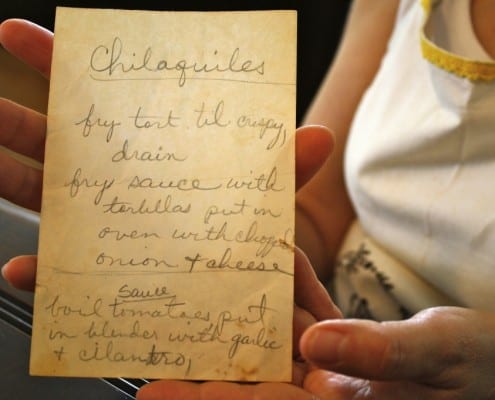 During a recent discussion about this, Gilda remembered that she had written down my mother's recipe for chilaquiles while my mother dictated it to her over the phone when they were teenagers. Gilda dug around her box of recipes and found the original. Written in pencil and the page now yellowed, the instructions are vague and fail to settle the question of whether chilaquiles and migas are different interpretations of the same dish.
But I remember my mother frying triangles of corn tortillas with onion, then adding salsa and scrambled eggs. She called this dish chilaquiles, not migas. I have made the dish pretty much the same way over the years. But in honor of the recipe as dictated and written by two best friends over 40 years ago, I've renamed this dish Chilamigas.
Ingredients
¼ cup or 59.15 ml of Canola oil
½ chopped onion
1 tomato, diced
1 serrano or jalapeño pepper, chopped
5 corn tortillas
6 eggs
Salt and pepper to taste
Queso fresco or queso cotija, about ½ cup or 118.3 ml or more
Instructions
In a heavy skillet, heat half of the oil.
Sweat the onions, tomato and pepper and set aside when done (about 10 minutes).
Cut 5 tortillas into triangles.
Add the rest of the oil to the skillet and, when hot, fry the tortillas.
Remove the tortillas with a slotted spoon/spatula and drain on a paper towel.
Heat the oven to 350 degrees.
Return the tortillas to skillet, layering the bottom with them.
Add tomato mixture and another "layer" of tortillas.
Whisk the eggs and add to the skillet, allowing them to cook.
Add salt and pepper to taste.
When the eggs are cooked halfway through, remove from the burner.
Add the desired amount of cheese and place skillet in the oven.
The chila-migas are ready when the cheese is melted and the eggs are cooked through.
Serve with slices of avocado, red or green salsa, and garnish with chiles.
Gilda Claudine Karasik
Gilda Claudine is a lawyer and freelance writer. She blogs about Mexican food and culture at www.dosgildas.com and about writing at www.dkwritings.wordpress.com. She is currently working on a her first novel.