Try this traditional Jamaican recipe for flavorful oxtail.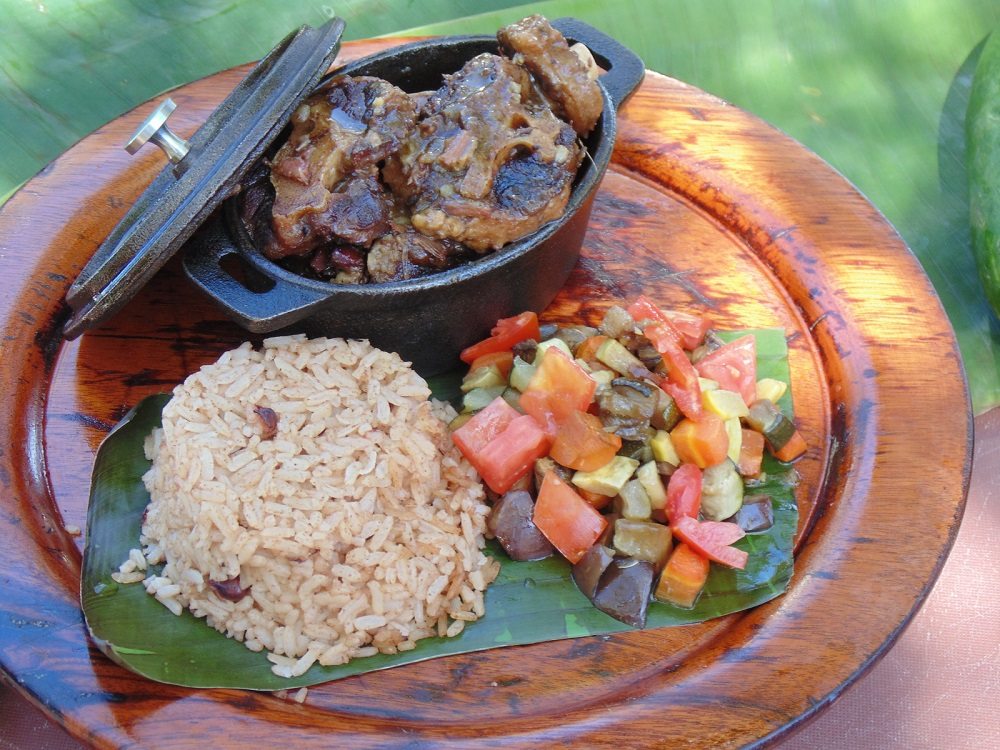 I met Chef Sybblis a few years ago at Jamaica's Half Moon Bay Resort where I tried his oxtail and as a result we became instant friends. Finally he shares the history of Oxtail in Jamaica and his fabulous recipe for Oxtail. The following is written by Chef Omar Sybblis.
Oxtail: A Historical Perspective
"OXTAIL"? What's so special about Oxtail? In Jamaica, a country where everyone is an expert in tasting Oxtail, what is the perfect method of preparing Oxtail?  Would you believe if you asked a majority of Jamaicans about their favorite cut of beef, oxtail would be the winner. Oxtail was originally considered as a part of the "fifth quarter" of the cow. As an explanation of what that is, we will have to give you a little historical background.
A Cow With Five Quarters?
When the idea of colonization was reintroduced by the British empire worldwide, the Crown's main focus was to feed its subjects economically, so they had to figure out where to get the cheap labor and a cheap source of food for the labor…. Enter men like Captain Bligh and the unforgivable, terrible years of capturing slaves to work the plantations.
After  years of supplying food for the empire, the colonies grew into viable commercial outposts. In addition to the plantations' cash crops, livestock production grew. And like every other type of production, the livestock production grew into that awkward stage where the cost of handling the  by-products, considered waste, threatened to exceed profits made from the originally intended product. The population of Jamaica quickly adapted these cast-off parts or "Fifth-Quarter"of the animal and created the delicacies we now enjoy in a modern Caribbean.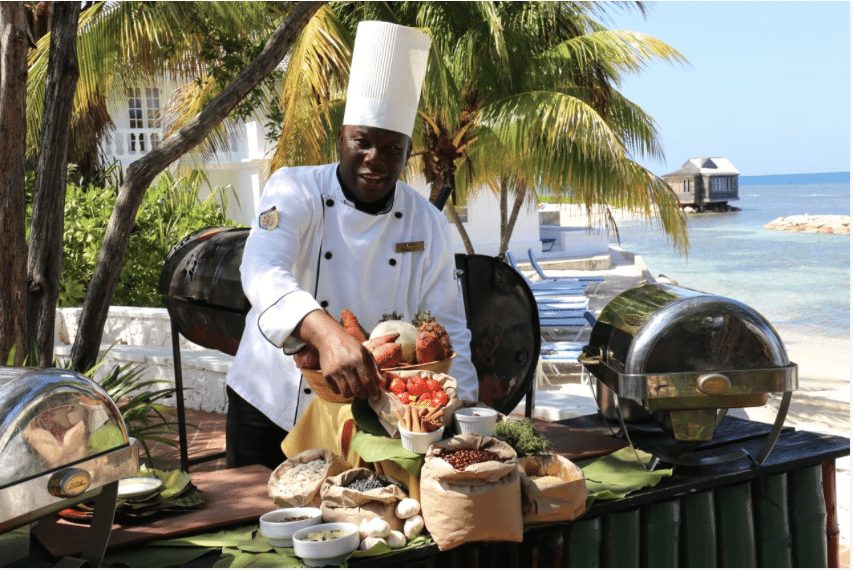 Chef Omar Sybblis
Tripe, tongue, head, tails, liver, kidneys, heart and the various trotters are all considered Fifth Quarters. Now even if you are a vegan or just repulsed by the idea of eating entrails, please feel self-assured that the Foie Gras, Forbidden Egg, Haggis and Black Sausage that the rest of the world may savor, is not very popular here. But the noble oxtail is.
As a slightly opinionated Jamaican chef I will state that there is no perfect Oxtail; and there are thousands that I have tasted. What I can say is there are a few cues we can follow to get us to the oxtail promised land:
Grass fed animal

Free-range animal (right mix of fat)

Mature animal

Animals grown in a Tropical- Mild temperate region

Ideally dry aged to 20-25 days
And if we are not able to guarantee these stipulations then other added stipulations can still get you to the promised land with  just a little more elbow grease but it's "doable," so here goes.
The cooked oxtail should ideally be the same color as the perfect Rum & Coke.

Oxtail should be tender enough to fall from the bone when coaxed with a fork only. 

The Oxtail sauce (gravy to Caribbean folks) should reflect the gelatinous nature of the bone's connective tissue, when eating the Oxtail and your fingers comes in contact with the sauce, they should get sticky. This is how you pass the "finger stick, finger lick" test.

Oxtail should not be sweet. Sweets for my sweets and savory for my Oxtail. Please no ketchup and caramel food color for the oxtail.

Fresh butter beans instead of the canned variety, likewise fresh vegetables over canned, reason being is ingredients in the brine will cause the oxtail to get sour and to compensate usually the oxtail becomes a strange version of sweet and sour.
Five simple points, and if you are a purist then it's ten. And if you aspire for the stars then the oxtail needs to be from the Red Poll beef stock.
For first five points- good luck. And for the last five pointers you will still need to execute the creation of the pride of the West Indies. So I will give you  my recipe for Oxtail. This will serve a party of 12, or 4 hungry Jamaicans.
Print
Chef Omar Sybblis' Jamaican Oxtail Recipe
One taste of Chef Sybblis' rich stew made from the "5th quarter" and you will understand why every Jamaican loves Oxtail.
Author:

Chef Omar Sybblis

Yield:

1

2

1

x
Category:

Main

Cuisine:

Jamaican
4

kg oxtail

2 cups

Marinade

½ cup

soya sauce

1

litter beef stock

1 ½ cups

chopped onions

2

Tbs minced garlic

1

generous sprig of Thyme
salt and black pepper to taste

2 cups

cooked Broad Beans (Lima Beans)
Ingredients for the Marinade

1

medium onion (finely chopped)

1/2 cup

scallions (finely chopped)

1

hot pepper (finely chopped)

3 tablespoons

soy sauce

1 tablespoon

oil

1 tablespoon

cider or white vinegar

2 teaspoons

fresh thyme leaves

1 teaspoon

salt (kosher or sea salt is preferable)

1 teaspoon

Pimento (Allspice, ground)
Instructions
Place Ox tail in a non-reactive bowl, season with salt and black pepper to taste.
Pour marinade and soya generously on the seasoned Oxtail, then set aside to marinate 12 hours or overnight.
Place marinated Oxtail on a sheet pan and roast in a medium temperature oven (approx. 350 f), till tenderness and desired color is achieved.
At least 30 minutes.
Pour off the excess fat from the roasted Oxtail; remove from roasting pan and set aside.
In a large braising pot or preferably a large Dutch pot.
Sauté onions and garlic till golden, then add reserved roasted oxtail
Take leaves off thyme stem and crumble into pot.
Cover and cook very slowly over a medium flame till tender, about 1 1/2 hours.
Then add the cooked broad beans and simmer. As necessary add stock (beef) as needed to extend the cooking process to tenderness.
Michelle M. Winner
Michelle was born with a fork in her hand. As a culinary travel writer and confirmed foodophile she delights in the world-wide discovery of new flavor profiles, spices, salts and herbs. Based in one of the world's foodie meccas; Portland, Oregon, not far from "Pinot Noir Heaven" Michelle shares culinary travel and chef's recipes. Her photography has appeared in Saveur Magazine and she has contributed culinary travel articles to Forbes online, WSJ online, Business Insider, Condé Nast Digital Media, Islands magazine and many others. A confirmed globetrotter, she still keeps her bags packed and fork in hand (well . . . except through airport security.)