PARTNER POST: The versatile potato is perfect in a multitude of recipes showcasing flavors from around the globe. Get creative with your spuds.
A delicious, comforting one-dish breakfast, make this cheesy potato skillet loaded with bacon.
By Christine Skari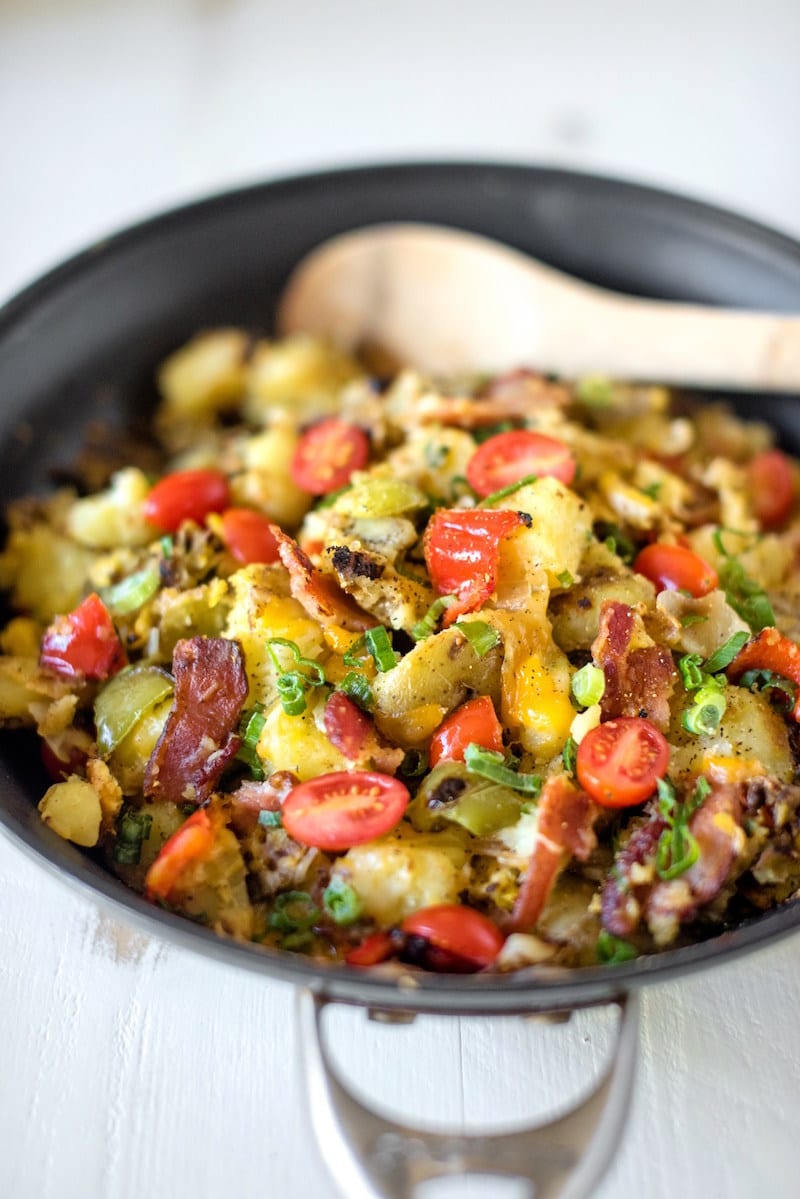 Let's talk about childhood things that stand out to me. Saturday soccer games. Dinner at my Obachan's house
every Friday.
And potatoes. Always potatoes.
My dad grew up on a rural potato farm in the Norwegian countryside. The farm is going to stay in the Skari family for generations and I have SO many good memories of visiting the farm and family in the summer when I was growing up. It was always my favorite place.
While my dad has been in the US for quite a few years now, he still has an obscene obsession with potatoes. That man will sit on the couch eating cold potatoes as one of his favorite snacks (no seasoning, literally just a cold leftover potato) and there's no easier way to make him happy with a meal than if it has some sort of potato aspect.



If there's one thing my family can do, it's potatoes. This recipe is a family favorite and comes from my mom, who usually makes it at least once on the weekend for breakfast. It involves tons of buttery and soft Yukon gold potatoes, bacon, veggies, and plenty of cheese to hold everything together. It's unreal and just the BEST comfort food you could ask for!
The ingredients are all cooked up in a single skillet, making this one-pan breakfast dish even more tantalizing
since it uses minimum dishes! I love to cook the bacon up first, then use the bacon drippings to cook up my
veggies. That way, everything is infused with maximum bacon goodness.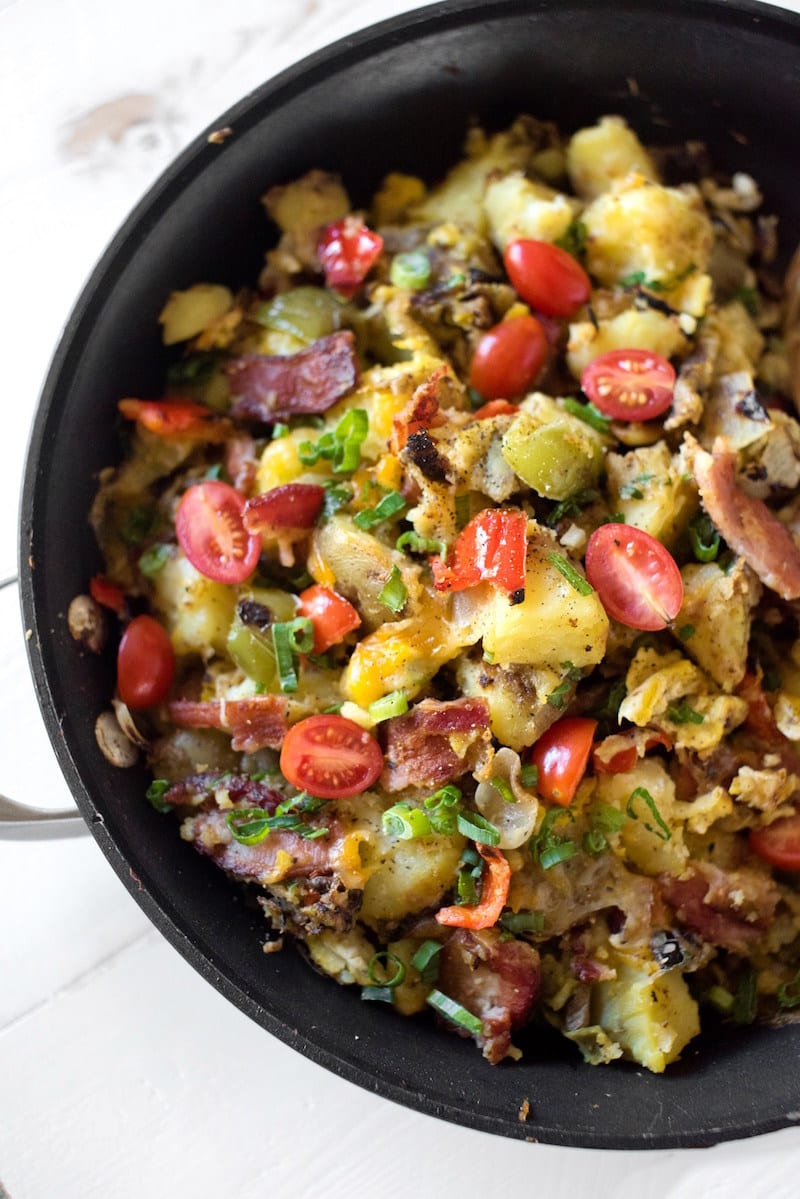 I think most of us can agree that potatoes are the ultimate base to building up any recipe to be insanely tasty.
They have a pretty neutral taste that compliments any sort of condiment or topping and can be diced, baked, mashed, you name it! When I was thinking about the recipe I wanted to do for the U.S. Potato Board, I was almost at
a loss because there were too many options. I ended up going with a family recipe, though, because you can't
beat a recipe that's equally delicious and sentimental.
Make this recipe for a loved one (or eat it all yourself, I won't judge!). It makes a big ol' batch, so it's perfect for sharing or for leftovers.
For another comforting recipe, try these Bombay Spiced Potatoes:
Print
Cheesy Potato Skillet
A delicious, comforting one-dish breakfast, make this cheesy potato skillet loaded with bacon.
Author:

Christine Skari

Category:

Breakfast, Side
2

lbs Yukon Gold potatoes (boiled till tender and roughly chopped)

5

strips uncooked bacon

2/3 cup

roughly chopped onion

1 cup

chopped bell peppers

4

eggs
garlic salt

½ cup

halved cherry tomatoes

¾ cup

roughly diced (large pieces! colby jack cheese)
green onion
Instructions
In a large skillet (the biggest one you have!) cook the bacon until perfectly done. Drain the pieces of
bacon on a paper towel, but reserve the oil in the pan. Roughly chop the bacon.Add the chopped onion to the skillet and cook for 1­2 minutes. Add in the bell peppers and cook until
tender. Set aside on a separate plate.
Whisk together the eggs, then add them to the skillet and scramble them. Season lightly with garlic salt
and pepper and add in the halved cherry tomatoes, cooking for 1­2 minutes.
Add the bacon, cooked vegetables, and potatoes into the skillet.
Sprinkle the diced cheese into the skillet and mix in. Cook everything together until the cheese is melted.
Season with salt and pepper to taste.
Sprinkle with the green onion and enjoy!