SPONSORED POST: From Dijon Originale mustard to Cornichons, Maille has a rich heritage starting in 1747 that honors tradition. Check out these flavorful, fun recipes that are made with Maille and perfect for BBQ season. What can we say? Maille is BBQ's best friend.
This Cheeseburger Salad is a delicious, low-carb way to enjoy your favorite fast food treat. Topped with an amazing, creamy "special sauce" dressing that takes it to the next level.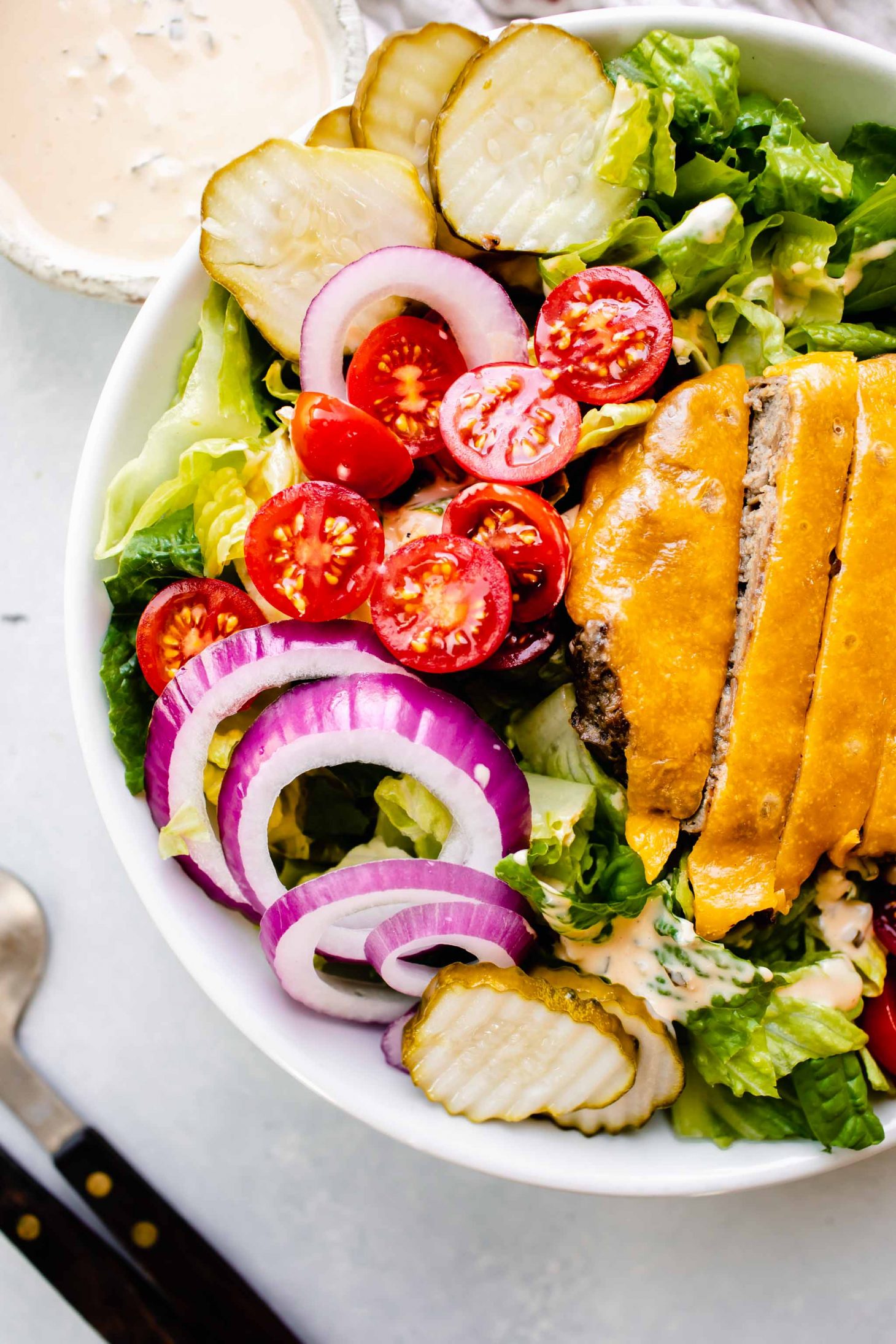 When Rick and I go out to eat, we'll often order a burger and split it. Normally restaurant burgers are way too big for me to eat an entire one, plus, I feel a whole heck of a lot less guilty if I'm only eating half a burger. But, If I am ordering one for myself, I'll often only eat half of the bun, or even eat it without the bun since I'm not a huge bread person.
Which led me to this idea…
Why not make a burger at home, that's not really a burger, but more of a mash up between a burger and a salad?
It's a low carb way to enjoy my favorite parts of the burger – the melty cheese and the amazing special sauce.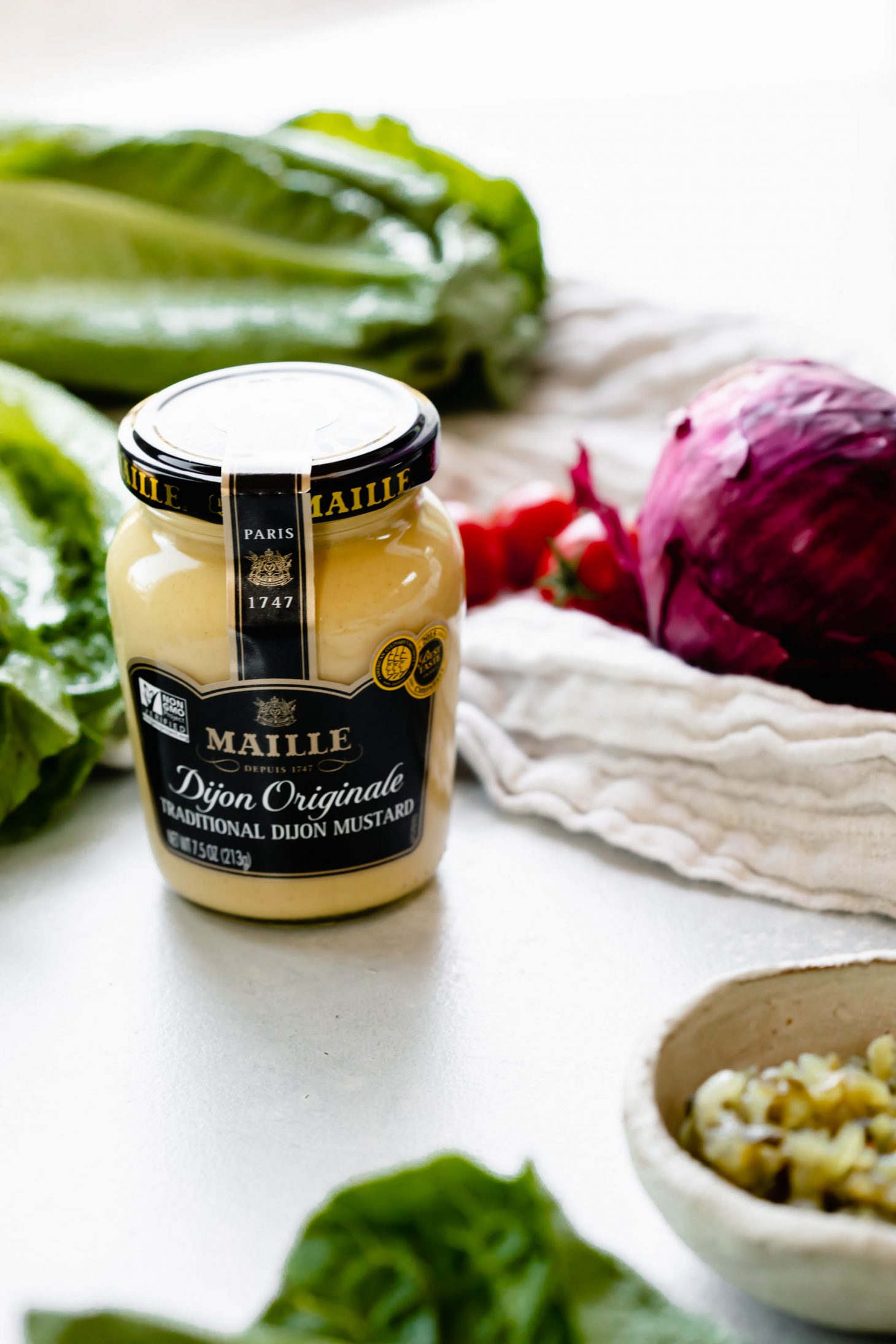 You know the special sauce I'm talking about right? The light-orange hued creamy sauce that's flecked with bits of sour pickle. The kind you'd find on a Big Mac or an "animal style" burger from In-N-Out.
What is Special Sauce Made Of?
Mayonnaise
Mustard
Pickle Relish
Olive Oil
Ketchup
Vinegar
Garlic Powder, Onion Powder, Paprika
I'm using my favorite Maille Dijon Originale Mustard in this special sauce recipe. I love its tang and rich, creamy texture and I always have it. Look for it in your favorite store, right alongside all the standard mustard varieties.
By adding a couple spoonfuls of it to this creamy sauce, it elevates the flavor so much and makes for the most delicious, rich & tangy sauce that's just perfect drizzled over this burger salad.
Keto Friendly Cheeseburger Salad
If you'd like to make the special sauce for this Cheeseburger Salad keto-friendly, look for a no-sugar added ketchup and use dill pickle relish rather than the sweet variety.
Other than the special sauce, I kept the ingredients for this Cheeseburger Salad super simple, just like I like my burgers. With a bit of red onion, pickles and tomatoes.
However, you can totally customize this Cheeseburger Salad with your favorite toppings. That's what makes it so fun!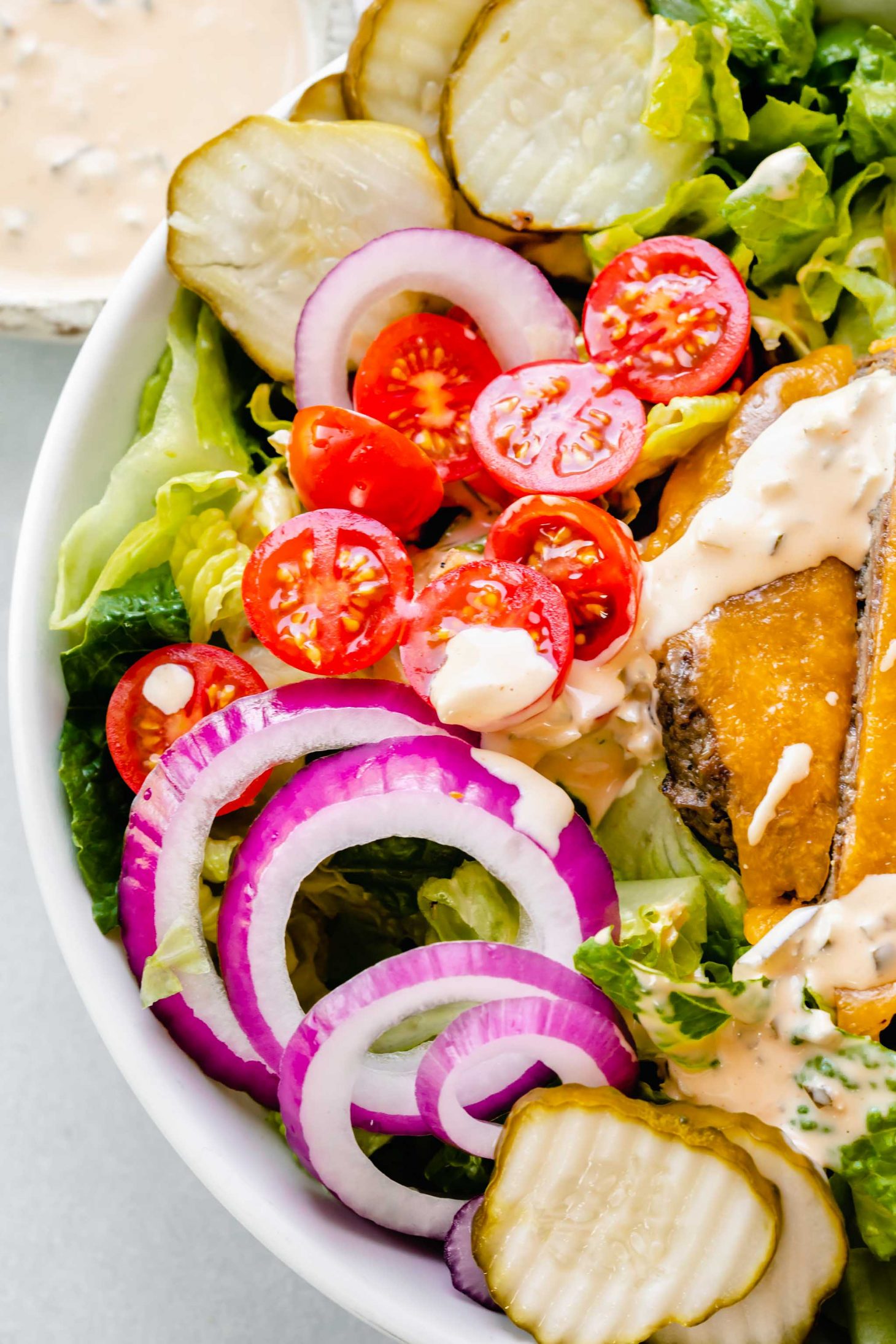 Cheeseburger Salad Toppings:
Caramelized Onions
Blue Cheese
Avocado
Chiles
Bacon
Sauteed Mushrooms
Ranch Dressing
What would you top your Cheeseburger Salad with?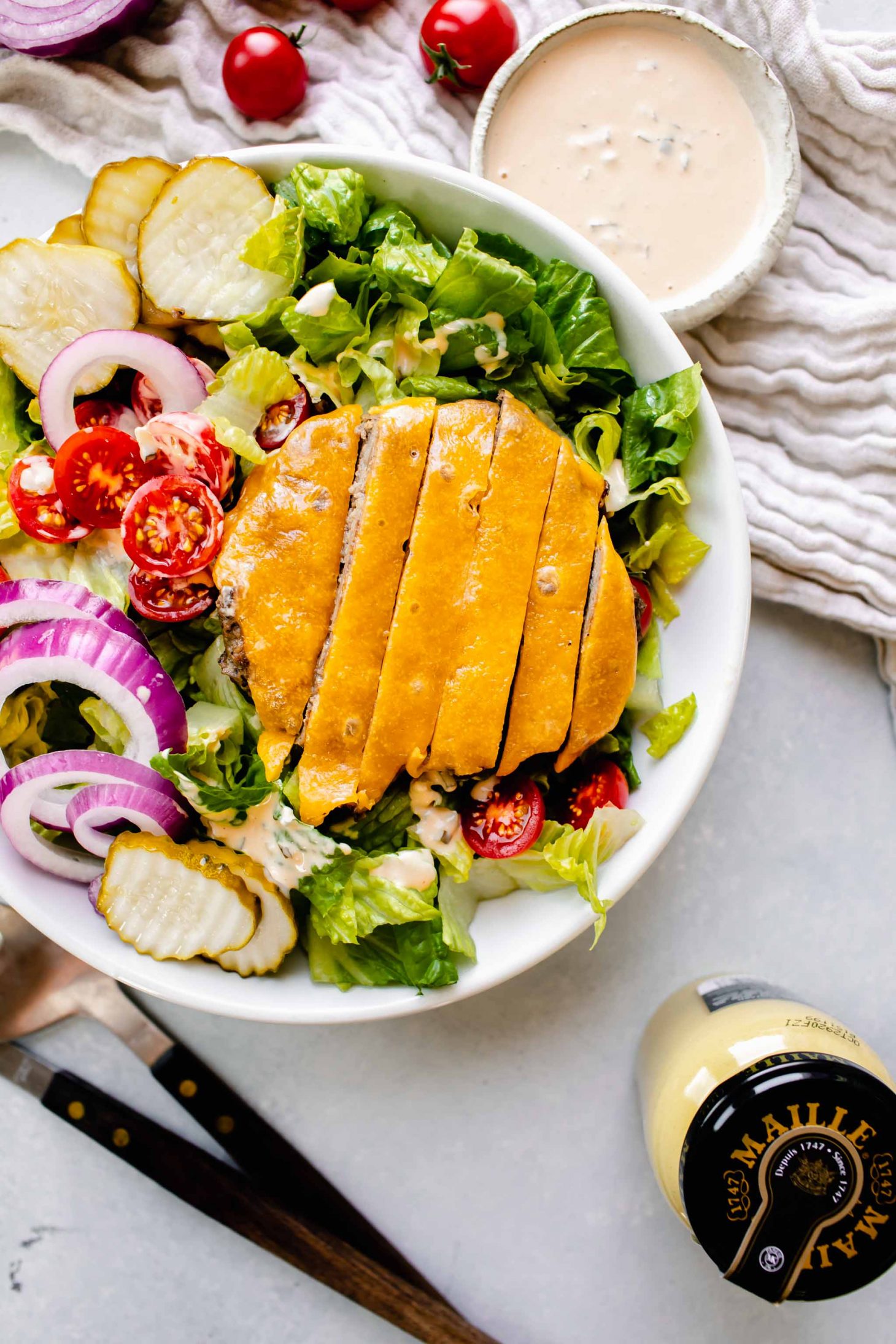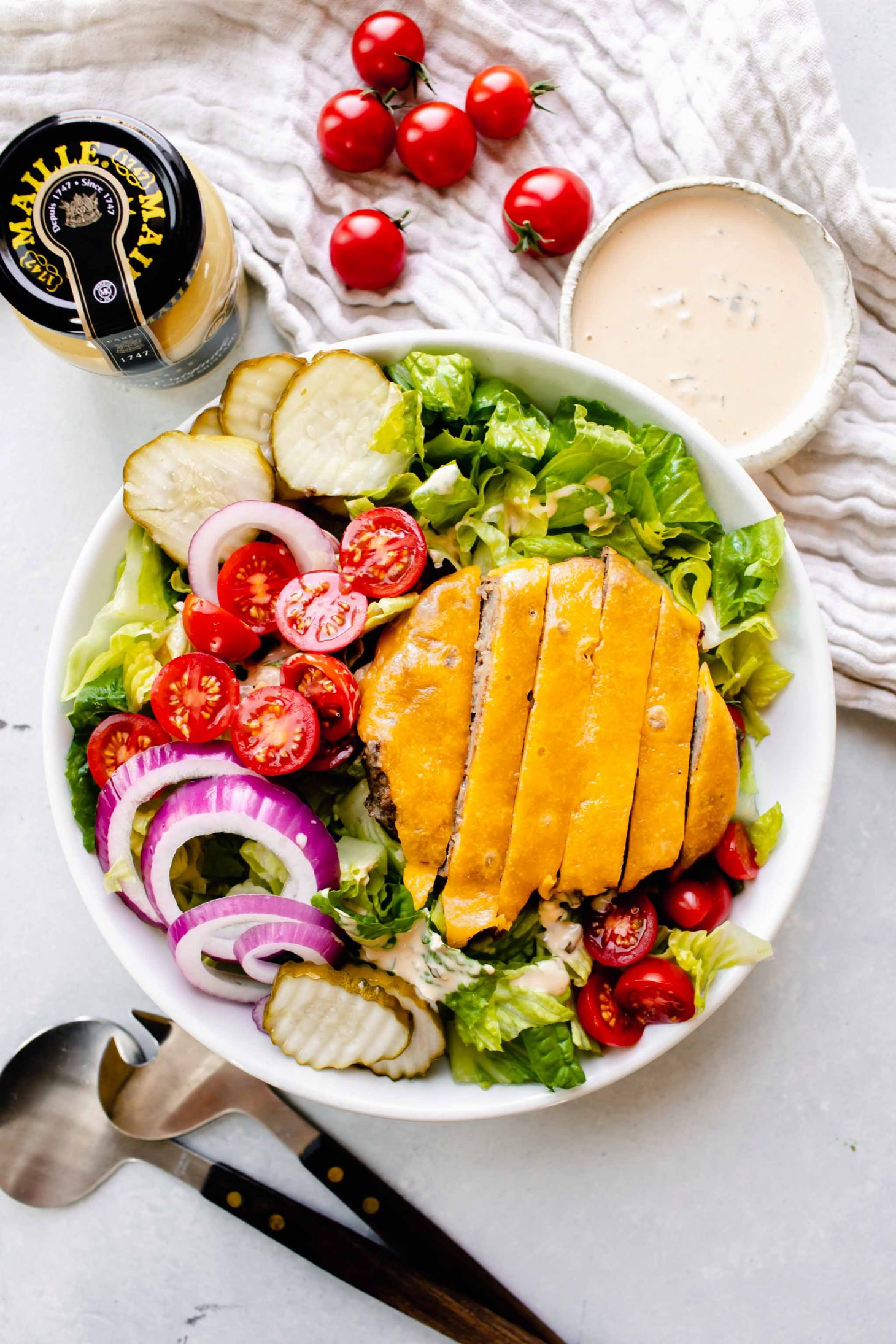 Cheeseburger Salad
Ingredients
DRESSING:
⅓ cup light mayonnaise
2 Tablespoons Maille Dijon Originale Mustard
2 Tablespoons pickle relish sweet or dill
1 Tablespoon olive oil
2 Tablespoons ketchup
2 Tablespoons red wine vinegar
1 teaspoon garlic powder
1 teaspoon onion powder
1 teaspoon paprika
Salt and pepper to taste
SALAD:
4 burger patties
4 slices sharp cheddar cheese
3 romaine hearts chopped
1 pint cherry tomatoes halved
½ red onion thinly sliced
Pickle slices
Instructions
Combine dressing ingredients in a small bowl and whisk together to combine.
Preheat grill or skillet over medium-high heat. Cook burgers until no longer pink, about 5 minutes per side. Melt cheddar slices on the burgers.
Evenly divide lettuce between four plates. Top with tomatoes, onions, and pickles. Slice burger patties and place them on top of each salad. Drizzle with dressing and enjoy