This cheeseburger salad has all the fixin's of a cheeseburger, but this time served on a bed of lettuce and drizzled with a creamy pickle dressing.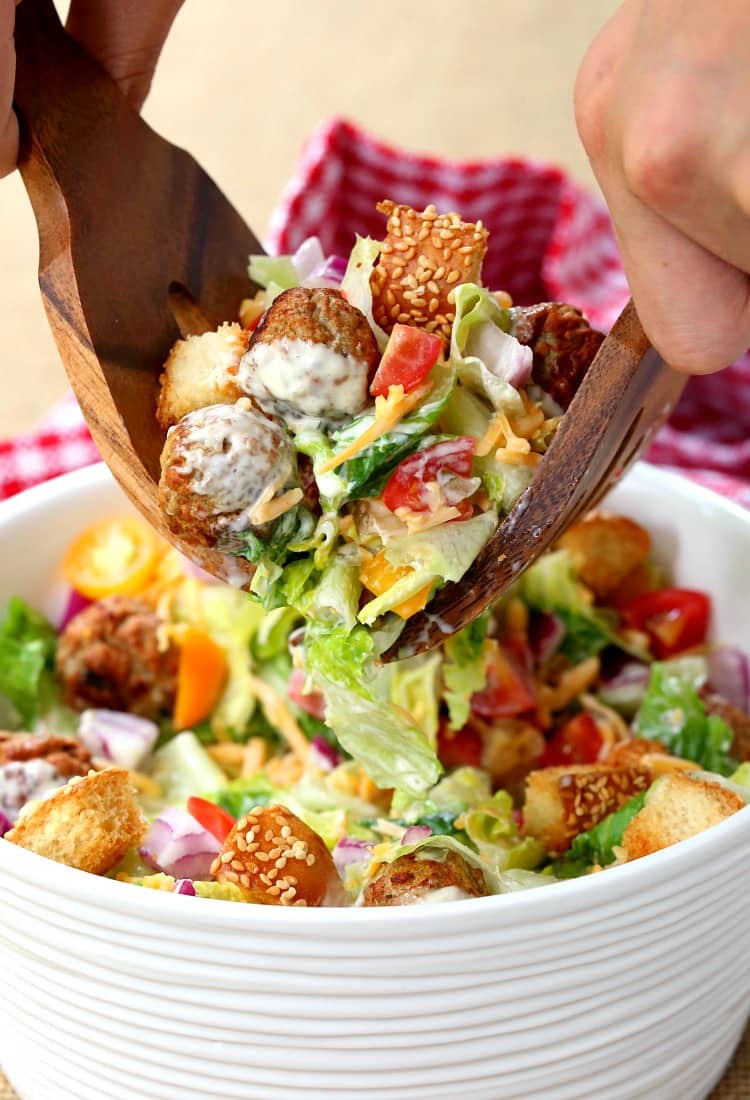 Sometimes when you stumble on an idea you just know it's going to be a good one.
Take, for instance, a kid who loves pickles. I mean – loves them…and wants pickle flavored everything. Then actually suggests that you make a pickle flavored salad for dinner.
You can't make this stuff up guys. You just can't.
This pickle loving kid is actually a friend of ours that was hanging out with our salad loving kid (who loves pickles too) and the idea seemed like match made in heaven.
But a pickle salad? Well we turned that idea into this Cheeseburger Chopped Salad with Creamy Pickle Dressing. Talk about your mind being blown – it was one of the best salads I have ever tasted – and for me that's saying something.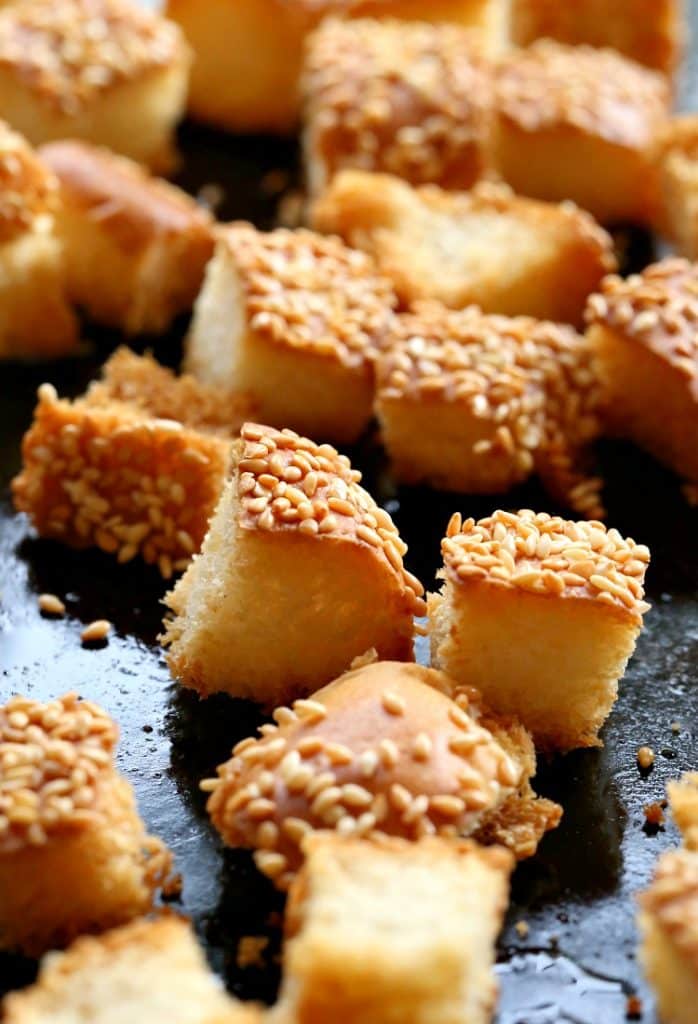 I'm not saying that salad isn't a good dinner idea…just that if I'm eating salad as a whole meal it has to be one that's going to fill me up like a Chopped Chicken Taco Salad, and like that recipe too, it's the dressing that makes it.
A short cut to making this salad is using frozen meatballs, right from the store. Find yourself a brand you like and grab a bag or two for this salad.
And for snacking, too. We found that we made a few too many meatballs for this salad so we had a bunch leftover in the fridge. Every single time we heard that fridge open it was someone grabbing cold meatballs from the bowl. Who knew that would become the snack of choice.
You can grab some shredded cheese, or grate your own…pepper jack would be great in this salad too but we stuck with cheddar this time. Then it's all the cheeseburger toppings you love – red onions, tomatoes and of course, sesame seed croutons.
The croutons are a big part of what makes this Cheeseburger Chopped Salad with Creamy Pickle Dressing so good. So don't skip this part. Just get some sesame seed hamburger buns, cut the tops into cubes and toast them in the oven for 15 minutes.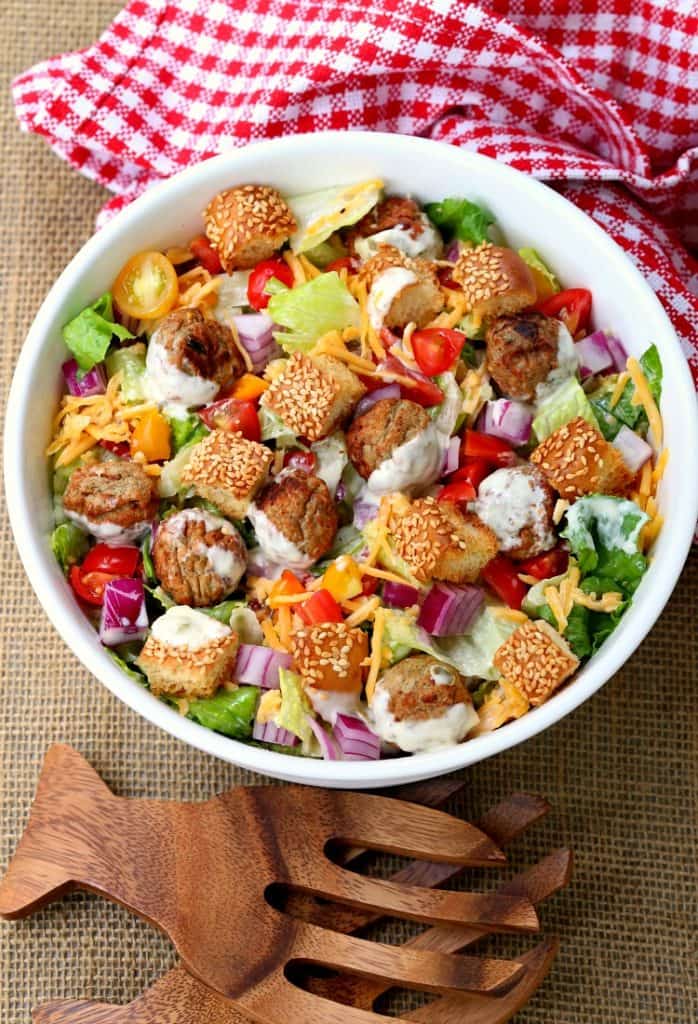 Then the dressing. This dressing is so creamy and bursting with pickle flavor you're going to be using it for more than just this salad. Dip your carrots and celery in it, use it as a spread on a sandwich or layer it on a taco instead of sour cream.
We did that, actually. And I can tell you right now that we'll be doing it again.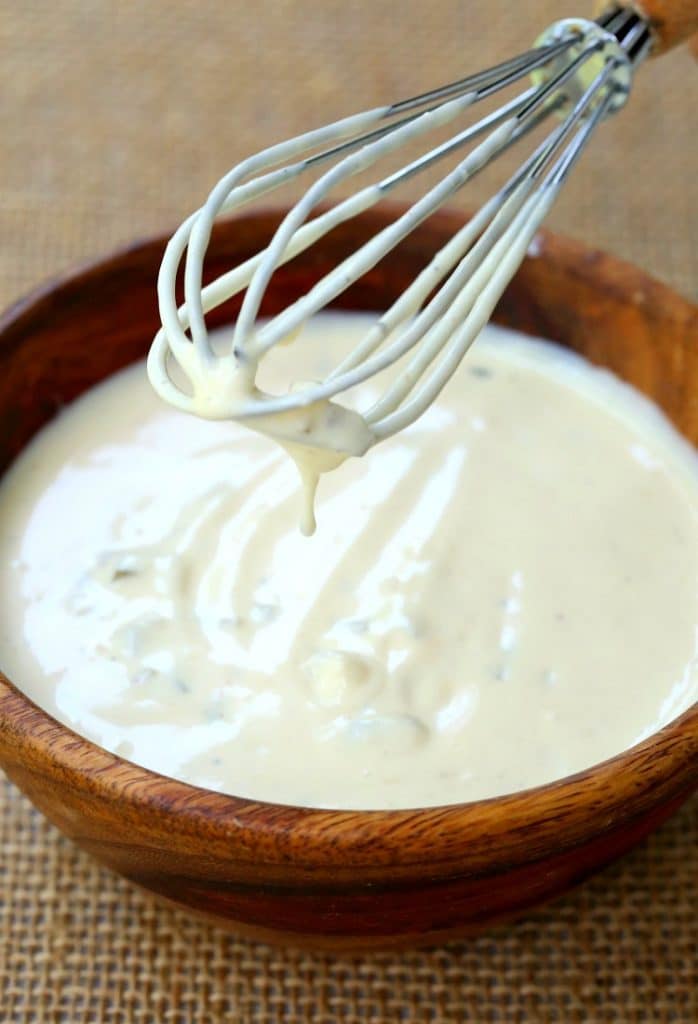 Click here for the pickle dressing recipe.
Print

Cheeseburger Salad and Creamy Pickle Dressing
---
Description
This cheeseburger salad has all the fixin's of a cheeseburger, but this time served on a bed of lettuce and drizzled with a creamy pickle dressing.
---
4

romaine hearts (washed and chopped)

2 cups

grape tomatoes (cut in fourths)

1

red onion (chopped)

4

seeded buns (tops only)

1

package frozen meatballs (

28

count)

1½ cups

shredded cheddar cheese
For the Dressing
---
Instructions
Cook the meatballs according to the package directions and keep warm until ready to use.
To make the croutons, heat the oven to 350 degrees.
Cut the bun tops into strips and then into cubes and place on a baking sheet.
Bake in the oven for 15 minutes until browned. Remove from the oven and cool until ready to use.
Combine the ingredients for the dressing together in a bowl and whisk to combine.
Assemble the salad by placing the chopped romaine in a large salad bowl then top with the cheese, tomatoes, onions and croutons.
Add the meatballs in last then toss with desired amount of the dressing.
Serve immediately.
Category:

Main

Cuisine:

American
Dan George
Born and raised in New Jersey, Dan started the web site Mantitlement as a way to learn how to cook for the first time from his wife, Christie. Christie has always been the primary cook in the household and Dan got used to having her three-course, restaurant quality meals for dinner every night. Well, it was time he learned how to do some cooking on his own, and that's how Mantitlement got started. Dan believes that everyone is entitled to having great food and drinks at home...and he can show you how to make them with his collection of recipes!