Weekend Reads brings you longform features from Honest Cooking's first iPad Magazine, which you can download for FREE here.
By Marissa Sertich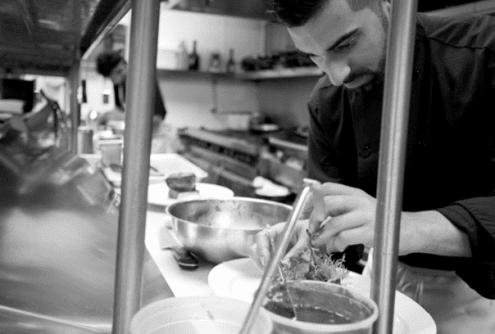 Just behind your booth, tall-backed chair or bar stool, there is an army of sweaty, lovable lunatics. They cook your food, from the local dive, or diner to the Ristorante with an "e" and the $50 entrées. They are not the TV personalities, nor the chefs with their names on the menu, and although they sound like sailors, they are the poets of pork and aficionados of frites. They are known as "line cooks." 
 
Hours are long, pay is minimal, there are no holidays, and if you're sick and don't show up to work, you'd better be dying. No matter how you feel – you're grandmother passed away, or you've lost your house to the bank – nothing excuses late or lousy food. In the spirit of the line-cooks' thespian brethren, "the show must go on." Imagine the rest world finishing a Sunday stroll, or weekend afternoon on the couch, and the line cooks are finishing a ten-hour brunch shift. It takes a very strong person, both body and mind.
 
According to a 2011 salary study by the American Culinary Federation, line cooks under twenty-five made an average of $21,638 and those in older age brackets barely broke $25,000. So, why? Why continue to tediously, de-bone fish and sweat through the dinner rush? Maybe it's simple discipline and drive – dedication to a craft. Maybe it's the adrenalin rush. Or maybe you simply hated math class.
 
Danny Crocco, 25, at Brasserie 292 in Poughkeepsie NY, worked a lot of odd jobs before becoming a cook, but always liked doing things with his hands, from cutting lawns to working at a deli "I didn't think I wanted to cook until I saw a professional kitchen. I didn't want to go to "real" college. I missed taking the SAT two times," he exclaims with a smile. 
 
During his training at Primo in Rockland Maine, Crocco went into work on days off and worked past his shifts off the clock, just to watch dinner service. Eventually, the Chef noticed and asked him to help her with additional tasks, creating a new position for himself in the kitchen. He even helped with the cleaning. "It was better than going home. I was 18. I couldn't drink – what was I going to do?" He says he's always better off in the kitchen. "All my emotions come out in my food. If I have a bad day, it's my only way to have a better day."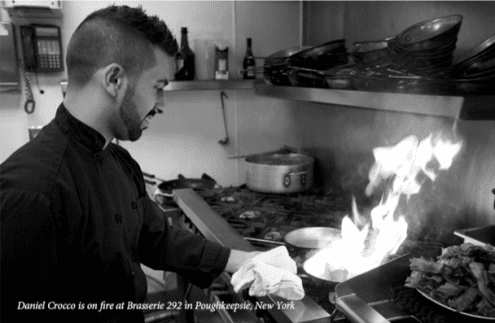 Heather Neri works at B&G Oyster House in Boston and has been in the industry for about two years. A young and spunky cook, Neri wistfully reflects upon her inspirations in the kitchen. "The biggest thing that kept me in this industry was the feeling of cooking. Not only the literal feeling of a perfect pasta dough in my hands, or the sound of sautéing a piece of fish, but the rush…I became a cook to feel the flames of my six burners going all at once. I became a cook to get stuck in the weeds, and to sweat my way out with a smile on my face. Mostly I became a cook to cook. If you are a cook like me, you will understand that."
 
An eclectic crew is drawn to the fire and fumes. Many go to vocational high schools, de-boning a chicken before they turn fourteen. Others take a longer, more winding road. Sue Comegy, a woman you might expect to see at your mother's bookclub, joined the line-cook brigade after a thirty-year career in accounting and has been changed forever by her new vocation. "I don't do anything the way I did…I sat behind a desk – now, it's running around and that's complete opposite of what I'm used to. Sometimes I just want to sit down and they don't sit down in a kitchen – no matter what you don't sit!"
 
While other cooks go into the field with dreams of sometime becoming a chef, or owning their own business, Comegys does not. "For me it's different." She jumps from kitchen to kitchen, learning at schools, hospitals, delis and restaurants, soaking up everything she can learn like a sponge. She currently works at The Roundhouse in Beacon, NY where she can learn both restaurants and catering.  "I don't expect to become an executive chef," she admits with a happy smile. 
 
Dakota Anderson, 19, also works at The Roundhouse and has big dreams. Anderson's neighbor got him the job as a dishwasher and he was enticed by the possibility of prep work – simple knife cuts, working with new proteins and learning new cooking techniques. Now, having prepped and cooked at the restaurant for two months, he hopes to enroll in culinary school this upcoming spring. "I'm going to finish my education. I'm going to live it up and try to get CMC (Certified Master Chef Certification)…I plan to travel and learn different dishes from different cultures. I want to travel to every country, continent and city within it." 
 
Kitchens are rough and rowdy places where being the rookie comes with challenges. With the people more parts pirate than professional, it's not unusual for varying degrees of friendly hazing to occur. "Stevie gave me a scoop of duck fat and told me it was ice cream. I was so happy until I tasted it. He even put something on it to make it look like it had sprinkles on it!" Anderson adds with a sly smile – "Now, they call me "Ducky." 
 
Consider the prank a cook's crude demonstration of love to a newcomer, akin to that one boy in kindergarten who threw sand on all the girls. Anderson respects and looks up to the experienced cooks. He likes the criticism – "When people tell me how my food is, when it's bad I'll improve it and when it's good I'll still improve it because there's always room from improvement." This attitude articulates a key spirit in kitchens across the country – cooks both young and old working hard to produce the best possible food. 
 
At the Yankee Clipper Diner in New York, Nick Pertesis – a well-groomed Greek man with a boyish smile and carefully-coiffed graying hair – proudly shows his kitchen – clean and orderly, even during the busiest times. He has worked in diners for twenty-five years, and although he and his partner, Petrus Petsas, are owners, they embody the passion and drive of a line-cook. Nick and Petrus can be found working the breakfast shift from 6-11am every morning – long hours and seven days a week is the sacrifice made by many chef/owners. "There is lots of presser. Lots of stress, but every day is to do something new," says Nick. 
 
Pertesis explains the diner training process. "First step in diners is making fresh soups," just as he did at his family's diner many years ago. He then moved to cooking off French fries, bacon, etc, until he became diner dexterous.  He trains his employees the same way, preferring they don't come in with professional experience so he can teach them himself. He has had the same three cooks employed in his kitchen for nine years, an unusual longevity in a quick-paced, often disloyal industry.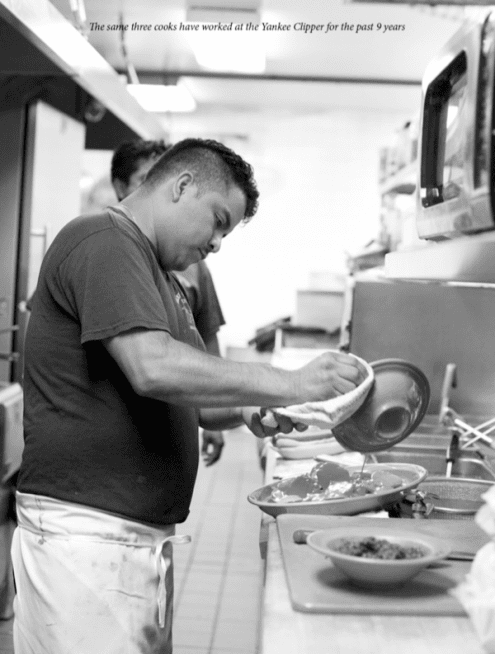 Despite that people often jump from kitchen to kitchen, cooks on the line form a bond, familiar to that of a championing football team. Adam Moses, seven years in the industry, says, "Everyone's basically living here. I'm closer with the line cooks than I am with my mom, my dad, my girlfriend, my neighbors. It's the people I work with, the people I party with, and the people I get into trouble with after work." This intangible gratification is a common theme among the line-cooks, from the dankest dives to the Michelin starred places. 
 
It's not about the fame, or the money – most cooks will never see either. Jesus Perea, with almost six years of experience and with names such as Le Bernardin and Del Posto under his belt, says that success stems from passion and desire – the desire to learn, ask questions and be ready. As a line cook, "there are a lot of people working hard behind everything you do." A lot of thought, sweat and energy comprise each plate of potatoes or side of salad, and it's an energy rarely understood by diners – nor should it be. Each meal should be a seamlessly executed performance, without any of the trials and tribulations of the man behind the curtain.  
 
The cooks' fulfillment comes from knowing they made the best possible food, learning, the thrill of the rush and being part of an exclusive community – the seductive harmony of the kitchen that makes you sweat, triggers the release adrenaline, and embraces you in a blur of focused energy. From a greasy burger to steak tartare, through careful organization, sweat, spoonfuls of silliness, cooks put a little bit more deliciousness in the world and for that I say, "cheers to the cooks."
This piece was originally featured in Honest Cooking's first iPad Magazine. Download the magazine for FREE here.
Marissa Sertich
Marissa Sertich Velie is a New York based pastry chef and graduate of the Culinary Institute of America. She passionately documents her adventures of baking and eating her way through the fascinating (and sometimes nutty) underbelly of the American pie. Velie has a Master's degree in Food Studies from NYU.