PARTNER POST – Get inspired with creatively crafted Castello Blue Cheese as we celebrate a Summer of Blue with #BluesdayTuesday.
Similar to shrimp and grits, this spicy shrimp is served over a creamy blue brie polenta for a gourmet dinner that is way easier than it looks.
By Dan George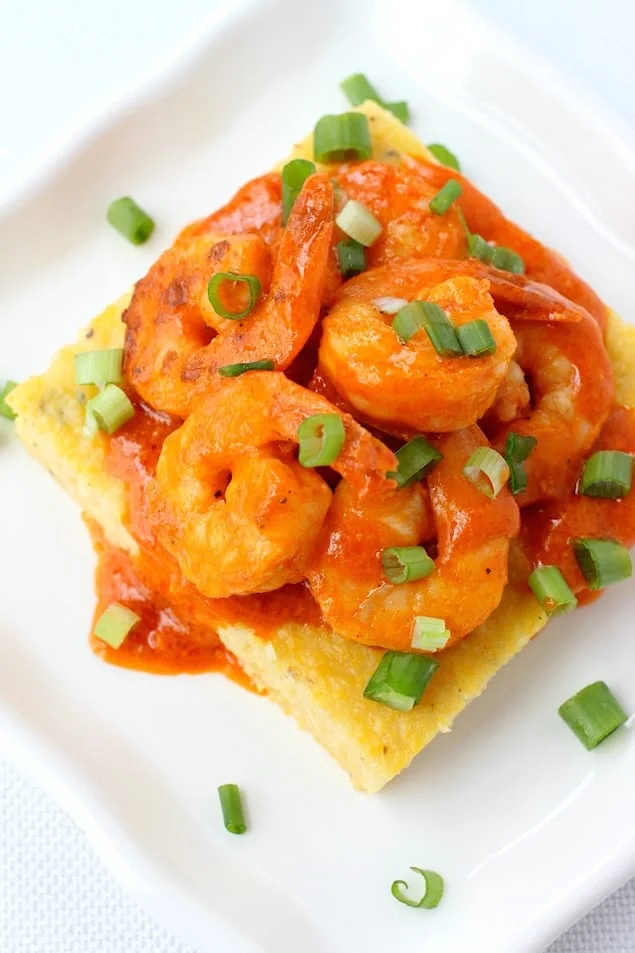 This is one of those recipes you look at and say "Wow, that looks great but I couldn't make that".
Well believe me, you can. This Buffalo Spicy Shrimp and Blue Brie Polenta is way easier to get together than it looks.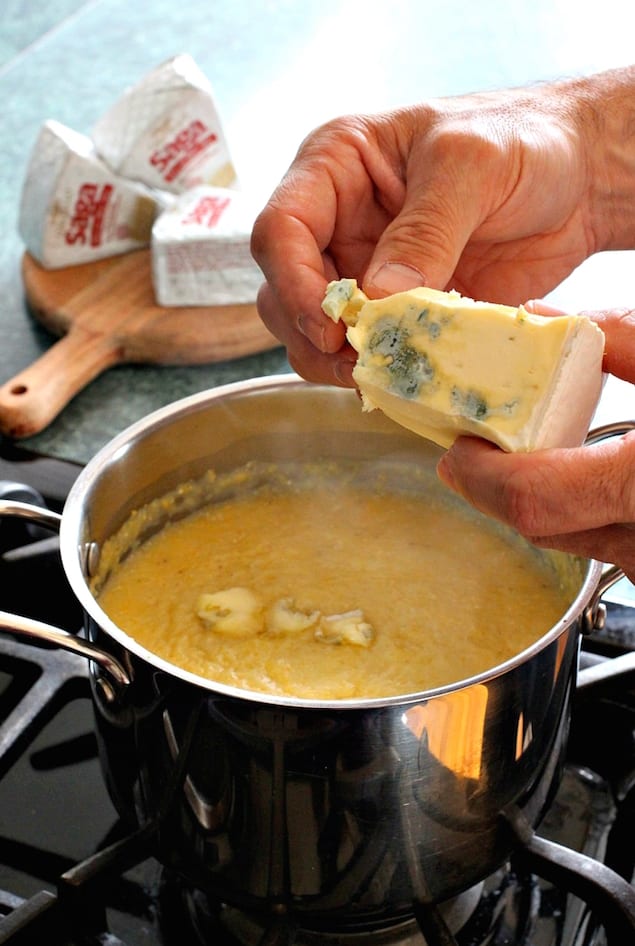 Even if you think you don't love blue cheese – I've got the right one for you. It's Castello Saga Blue Brie. This Blue Brie is exactly what it sounds like. A creamy brie combined with tangy blue cheese running all though it…It'll change your mind about blue cheese. And if you already like blue cheese I promise you've never tasted one like this.
Let's grab some cheese and get started!
This is my twist on shrimp and grits. A spicy, cheesy version of shrimp and grits on baked polenta squares.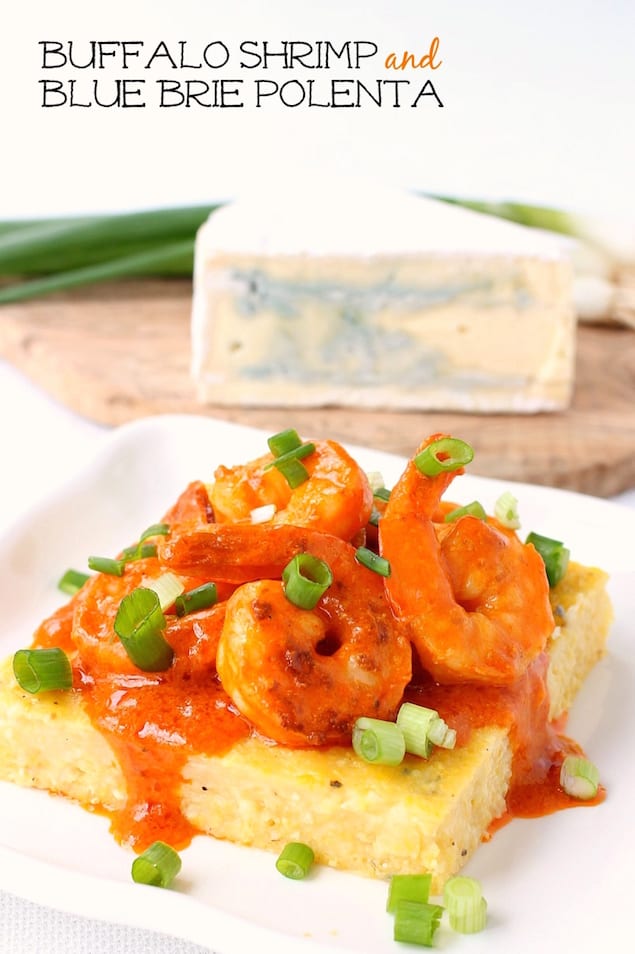 When the polenta comes out of the oven, let it cool to room temperature and cut into large squares. The polenta can be done ahead of time too, cut into squares and then just warmed up in the oven before dinner time.
Spoon the buffalo shrimp over the top of a polenta square, making sure you get tons of the creamy buffalo sauce all over the top so that it soaks into the polenta.
Unbelievable. Having a dinner party? Done. Dinner for the family? Done. I'm not kidding when I tell you my kids went nuts for this so don't be afraid to have them try it. You can even use a mild or extra mild wing sauce so it's not blow your head off hot – it's totally up to you!
Castello Summer of Blue — Spicy Shrimp and Blue Brie Polenta
Similar to shrimp and grits, this spicy shrimp is served over a creamy blue brie polenta for a gourmet dinner that is way easier than it looks.
Ingredients
For the Polenta:
1½ cups cornmeal
2 cups water
1½ cups milk
2¾ cups chicken broth
1 teaspoon garlic powder
½ t. salt
½ t. ground black pepper
1 5.11 oz. package Castello Saga Blue Brie
For the Buffalo Shrimp:
1 lb. medium shrimp, peeled and deveined
1 tablespoon olive oil
½ t. garlic powder
½ t. salt
¼ t. ground black pepper
½ cup buffalo wing sauce
2 T. butter
2 oz. Castello Saga Blue Brie cheese
6 chopped scallions for garnish
Instructions
Preheat your oven to 375 degrees.
In a medium saucepan, add the chicken broth, water, milk, cornmeal, garlic powder, salt and pepper. Stir and bring to a boil, then turn the heat down to a simmer and cook for 12-15 minutes, stirring often.
Crumble in the blue brie cheese and stir until the cheese is completely melted.
Pour into a greased 9" x 13" baking dish and place in the oven for 30 minutes. Let cool completely while you start the shrimp.
Heat up the olive oil in a large non-stick skillet over medium-high heat. Add in the shrimp and season them withe the salt, pepper and garlic powder. Cook for 2 minuets on each side until they are just turning pink.
Pour the buffalo wing sauce into the skillet and then add the butter and the 2 oz. of cheese. Stir until the sauce is warmed through and the cheese is melted.
When the polenta is completely cooled, cut into 9 large squares.
Place one square of polenta on a plate and spoon the shrimp and sauce over the top. Garnish with chopped scallions.
Dan George
Born and raised in New Jersey, Dan started the web site Mantitlement as a way to learn how to cook for the first time from his wife, Christie. Christie has always been the primary cook in the household and Dan got used to having her three-course, restaurant quality meals for dinner every night. Well, it was time he learned how to do some cooking on his own, and that's how Mantitlement got started. Dan believes that everyone is entitled to having great food and drinks at home...and he can show you how to make them with his collection of recipes!