Castello Summer of Blue — Blue Cheese and Brussels Sprout Mac and Cheese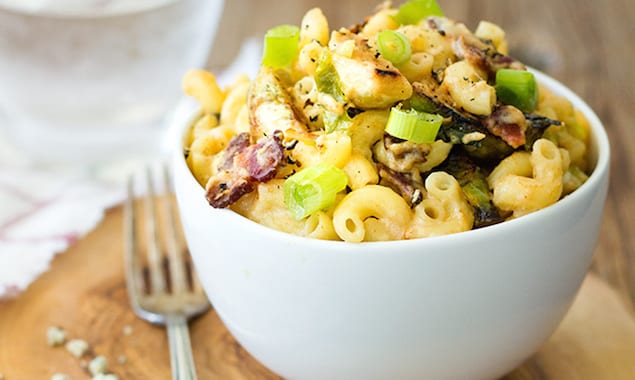 PARTNER POST – Get inspired with creatively crafted Castello Blue Cheese as we celebrate a Summer of Blue with #BluesdayTuesday.
Blue cheese adds a little twang to classic mac and cheese with crispy bacon, golden-brown brussels, and a touch of paprika for a real flavor explosion in an easy, one-dish meal that's perfect for any busy summer night.
By Alexandra Azary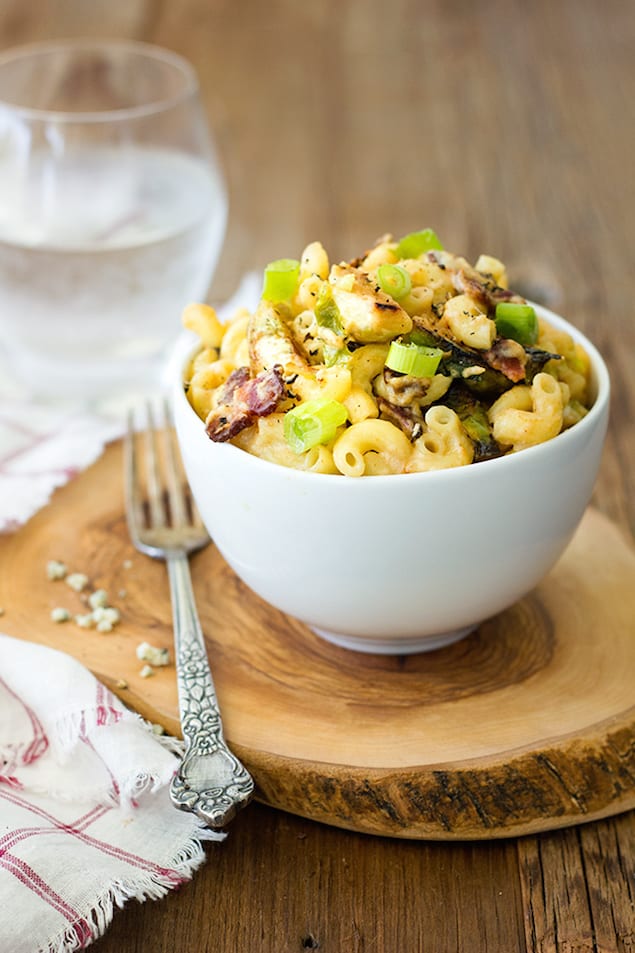 Now that it's August, we're getting towards that limbo time when summer still feels fully alive but a hint of fall starts to edge its way in. It's still a million degrees outside, summer produce is still in abundance, and it's definitely not quite time to say hello to pumpkin spice anything, but at the same time, the cozy fall vibes start to sound a little more appealing, like maybe we've had enough of the HOT, HOT days and we're ready for a cool down. That's where this mac & cheese comes in. You get a little of those aforementioned cozy vibes, but in a dish that's definitely summer-ready.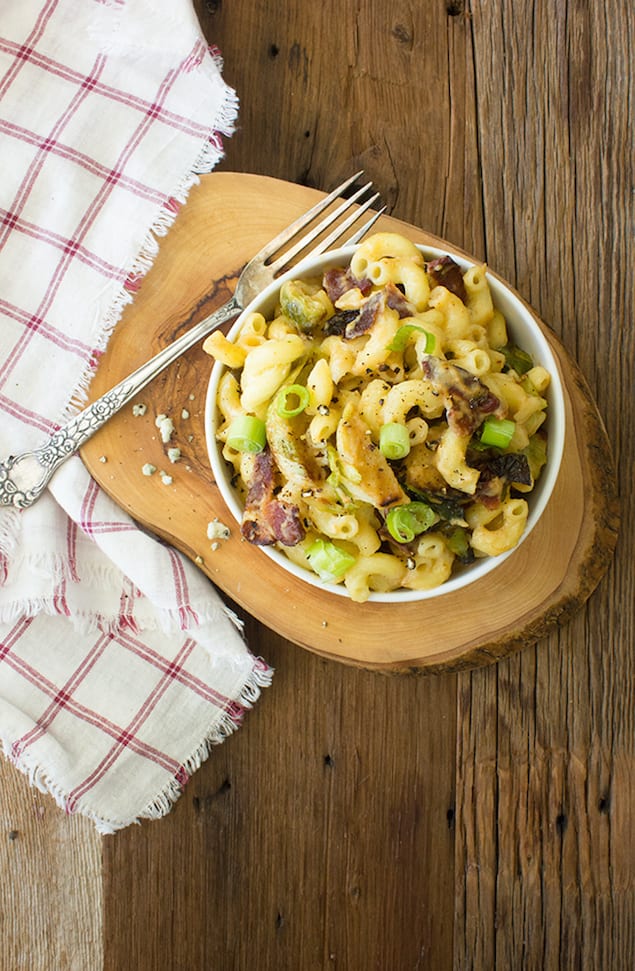 And let me tell you, this mac 'n cheese is LOADED. We've got smoky bacon, pan-roasted brussels sprouts, scallions, smoked paprika, and – oh yeah – lots and lots of cheese. There's cheddar of course, but also Castello Crumbled Blue Cheese for a little flavor twist. Clearly, this isn't just any macaroni and cheese; it's gourmet, adult-style mac, and man-oh-man is it goooooood.
Even if you're not crazy about blue cheese, don't write this one off. The flavor doesn't jump in your face; instead it plays in the background, adding a little bit of twang to the dish while still being subtle. Between that, crispy bacon, golden-brown brussels, and that touch of paprika, you've got flavor explosion in an easy, one-dish meal that's perfect for any busy summer night (or any night at all, because when can you say no to mac and cheese?!).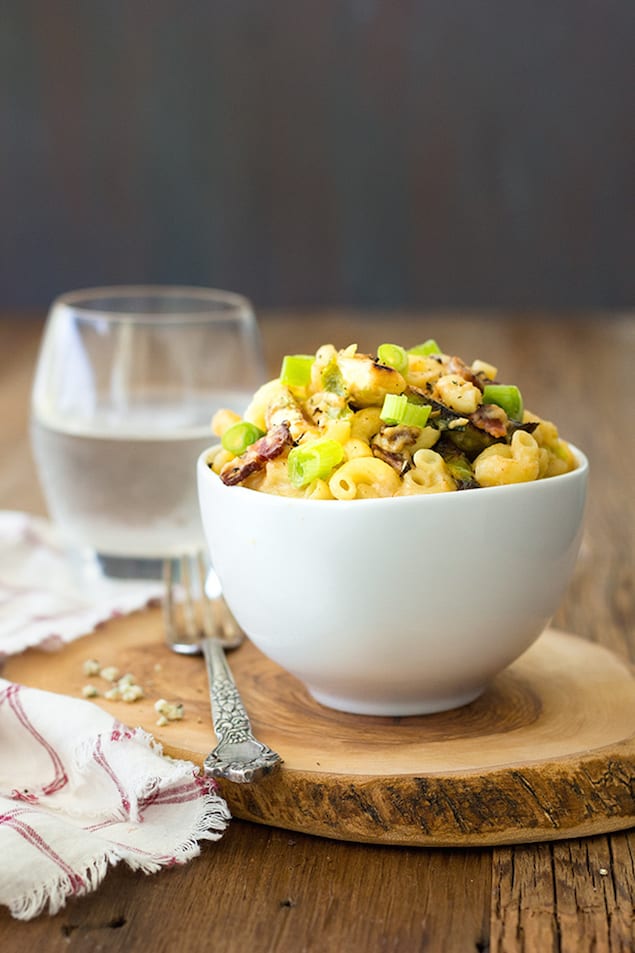 Castello Summer of Blue — Blue Cheese and Brussels Sprout Mac and Cheese
Blue cheese adds a little twang to classic mac and cheese with crispy bacon, golden-brown brussels, and a touch of paprika for a real flavor explosion in an easy, one-dish meal that's perfect for any busy summer night.
Ingredients
8 slices bacon
12 ounces brussels sprouts, quartered
6 scallions (stems only), chopped
1 teaspoon salt, plus extra for seasoning vegetables
12 ounces gluten-free elbow macaroni*
1 ounce (2 tablespoons) unsalted butter
1 lb 1 ounce (2 cups) milk, divided use
2 teaspoons cornstarch
6½ ounces (2 cups) shredded white cheddar
5 ounces Castello Traditional Crumbled Danish Blue cheese 1 teaspoon smoked paprika
chopped scallion greens, for serving
freshly ground pepper, for serving
Instructions
Heat a large cast iron skillet or other heavy-bottomed pan over medium heat. Add bacon and cook for 2-3 minutes on each side, until as crisp as desired. Remove from pan and set aside on a paper towel to cool briefly. Chop into bite-size pieces.
Add brussels sprouts and chopped scallion stems to pan with bacon fat and season with salt to taste. Cook over medium heat, tossing occasionally, until outer skins of brussels sprouts have turned dark golden-brown and insides are al dente or fork-tender, about 12-15 minutes. Set aside.
Fill a large pot with 4-6 quarts of water. Add 1 teaspoon salt and bring to a boil. Add pasta and cook according to package instructions until al dente. Strain out water.
While pasta is cooking, melt butter in a medium saucepan set over medium heat. Stir in 8½ ounces (1 cup) milk and heat until steaming. In a separate bowl, whisk cornstarch into remaining 8½ ounces (1 cup) milk until smoothly incorporated.
While stirring, slowly pour cornstarch mixture into heated milk. Bring to a simmer and simmer for 1 minute. Add cheddar, blue cheese, and smoked paprika and stir until cheese melts and sauce is smooth and slightly thickened.
Pour cheese mixture over noodles. Add bacon and brussels sprouts mixture and toss until evenly combined. Serve immediately, with freshly ground pepper and chopped scallions if desired.
Notes
Feel free to use regular elbow macaroni if you're not concerned about keeping the recipe gluten-free
Alexandra Azary
Alexandra is a self-taught baker and food photographer who shares her creations on her personal blog, Confessions of a Bright-Eyed Baker. She's passionate about food and aims to inspire more people to bake from scratch and get comfortable in the kitchen.