Sponsored Post – Whether you already love Italian wine or are just getting your feet wet, Santa Cristina is a highly acclaimed winery sitting high on a hill in Tuscany that you must try. Made in the region for over 65 years, Santa Cristina has become a benchmark Italian wine. Here are fun ways to feature their bottles.
Irresistible Italian casarecce pasta is tossed with fork-tender braised beef, cooked low and slow in red wine, with porcini mushrooms and a sprinkle of pecorino cheese. Truly unforgettable when paired with Santa Cristina Chianti Superiore.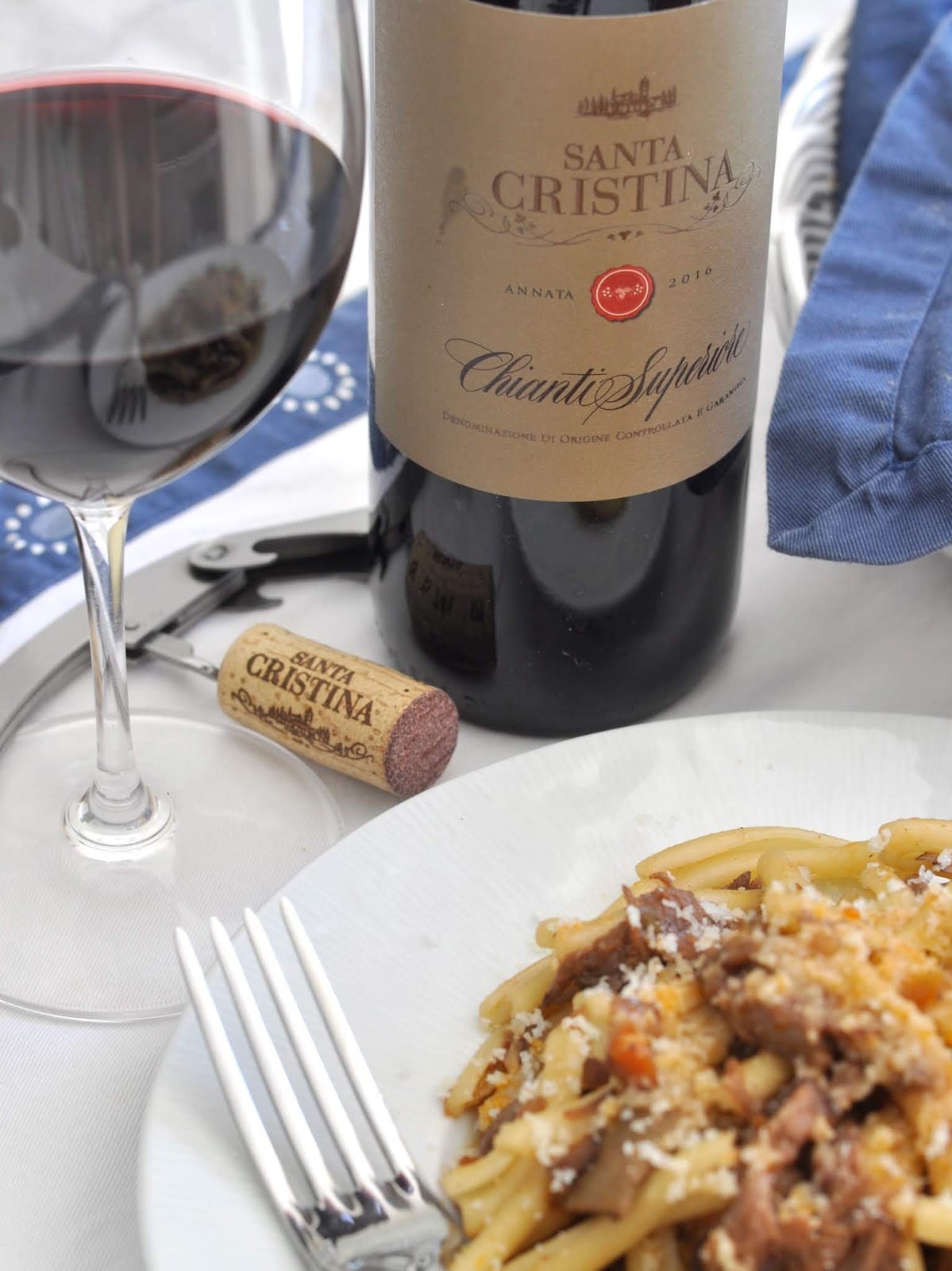 With the holiday season quickly creeping up on us, have you started planning your dinner menu yet?!?
It's never too early to think out what you will bring to the table for your family and friends. It's sure nice to serve the always-delicious turkey with all the fun stuff around it, from the flavorful stuffing to the creamy sweet potatoes, from the dense gravy to the cannot-be-forgotten cranberry sauce.
But for once, why not add something new?!? Something exciting. Something elegant and scrumptious. Something that will wow your guests, leave them in awe and all talking about those amazing, non-traditional but so-Italian casarecce pasta you made. Topped with a fall-apart-tender and extra flavorful beef ragu braised in red wine. How about that?!?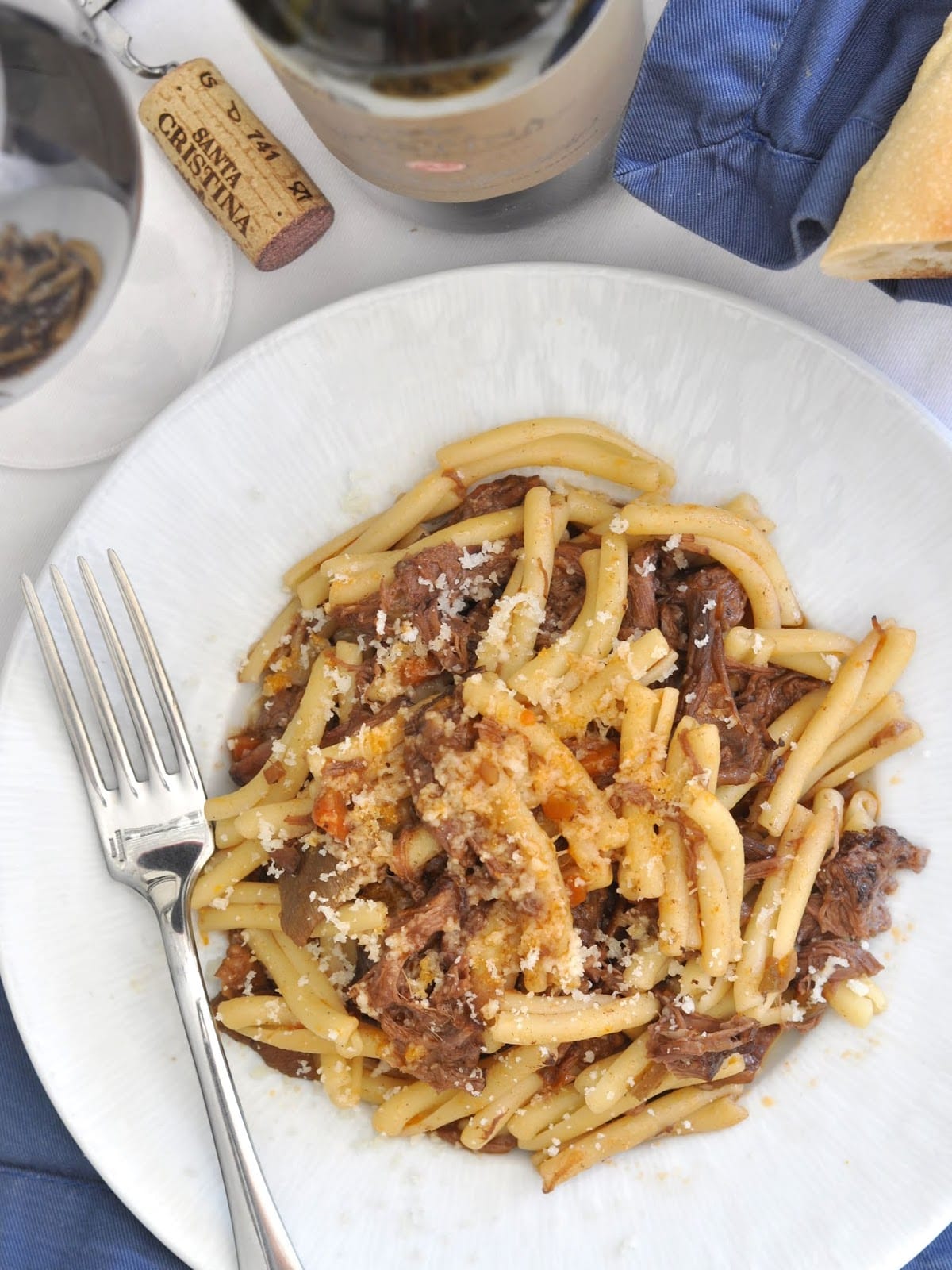 What I love the most about this recipe is not only its comforting elegance and mouth-watering flavor, but also the easiness to get this dish together.
All you need for this recipe is a slow cooker (highly recommended, but not essential), a good piece of beef (it doesn't have to be an expensive cut), and a delicious cup of wine. Or, let's make it two… one cup for cooking the beef and the other glass just for you, to sip while waiting for it to cook ;)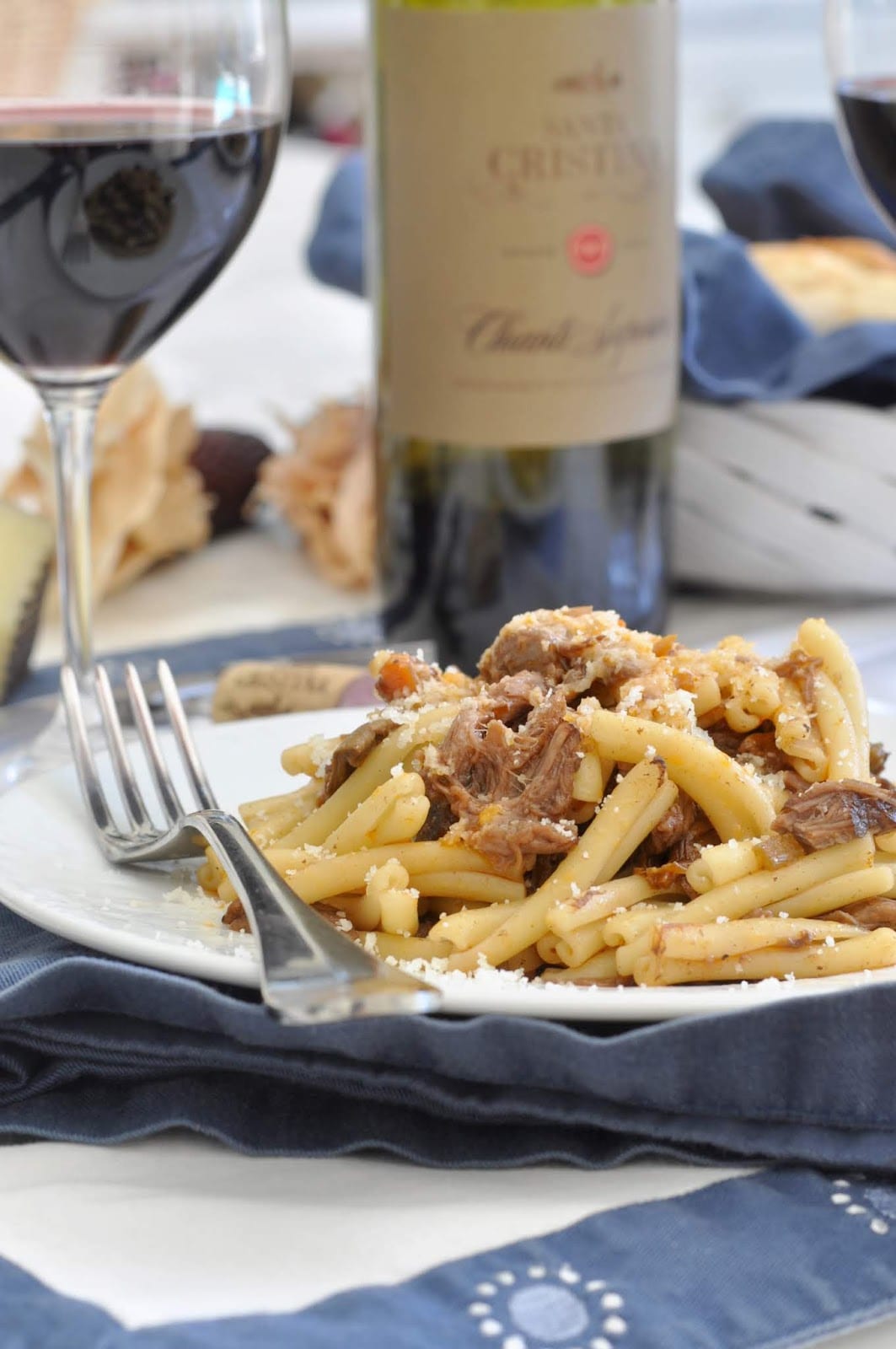 This pasta is super easy to prepare, but the cooking time is quite long. So make sure to plan ahead of time and start the recipe about 8 hours before you want to serve … or the day before. That's perfectly fine too!
The first step of the recipe is to brown the meat, both sides for a few minutes which adds flavor to the beef. You then saute' the veggies and add all to the slow cooker together with the red wine and broth. Seal the top and that's all. No need to look after it. Just let the slow cooker do its magic. Oh yeah! Miraculous things happen when you let food cook in red wine for several hours. Trust me.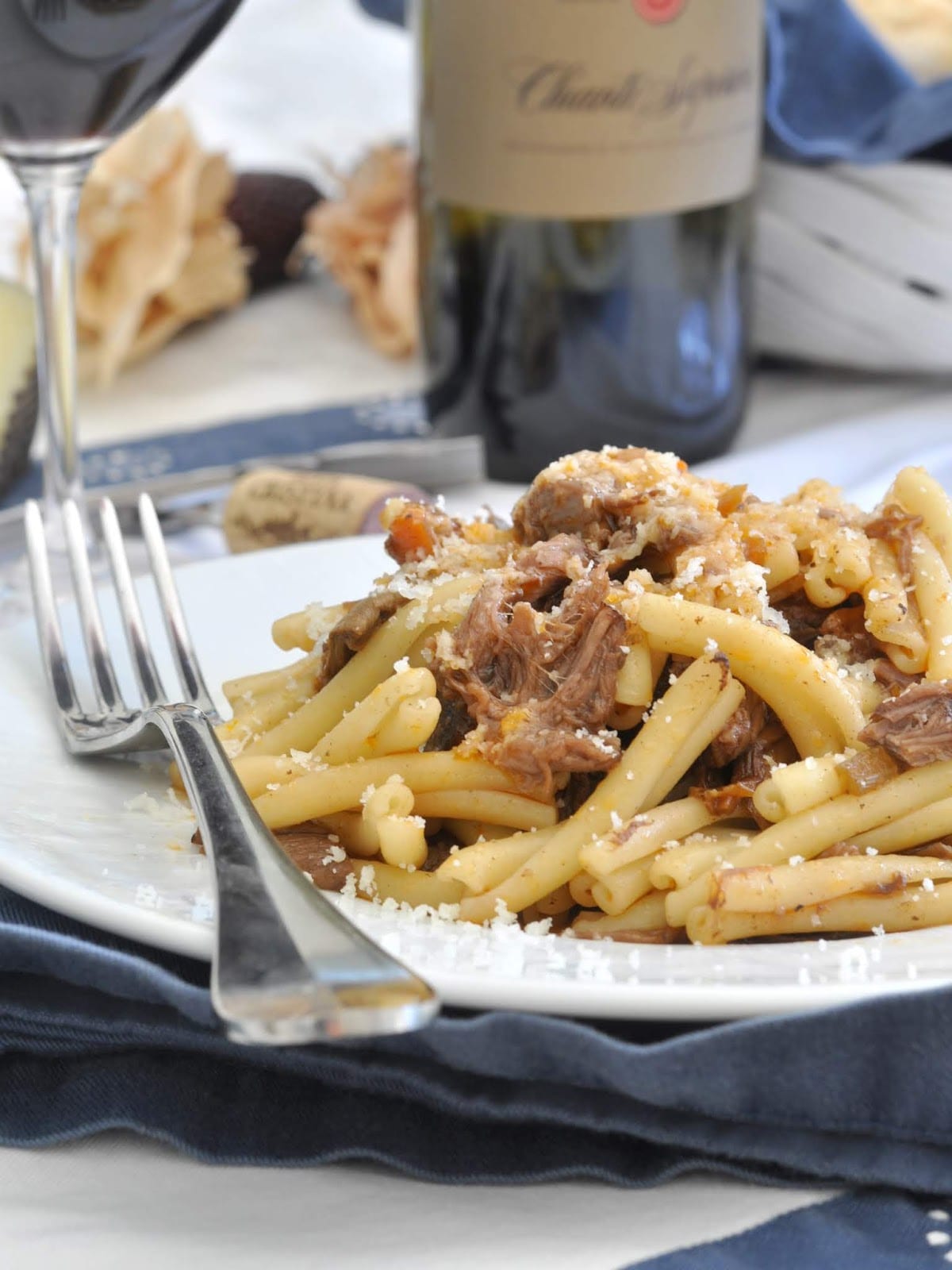 If you don't have a slow cooker (seriously, what's wrong with you?!? … just kidding!) do not worry. You can place it all in a Dutch oven or an oven pan with a lid that seals well. Add a double piece of aluminum foil on top if necessary to seal better. The idea is to keep as much of the liquid (wine, broth and juices) in the pan while cooking, to make the meat extra tender. In this case tough you will bake the meat for about 3 hours, and need to check it a few times and add more broth if needed.
Now, let's talk about the wine without which no holiday feast is complete.
I served my braised beef pasta with this easy-to-enjoy bottle of Santa Cristina Chianti Superiore DOCG 2016.
Santa Cristina is a highly acclaimed Italian winery situated in Cortona (Tuscany) and well known for its exceptional quality and value, and wines that can be consumed right after bottling.
This delightful Chianti Superiore is rich and aromatic, boasting a cherry and violet flavors with hints of wild herbs and spices. Its soft and velvety palate, and long and savory aftertaste perfectly pairs with red meat, especially juicy steaks or pasta dishes with meat sauce. So, this fruity wine pairs perfectly with my braised beef pasta I've made today, bringing out the subtle earthy aroma of the mushrooms I added at the end.
This holiday season, don't forget to pick up a couple of bottles of Santa Cristina Chianti Superiore.
Thank you Santa Cristina for the amazing wine!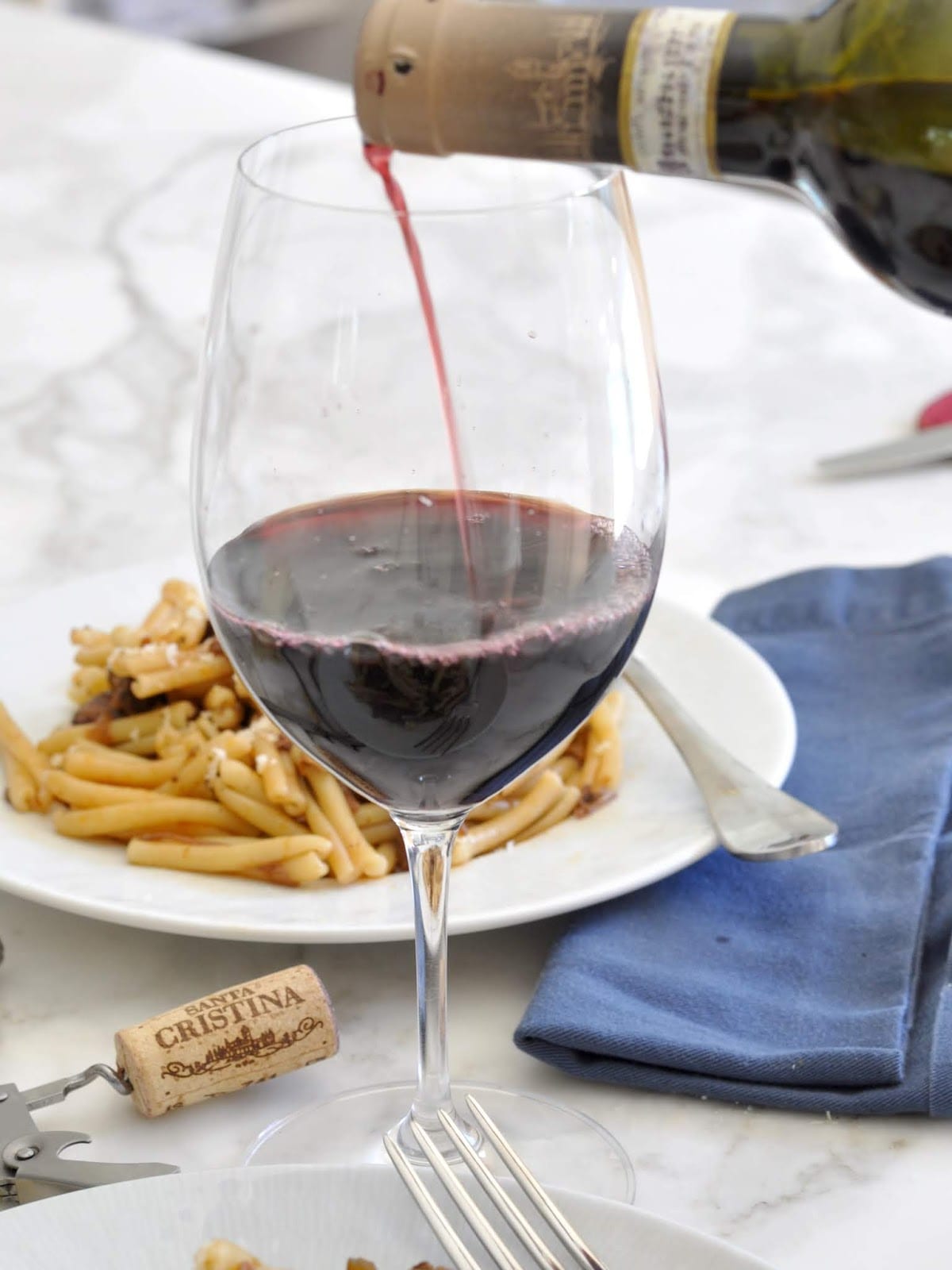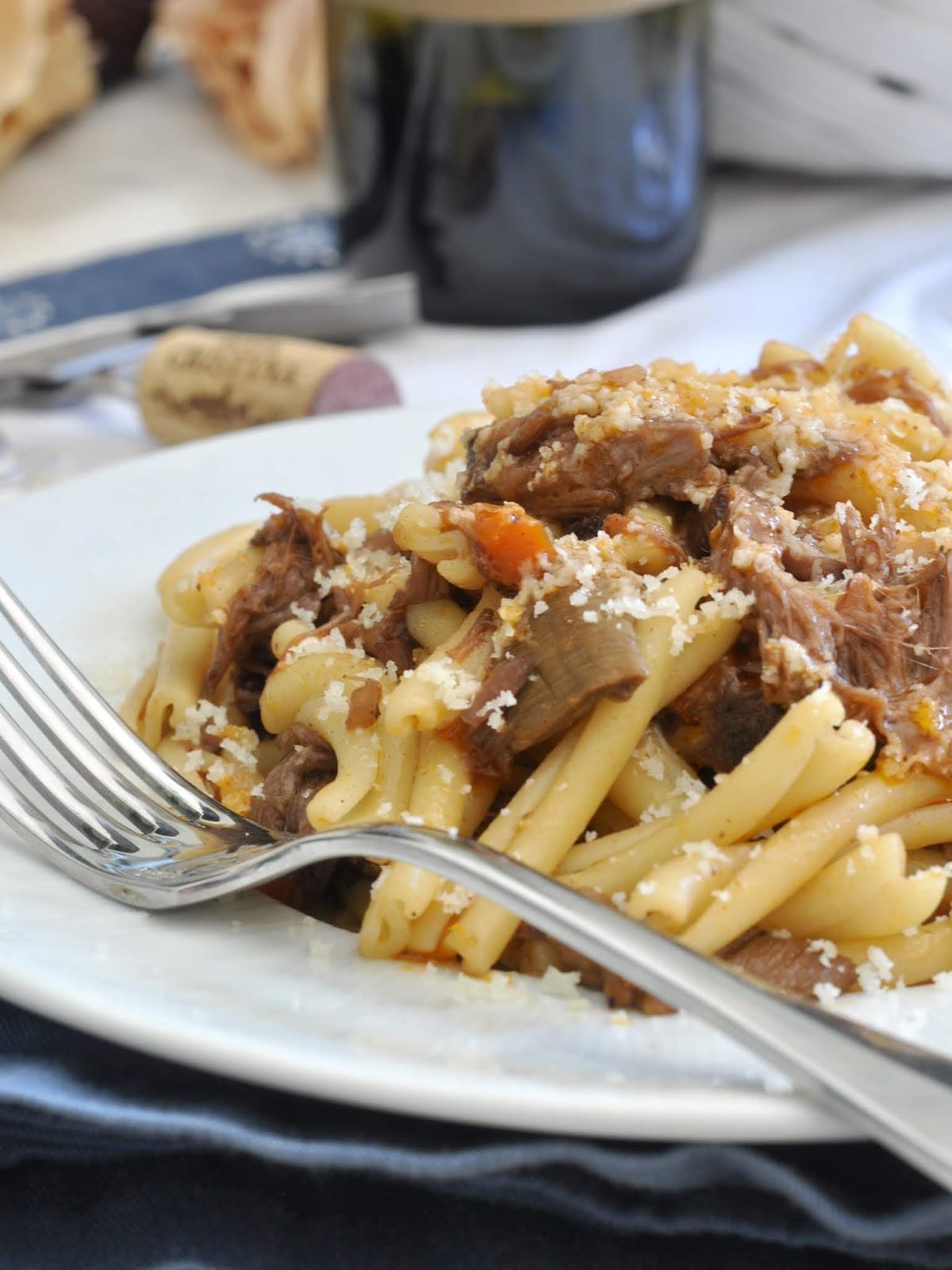 Print
Casarecce Pasta with Braised Beef and Santa Cristina Chianti Superiore
---
Author:

Manuela

Total Time:

8 hours 30 minutes

Yield:

8

servings

1

x
1

boneless beef chuck roast (about

2

lb,

0.9

kg)

2 tablespoons

of olive oil

1/2

onion (chopped)

1

carrot (chopped)

1

celery stalk (chopped)

1

garlic clove (crushed)

1

rosemary sprig

2 tablespoons

tomato paste

1 cup

235 ml of Santa Cristina Chianti Superiore

1 1/2 cups

350 ml of beef broth
about

20 oz

(

560

gr of casarecce pasta)

1 oz

30 gr of dry porcini mushrooms
grated pecorino cheese for the top
---
Instructions
In a large skillet, heat 2 tablespoons of olive oil.
Add the beef and brown on both sides (about 5 minutes on each side).
While the meat is browning, chop the carrot, celery and onion.
Remove the meat from the skilled and place inside the slow cooker (or other oven pan).
Add the onion, celery, carrots to the skillet together with the garlic clove crushed, and the rosemary sprig.
Cook for about 5 minutes until softens.
Add the veggies in the slow cooker with the meat.
Add the red wine, broth and tomato paste.
Cover the pan, set on low and let it cook for 8 hours, until the meat is falling apart.
If you are not using a slow cooker, cover your oven pan tightly, add a couple of layers of aluminum foil to seal better, and bake at 350? for 3 hours. In this case you need to check the pan once in a while to see if it needs more liquid. Add some more beef broth if necessary..
About 40 minutes before the meat is ready, place the dry porcini in a bowl with hot water. Let them sit for 20 minutes.
Cut the meat using two forks in medium to small pieces based on how you like them best (I wouldn't shred the meat too small, it's nice to have some bigger pieces with the pasta).
Move them with some of the sauce to a skillet, add the porcini cut in pieces (and well drained) , and let them cook over medium heat for about 20 minutes. Let the sauce get a little denser, or add more if needed.
Bring a large pot of salted water to a boil. And cook the pasta following the instruction on the bag (it should take around 10 minutes for the pasta to cook al dente).
Drain the pasta and add to the skillet.
Toss well. Serve immediately topped with grated pecorino cheese if desired.
Prep Time:

30 minutes

Cook Time:

8 hours

Category:

Main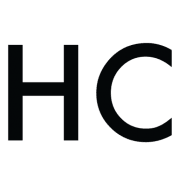 Manuela Mazzocco
Born and raised in Venice, Italy, Manuela now lives with her husband and two children in Los Angeles, California. In her blog, Cooking with Manuela, she strives to share her passion for Italian food. As a mom of two young boys, most of her dinner preparations are done while checking homework, quizzing for science tests, and looking for Lego pieces. Her step-by-step recipes help readers create delicious food while on a busy schedule. There is nothing as special as ending your day with your family or friends sharing a good conversation and a tasty homemade meal.