Casarecce with Lamb Sausage and Baby Kale is a great, no-fuss dinner that is packed with flavor. Simple, flexible and delicious.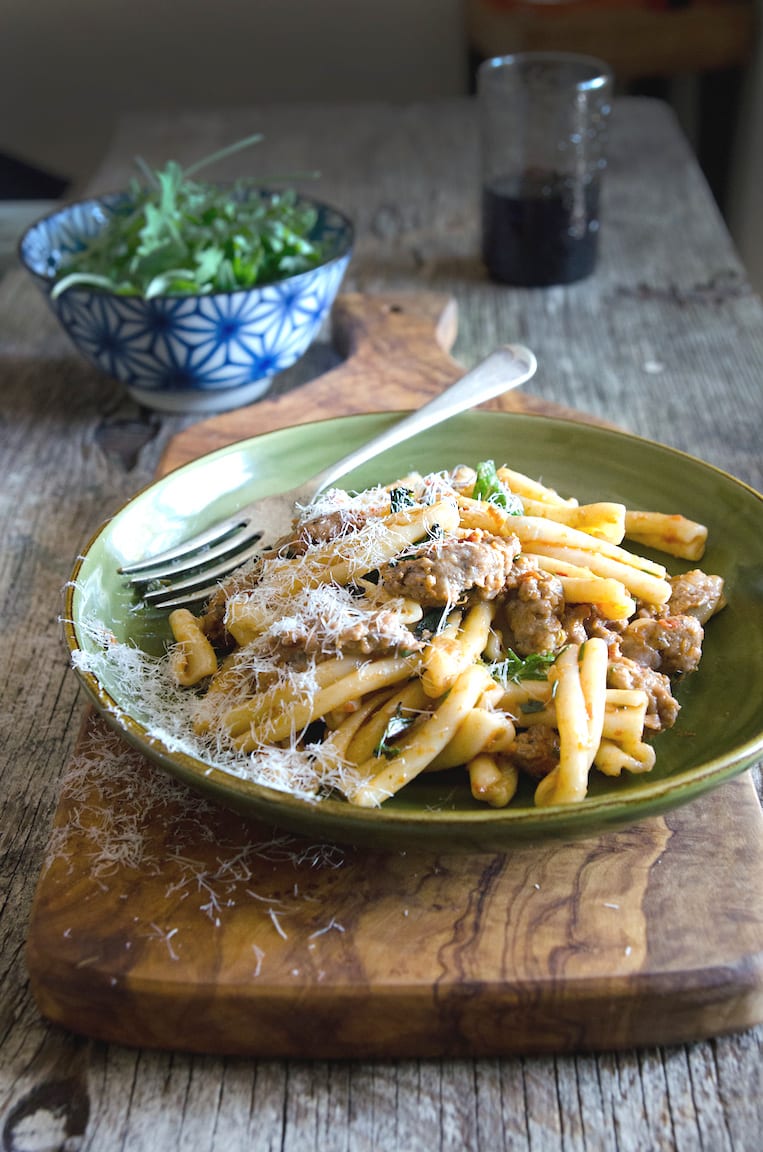 This is one of those quick meals I've been whipping up lately, when I get home from work and don't want to faff around the kitchen for an hour. Casarecce (a type of pasta), lamb sausage, some tomato, chilli and baby kale. A handful of ingredients that results in a really tasty meal. There are no rules here. Don't like chilli? Don't add it. Have fresh asparagus instead of kale? Then use it. Got some sad looking rocket in the crisper? Throw it in, providing it's only wilted and not dead.
The star of the dish is the sausage meat. I've used one of my favourite lamb sausages that also contain leek and thyme, so it's what's in the sausage that helps season the dish. Use a pork sausage, then of course your sauce will be dominantly flavoured by it. Also, remember that just about every sausage is already seasoned, so taste the sauce before you go adding any more salt. Another thing, only get good quality sausages that don't contain nasties like emulsifiers and too much bread. It's the sausage meat you want, not the rubbish some butchers throw in as fillers.
Finally, the sauce quantities should be enough to coat the pasta, not drown it. The sausage may be the hero but the pasta is its very good friend. A final glug of cream or extra virgin olive oil goes nicely as well; as does a glass of vino, to have with it.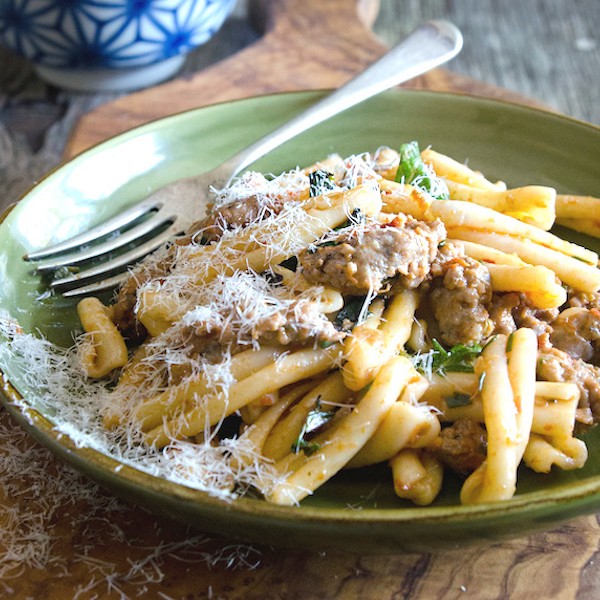 John Bek
Ingredients
2

tbsp

olive oil

1

large onion

peeled & diced

1

clove

garlic

finely grated

1

tbsp

chilli flakes

600

g

1lb 5 ounces leek & thyme lamb sausages

1

x 400 g

14 ounces tin crushed tomatoes

1

tin water

Salt & black pepper

to taste

Handful of baby kale leaves

500

g

1lb 2 ounces dried pasta casarecce

Parmesan cheese

to taste

Extra virgin olive oil

to finish
Instructions
Squeeze the filling from the sausages and discard the casings. Take a fork and roughly smash the filling into small and medium chunks. Set aside.

Heat a large saucepan over medium-high heat add the onions, garlic and chilli and sauté for about 5 minutes.

Add the sausage meat and continue sautéing until the meat is lightly browned and almost cooked through.

Add the tin of crushed tomatoes, fill the tin with water and give it a swirl to catch any tomato residue, then add this to the pan as well. Alternatively use half water and half white or red wine for a more adult version.

Bring to the boil and then reduce the heat slightly to gently boil for 10 minutes. Check for seasoning. Turn off the heat and toss the baby kale onto the sauce without mixing it in.

Bring a large pot of salted water to the boil and cook the pasta for 11 minutes or according to packet instructions. Drain well and pour straight over the kale-topped sauce. Finely grate as much parmesan over the pasta as you want, then mix it all together really well. Serve immediately with a salad, some bread and your favourite glass of vino.
John Bek
John Bek is a trained chef that decided to throw in his professional apron and move into retail management. He's the guy behind heneedsfood.com - a platform that showcases recipes that cover the likes of everyday cooking, use of native Australian ingredients, as well as Croatian creations that come from his heritage. John also writes about where he's travelled around the world as well as any farmers markets he's visited.