Try these delicious pumpkin spelt muffins from Laura Davidson.
By Laura Davidson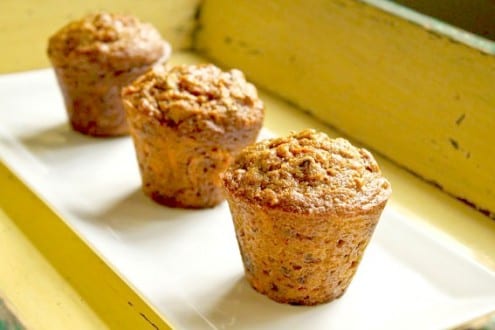 This recipe was actually roughly inspired by a carrot cake recipe. I decided that pumpkin and carrot would probably taste great together and luckily my predictions came true. These disappeared incredibly quickly from my house and I think I only ate one of them in the end.
Carrot Pumpkin Spelt Muffins
Try these delicious pumpkin spelt muffins from Laura Davidson.
Ingredients
½ cup spelt flour
½ cup whole wheat pastry flour
1 teaspoon baking soda
1 heaping teaspoon ground cinnamon
pinch of ground nutmeg, cloves & ginger
½ teaspoon salt
1½ cup carrots, grated (about 4-5 carrots)
½ cup walnuts, chopped
¼ cup Zante currants or raisins
⅔ cup granulated sugar
3 tablespoons canola oil
¾ cup canned pumpkin
2 eggs
Instructions
Whisk together the flours, baking soda, salt, cinnamon, nutmeg, cloves, and ginger. In another bowl, stir together the carrots, Zante currants, and chopped walnuts.
Using a mixer, combine the pureed pumpkin, canola oil, and sugar until smooth. Add the eggs one at a time, and continue to beat until smooth.
Reduce speed and slowly add in flour mixture, mixing only until the dry ingredients disappear (whenever baking, you want to mix as little as possible).
Gently stir in carrot, walnut, and currant mixture. Divide into lightly greased muffin tin.
Bake at 375 degrees for 22-25 minutes or until inserted toothpick comes out clean.
Laura Davidson
After deciding to take a leap of faith, Laura enrolled in culinary school to pursue her passion for all things food. On her blog, Blogging Over Thyme, she shares her experience as a culinary student, her favorite recipes, stories, and photography!