SPONSORED POST: We're celebrating the twelve weeks of summer with delicious, refreshing recipes using Hills Bros. Cappuccino. Be sure to enter below for a chance to win a one year supply of coffee! #CappontheRocks
This bourbon spritz cocktail is made extra delightful and refreshing with a cardamom and cappuccino syrup.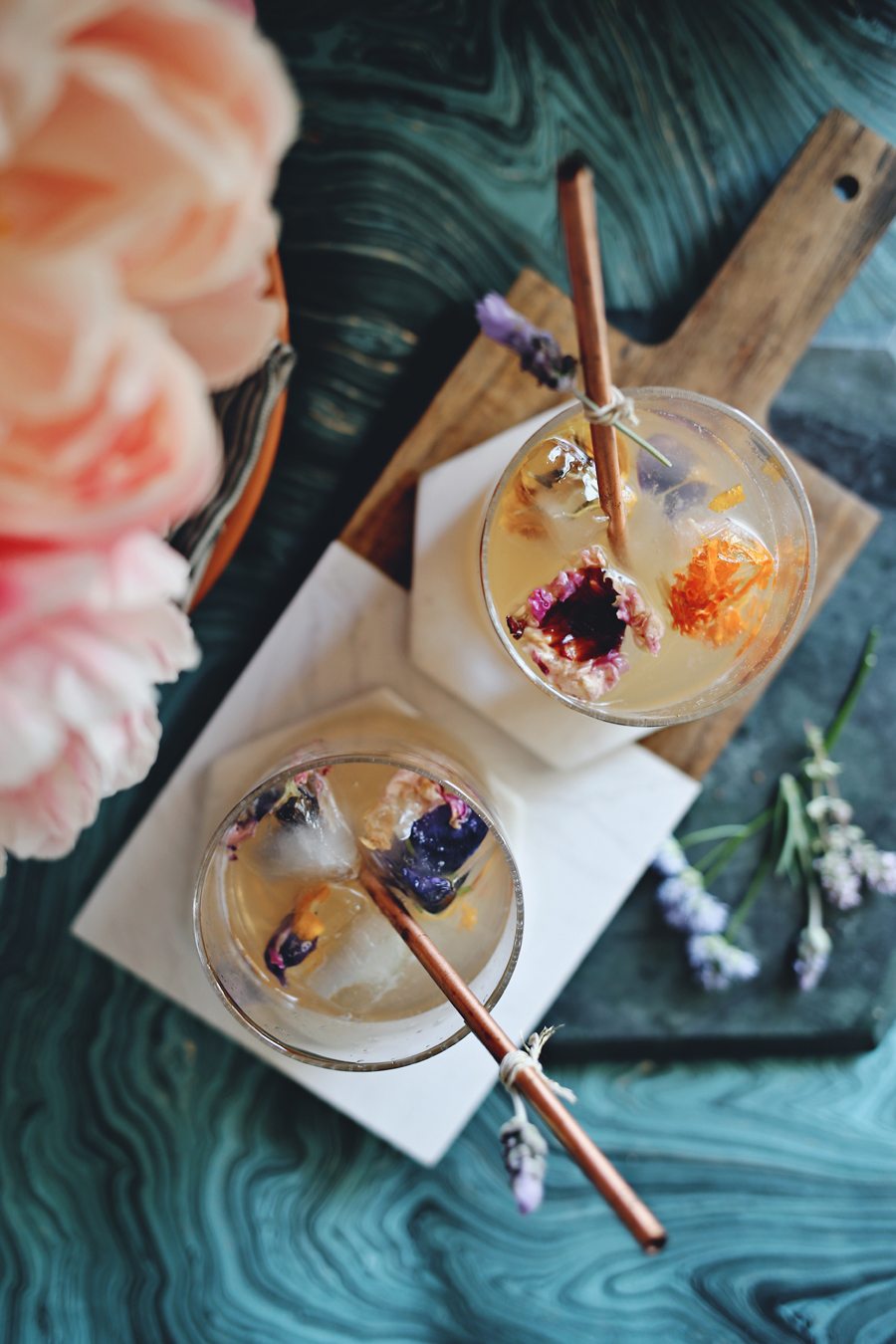 Summer is in full swing and where autumn is slightly in sight, we're still holding on to these warm lit evenings and trying to cram as many patio hangs in as possible… I mean, Labor day is still weeks away so let's hold onto and stretch out this summer entertaining as loooong as possible. Deal?
I've been very into making my own bitters and syrups lately, which allows your cocktail game to get pretty creative. Who needs to rely on what's readily available at the store when we can play with new exciting flavors…like cardamom and cappuccino? And I'm not talking about shaking up espresso martinis here! No sir, that concoction can stay at the club (do they still serve those at clubs..I don't know) I'm talking about making something thoughtful, elegant and light … a cocktail perfect for warm summer evening gatherings…that will impress your friends to boot!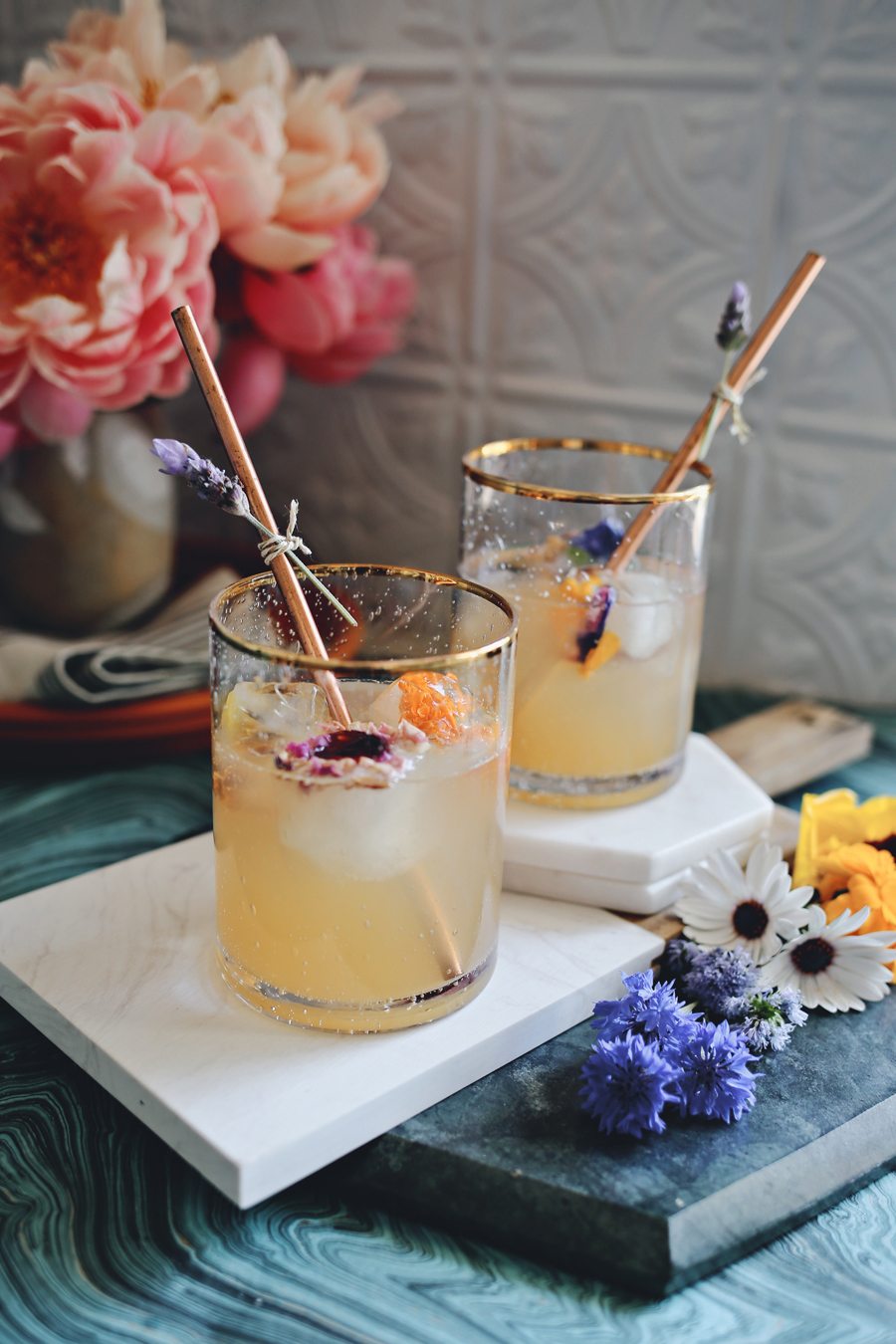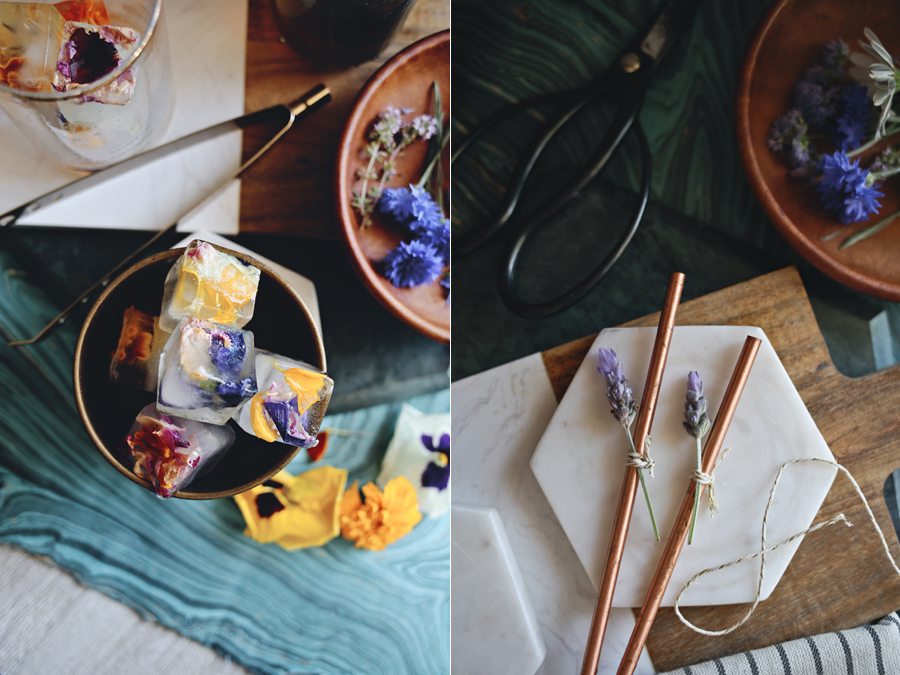 Cardamom and espresso are fast friends in the flavor department and this simple syrup is just that…incredibly simple to make! But that's not to say that the taste isn't incredibly complex…and quite dreamy when turned into a bourbon spritz!
Cardamom & Cappuccino can sometimes be overwhelming flavors, dare I say intimidating to incorporate into something so delicate – but not in this cocktail. There is a slight hint of creamy and spiced flavor with each sip, but it's also incredibly refreshing with its crisp effervescence and unique flavors that will have you shaking up seconds.
Don't forget the details – infuse your cocktail with design as exquisite as it's taste. Try freezing ice cubes with edible flowers for a fun punch of color and tying a sprig to a copper straw for an extra flair…which also delivers a nice aromatic touch with each sip!
Cocktails are meant to be playful, especially when gathering friends on a warm evening. So play up the style…and definitely play up this syrup because you've just won at summer sips!
See Also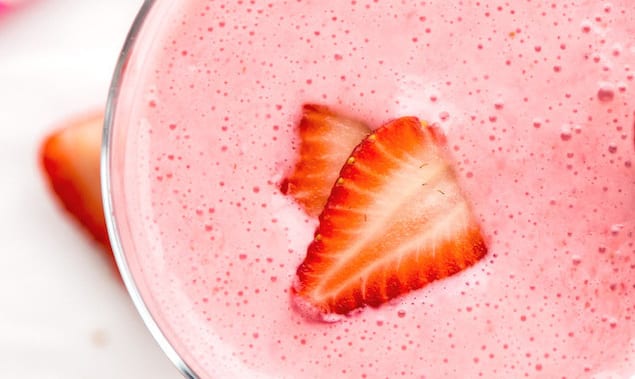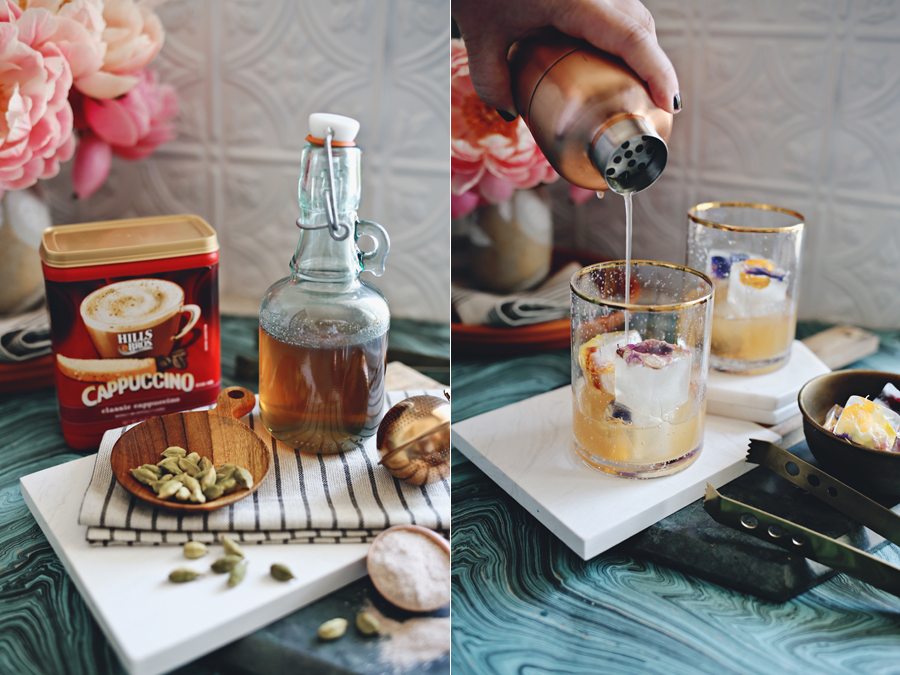 Enter below to win a year's supply of cappuccino and coffee! Then you can make allllll the coffee cocktails.
Print

Cardamom Cappuccino Spritz
---
Description
This bourbon spritz cocktail is made extra delightful and refreshing with a cardamom and cappuccino syrup.
---
Cardamom Cappuccino Simple Syrup
1 cup

refined sugar

1 cup

water

4

–

6

green cardamom pods

1

TBS Hills Bros. Classic Cappuccino powder
Cocktail Ingredients
2 oz

Bourbon

1 oz

Green Cardamom & Cappuccino infused simple syrup

½ oz

Rose Syrup (Optional)
Splash of Tonic Water
Edible Flowers (for ice cubes)
---
Instructions
Cardamom Cappuccino Simple Syrup
In a saucepan bring water and sugar to a boil, reduce heat to medium low and stir until sugar dissolves. Keep on low and add a cheese cloth (or small tea infuser) filled with cardamom pods and cappuccino powder, allow to simmer for 20 minutes. Remove from heat and strain out any solids before allowing to cool in a sterilized container. You can store this syrup for up to 3 weeks in a cool dry place.
Cocktail
The night before, add distilled water to ice cube tray, placing edible flowers in each. Check back after 30 minutes to adjust flowers as needed. Allow to freeze overnight. Add bourbon and infused simple syrups into a cocktail shaker filled with ice. Shake well and strain over floral ice cubes in a tall glass. Top with tonic or soda water. (Can also be served straight up in a coup (without tonic water or ice cubes) for a more formal cocktail – simple garnish with edible flowers and enjoy.