These chocolate snickers cupcakes are soft and so delicious! They're filled with a caramel that's been loaded with of peanuts and topped with a caramel swiss meringue buttercream.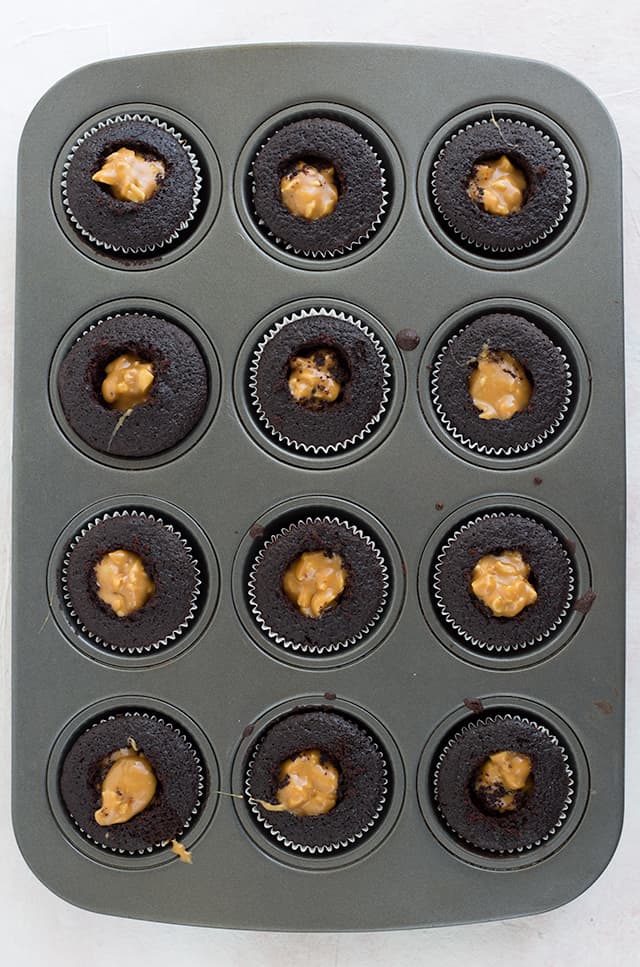 What I think I love most about this snickers cupcake recipe is the cake. It's definitely high on my favorites list! It's super moist, fluffy, and so chocolatey!
I filled these guys with caramel and chopped peanuts. It's a pleasant surprise to come across when you're eating it and come across it.
The first time I made these I remember I had to feed the caramel centers to my son who was only two years old at the time. He was standing at my feet and yanking on my shorts. What can I say, he has a sweet tooth like his mama and daddy.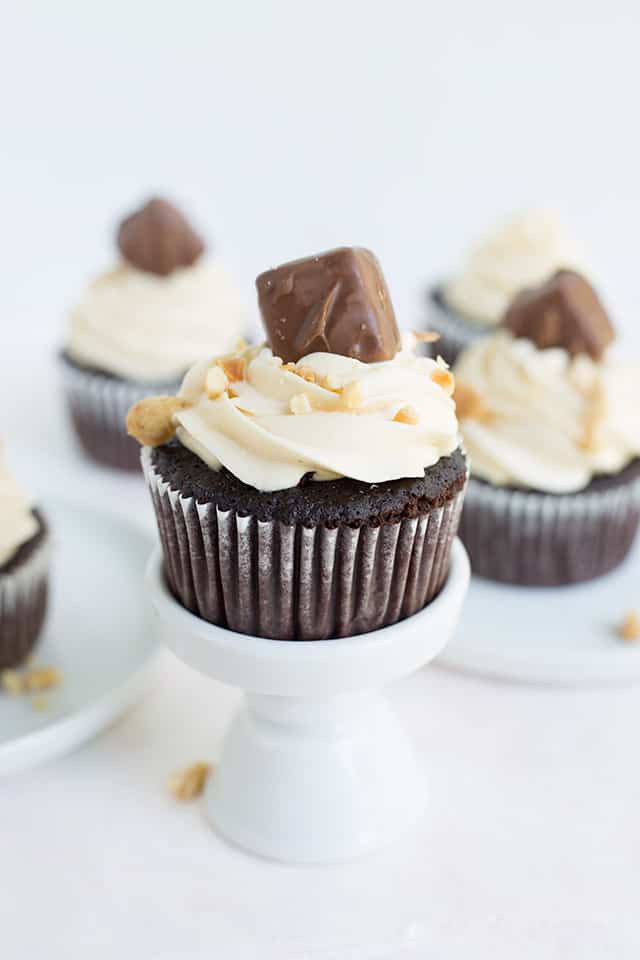 I couldn't stop there with the caramel. I added some into the swiss meringue buttercream frosting too. I love adding things like caramel, chocolate, and purees into swiss meringue buttercream because it can handle a large amount before it starts to break and become curdled looking.
American frosting can handle a very little amount of liquid before it starts breaking and looking curdled. Luckily a broken American frosting can easily be fixed by adding powdered sugar though. The only problem with adding more powdered sugar is that it can become overly sweet really quickly.
If you don't have buttermilk on hand, which most people don't, you can substitute the buttermilk with 1 cup of milk and 1 tablespoon of white vinegar. Let it sit for 5 – 1o minutes before using it.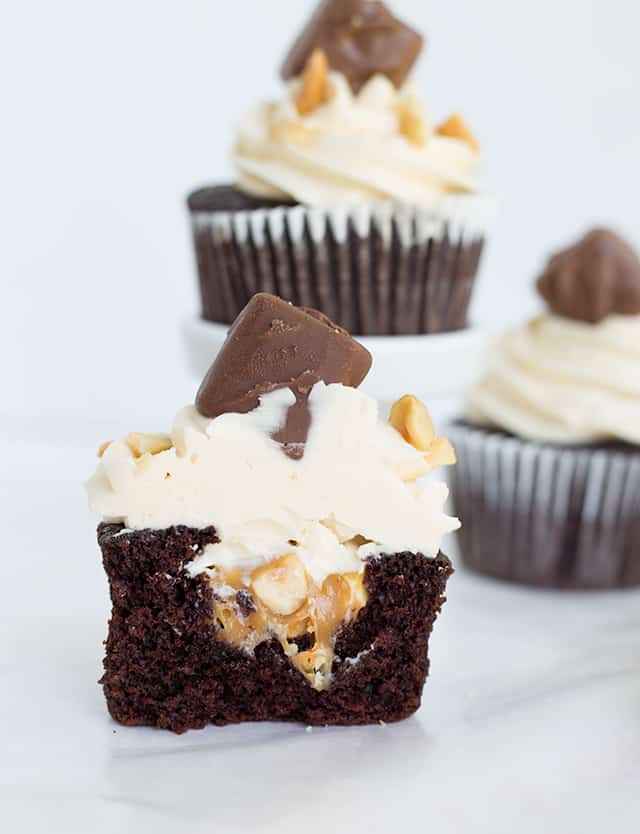 Don't have a way to brew coffee? You can substitute the hot freshly brewed coffee for 1 cup of hot water and 2 teaspoons of instant coffee granules. You can also leave out the coffee part altogether and just use boiling water. I feel like coffee enhances the flavor of the chocolate, but I'll leave that up to you to decide.
Can I freeze this caramel buttercream frosting? Yes, you can also freeze it up to 2 months. You can also use it in a recipe for Chocolate Stout Cupcakes with Salted Caramel Buttercream. *wink wink*
Click here for the peanut-caramel filling recipe.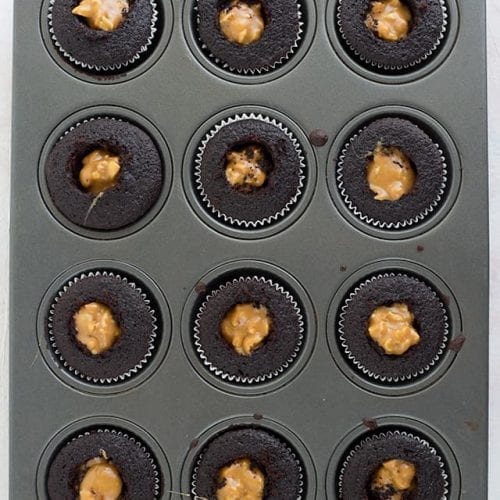 Caramel-Filled Snickers Cupcakes
Miranda Couse
Ingredients
Chocolate Cupcakes
1 3/4

cups

all-purpose flour

2

cups

granulated sugar

3/4

cup

cocoa powder

1 1/2

tsp.

baking soda

3/4

tsp.

salt

2

large eggs

1

cup

buttermilk

1/2

cup

butter

melted

1

T.

vanilla extract

1

cup

hot coffee
Caramel
Click the link above for the recipe.
Swiss Meringue Buttercream
6

egg whites

1 1/2

cups

granulated sugar

2

cups

powdered sugar

sifted

3/4

cup

shortening

2

cups

salted butter

room temperature

1

T.

vanilla

5

oz.

caramel squares

store-bought

2

T.

heavy cream
Garnish
24

mini Snicker candy bars

1 - 2

T.

salted peanuts

chopped

2

T.

chocolate syrup
Instructions
Cupcakes
Preheat the oven to 375. Line your cupcake tins with liners.

In a large bowl, add in the flour, sugar, cocoa powder, baking soda, and salt. Whisk to combine.

Add in the eggs, buttermilk, melted butter, and vanilla extract. Using a hand mixer, beat on low until the batter is smooth.

Once smooth, stir in the hot coffee with a spatula.

Scoop the batter into 24 cupcake liners.

Place into the oven and bake for 20 minutes or until done. Place a toothpick in the center of the cupcake and if it comes out clean, you're ready to pull those babies out of the oven.

Remove from the oven and let cool completely.
Caramel
Click the link above for the recipe.
Buttercream
In a double boiler, add the egg whites and granulated sugar. Stir until the sugar is dissolved. This is when the egg whites reach about 115 degrees.

Pour into a stand mixer bowl and whip with a whisk attachment on high. The meringue needs to come to stiff peaks. If you turn the whisk upside down and the peak stands straight up, you've reached the stiff peak stage.

Add in the sifted powdered sugar and mix until combined.

Add all at once the shortening and butter. Beat until it all comes together. It will thicken up at this point. If the mixture looks like it curdled, keep mixing. It will come back together.

Add the vanilla and mix until combined. The frosting should be thick and creamy.

Unwrap the caramels and put in a medium microwave-safe bowl.

Add in the heavy cream and place in the microwave. Microwave in 30-seconds. Stir after each time. Microwave until the caramel is smooth. Let cool to room temperature.

Fold the caramel into the buttercream.
Assemble
Cut a hole into the centers of the cupcakes. Don't go to the bottom of the cupcake. Spoon in the caramel peanut mix. You can also add the caramel into a sandwich bag and pipe it into the holes that way.

Add the caramel buttercream into a piping bag with a 1M piping tip or a 6B piping tip.

Pipe swirls on top of the cupcakes.

Drizzle chocolate syrup on the top of each cupcake.

Add mini Snickers to the top of each cupcake.

Sprinkle with chopped peanuts.

Store in an airtight container.
Notes
The chocolate cupcakes recipe was adapted from Foodess.
Miranda Couse
I'm Miranda. I'm a self-taught baker, recipe developer, writer, and photographer behind the blog http://cookiedoughandovenmitt.com. When I'm not satisfying sweet teeth, I can be found spending time with my family, reading cookbooks, attempting crafts and crocheting.