A patriotic, layered slushy cocktail that can also be made alcohol free! The perfect Memorial Day cocktail.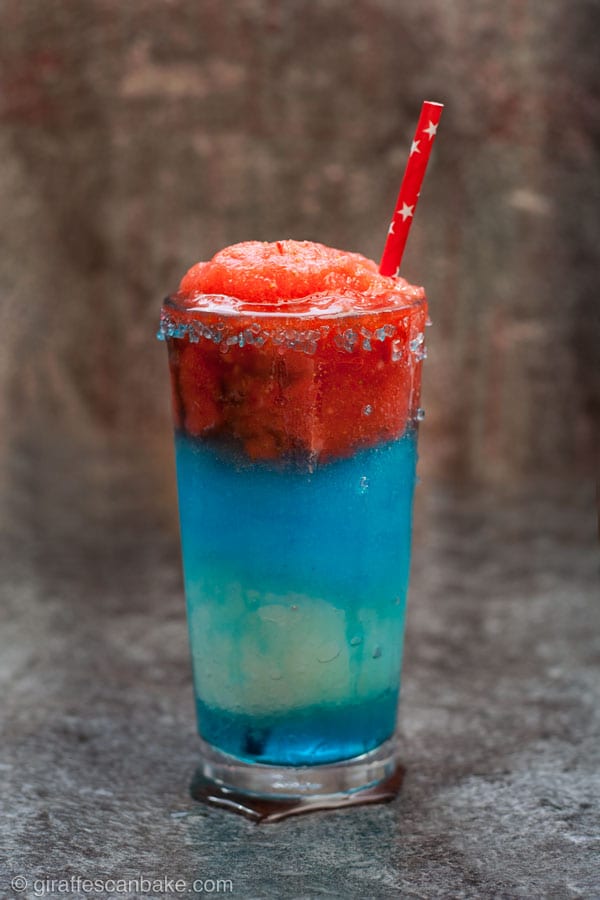 Have you seen the Captain America movie, Civil War, yet? I'm a huge Marvel fan and even bigger Captain America fan so I, of course, went on release day and absolutely loved it! I had to make a special cocktail for the occasion, and since I am firmly #TeamCap it had to be inspired by Steve Rogers.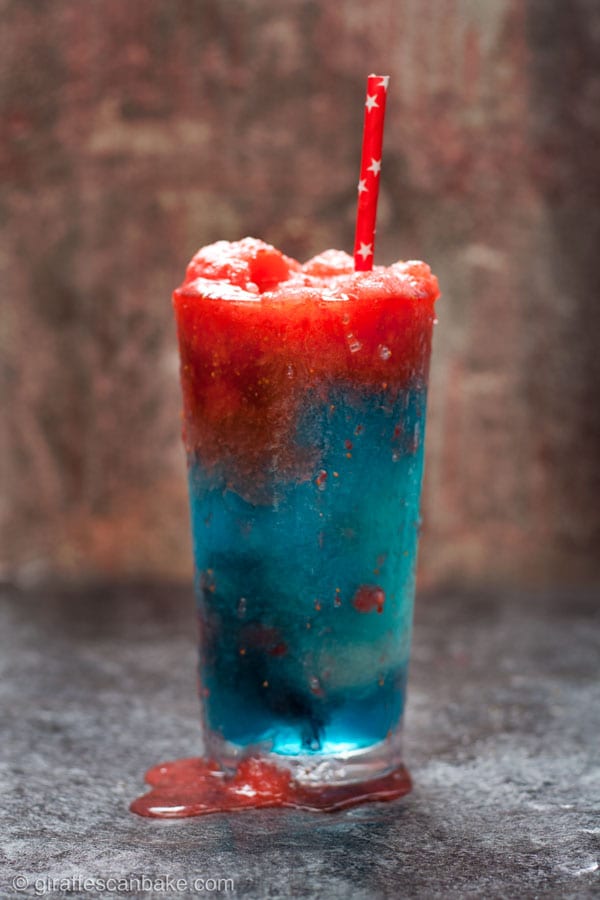 This layered red, white and blue slushy is so yummy and wonderfully festive. Even better is that it's so easy to make. The white layer is made with frozen sprite ice cubes and Irish whiskey (for Steve's Irish immigrant parents!), the blue layer is frozen sprite ice cubes and blue curacao and the red layer is frozen strawberries and sprite. You blend each layer in, well, a blender. Pour into your glases and enjoy – refreshing and patriotic. Serve with some festive straws and coat the rim with blue sugar and you've got the perfect Captain America slushy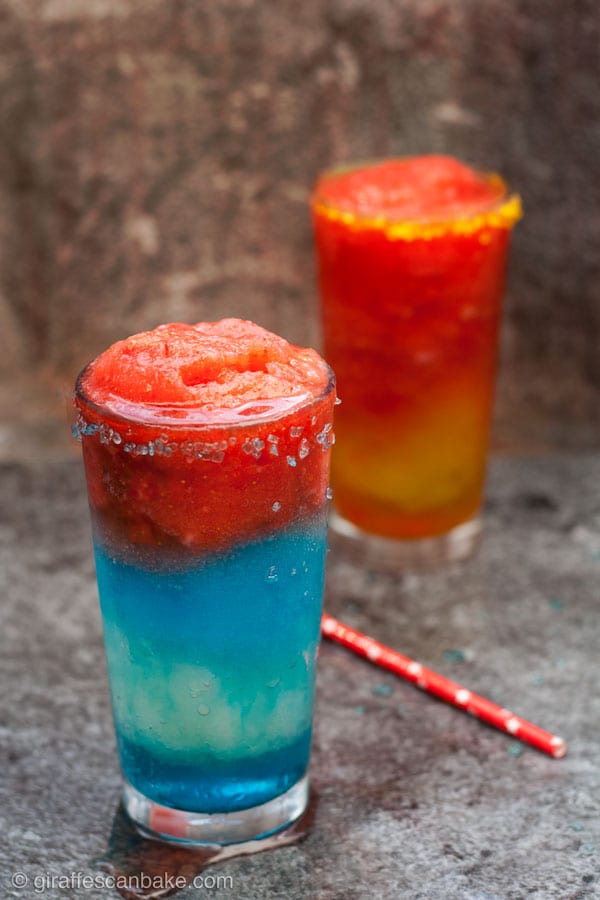 These yummy slushies aren't just great to celebrate the one and only Steve Rogers – they're perfect for Memorial Day or Fourth of July BBQs and parties. You'll keep your guests refreshed and in the festive mood. They'll be totally impressed with the layers too. Or, do you have your own mini super hero running around, saving the world one action figure at a time? Make these alcohol free by replacing the whiksey with liquid sprite and blue curacao with liquid sprite, blue food colouring and a squeeze of fresh orange juice – and your little hero will just LOVE them! They'd be great for superhero themed party, especially if you get all the superhero gear like placemats, napkins, bunting and more (there's so much cool stuff out there) and you'll be throwing one awesome party that all the kids will enjoy.
See Also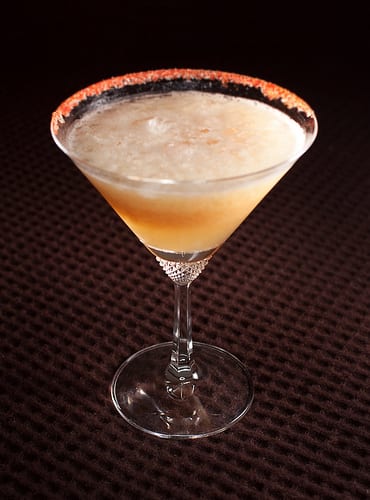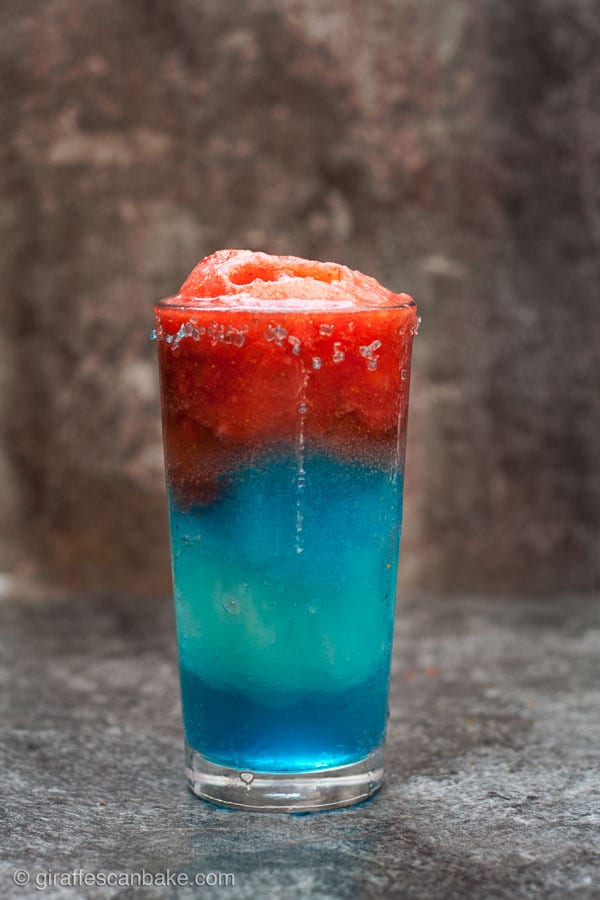 I'm actually doing a whole series of Marvel themed recipes, you can check them out here.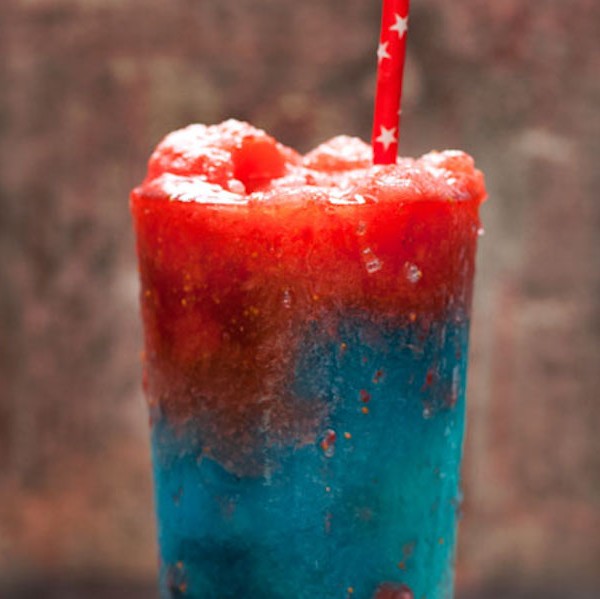 Michelle @ Giraffes Can Bake
Ingredients
Before starting you will need:
600

ml

sprite

500ml of it frozen into ice cubes
To serve:
1

tbsp

sugar crystals

3

drops blue food colouring

1/4

tsp

simple syrup

or other sticky liquid, such as maple syrup or honey - this may add a flavour if mixed with drink
White Layer:
25

ml/1oz Jameson

Irish Whiskey

1

cup

frozen sprite cubes
Blue Layer:
50

ml/2oz Blue curacao

1

cup

frozen sprite cubes
Red Layer:
150

g

frozen strawberries

if freezing fresh strawberries, the weight is after hulling

100

ml

sprite

not frozen
Instructions
To make the blue sugar crystals:
Put the crystals and blue food dye in a zip lock bag, seal and shake for about 30 seconds. Pour onto a shallow bowl or plate.

Rub some sugar syrup around the rim of the glass using kitchen towel, then dip in the sugar, rotating to get all sides covered.
To make each layer:
Put the ingredients for the layer you are making into your blender, pulse until you have a slushy consistency.

Pour or spoon into glass, one colour at a time to create your three layers. You can, of course, put the layers in any order your like.

Rinse blender between each layer, so you don't end up mixing colours.

Serve immediately with a festive straw.
Michelle McVeigh
Michelle is a self taught home baker who loves to experiment with flavours and teach herself new skills in the kitchen. She is based in the UK but travels to Atlanta, GA often and bakes wherever she goes!