Cheesy Cabbage and Almond Slaw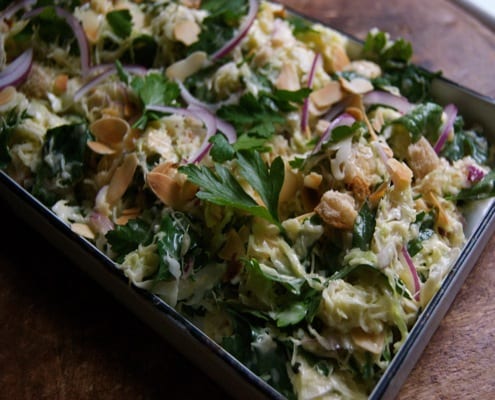 This is a lot cheesier than your average coleslaw, but that, along with the crunchy flake of the almonds, is the whole appeal.
By Louisa Allan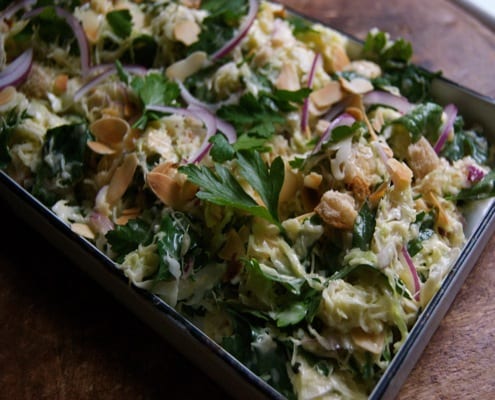 This is a lot cheesier than your average coleslaw but that, along with the crunchy flake of the almonds, is the whole appeal. I love this at Christmas with the ham and turkey but it's good all year long.
Ingredients
½ a savoy cabbage, finely grated(I use a mandolin for this)
100g flaked almonds, toasted
80g parmesan, finely grated
3 cups of parsley leaves, plus a few extra for garnish
2 slices of sourdough, cut into 5 mm pieces and toasted
½ a red onion, finely sliced
Dressing
2 egg yolks
1-2 tablespoons of white wine vinegar
3 tsp of dijon
1 cup of light olive oil
Salt and pepper
2 tablespoons of Greek yoghurt or cream
Instructions
Make the dressing first. Whisk the egg yolks, mustard and vinegar together in a medium sized bowl. Continue to whisk as you very slowly add the oil, drop by drop. When all the oil has been used and it's nice n' thick, season, mix the yoghurt in and set aside.
Place the cabbage, onion and parsley leaves in a big bowl. Add half of each of the cheese, nuts and breadcrumbs. Toss really well.
Pour the dressing over and toss really well again. Top with the remaining nuts, breadcrumbs, cheese and parsley leaves. Serve immediately, you want the bread crumbs good and crunchy!
Louisa Allan
Based in Melbourne, Australia, Louisa Allan cooks, writes and test recipes. And she does it all for you. You can find more of her recipes and rants on her blog, Cuisine Diplomatic.