Common in Austria, these yeast-raised rolls are a baked delight wrapped around sweet apricot jam. Yes, they take time. Yes, they are totally worth it.
I haven't baked bread or buns for a while now. Baking usually takes up the whole of my afternoon, which could be time well-spent on other necessary house chores nowadays. But these kinds of rolls kept showing up on my Pinterest homepage – Buchteln – bread made of milk and butter, with apricot jam hidden within.
This recipe actually looks very daunting at first, what with the blogger confessing that amateurish buchteln-ers could mess the whole dough up if s/he isn't skillful at the very last step – when one tries to wrap the flimsy dough around the jam.
The bread tasted heavenly – soft, sweet, airy, light, sweet, fragrant, airy (repeat x 10 times).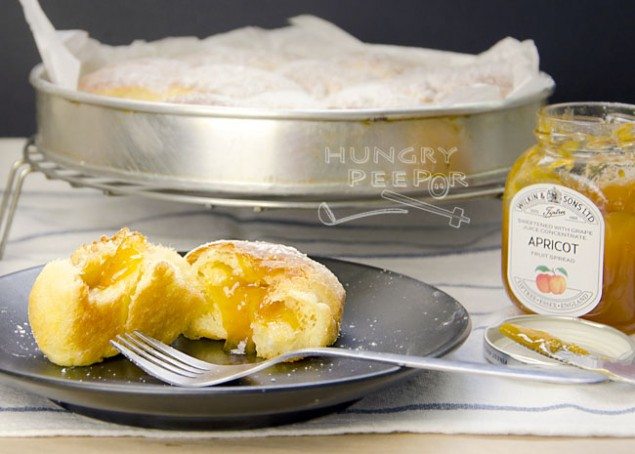 Buchteln: Austrian Sweet Rolls
Ingredients
Milk: 150ml, warmed
Active dry yeast: 5g (1.5 tsp)
Fine sugar: 40g
Large egg: 1
Melted butter: 77g + 2 tbsp extra
Vanilla essence: ½ tsp
Salt: ¼ tsp
Plain flour: 325g, sifted + extra
Apricot jam: 5 tbsp
Powder sugar: 2 tbsp
Instructions
Pour milk into large mixing bowl.
Sprinkle dry yeast over milk. Leave to activate for 10min.
Stir in sugar, egg, butter, vanilla essence and salt.
Using a wooden spoon, stir in flour.
Using oiled hands, pick dough up and fold edges into center for a few min. Try not to add flour into the wet dough.
Leave dough inside mixing bowl. Cover with cling wrap and leave to proof for 1hr.
Place baking parchment onto baking pan. Grease with extra melted butter.
Preheat oven at 190 degrees Celsius.
Transfer dough onto floured surface. Divide into 12 equal portions.
For each portion, fold edges into center several times. Flatten into 3? wide piece with a thicker center and thinner edge.
Place flattened dough on top of the circle formed by the joined thumb and index finger. Place jam in center of dough. Bring up edge of dough to wrap and pinch to seal tightly.
Bring sides of dough inwards towards pinched center. Place the sealed sides downwards onto baking pan.
Repeat steps 10 to 12 for remaining 11 pieces of dough.
Place into pan with a little space apart.Brush melted butter generously onto buns.
Cover with cling wrap. Proof for 30min.
Bake 25 min till golden brown.
Remove from oven. Leave to cool for 10min.
Dust with powder sugar to serve.