Broccoli and Parmesan Soup
Simple ingredients with no fuss makes this healthy recipe a breeze in the kitchen.
By Liza Puglia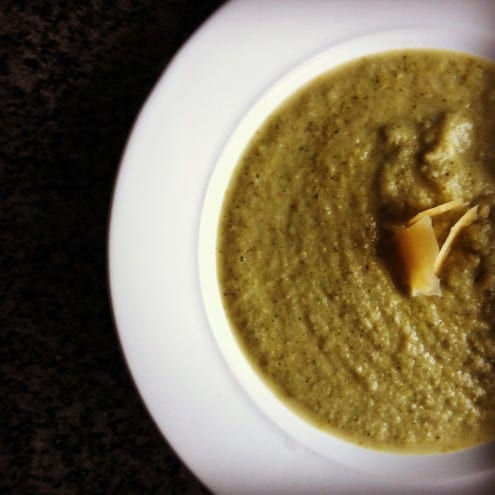 Something about broccoli and cheese soup reminds me of my childhood.  It was loaded with cheddar cheese and cream with a fluffy biscuit served on the side.
This is my adult version.  It also happens to be very low in calories as well as light on the pocketbook. Double bonus.
Most people think it's made with cream because of the texture but rest assured that the only dairy in this recipe is a bit of high quality parmesan cheese.
If you'd like to make the soup thicker add a cooked potato before pureeing.
Simple ingredients with no fuss makes this healthy recipe a breeze in the kitchen.
Recipe Type:
soup, appetizer
Ingredients
1 large head of broccoli
100g parmigiano-reggiano, grated & rind reserved
2L vegetable stock or water
1 lemon
2 garlic cloves, coarsely chopped
1 large onion, large dice
olive oil
salt & pepper
Instructions
Preheat oven to 400F.
Cut broccoli into large pieces and place on baking sheet.
Drizzle broccoli with olive oil, big squeeze of fresh lemon juice and season with salt & pepper.
Roast broccoli for 15 minutes til it starts to brown.
While the broccoli is cooking saute the onion & garlic in a stock pot with olive oil over low heat.
Add cooked broccoli, stock, and cheese rind.
Bring to boil, simmer, and cook for 15 minutes.
Add grated cheese and season with salt & pepper.
Using an immersion blender or blender puree til smooth.
Serve hot with shaved parmesan on top.
Liza Puglia
Liza Puglia is a professional cook and food blogger. Spending most of her life in New Orleans and New York City she now resides in colorful Buenos Aires, Argentina where she runs a small restaurant serving Creole infused cuisine. Food, wine, music, and travel mean the most to her and can be found at her blog NOLAchef.