Braised Turkey with Pears, Chestnuts and Rosemary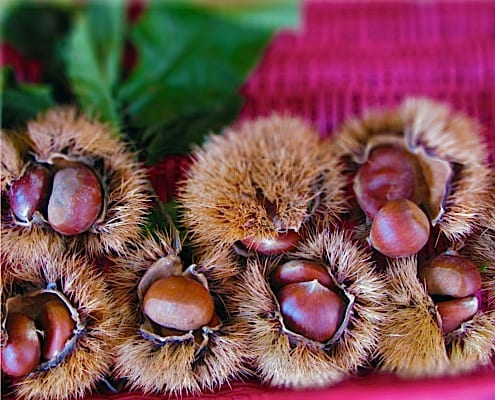 Add a traditional product found this time of year in Northeastern Italy – chestnuts – and you have a wonderful and deliciously different turkey for a small holiday celebration, or just a nice Sunday dinner.
By Kathy Bechtel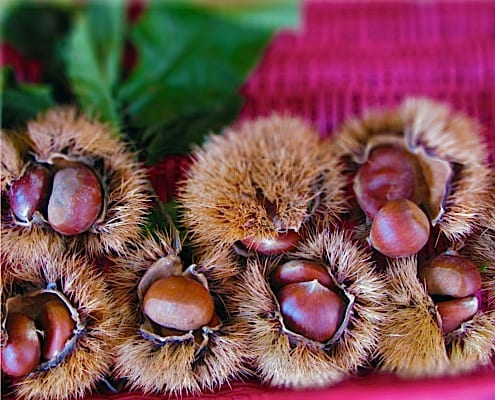 If I had to pick one example of traditional American cuisine, it would probably be a Thanksgiving dinner. Every year, millions search their recipes books, magazines, and the internet looking for a new twist on the classic roast turkey. Or maybe, to be a little different, we might smoke it or deep fry it (we're into the latter now.) So, how else to prepare a turkey? Once again, I've found inspiration in Italy. Turkey is not something one thinks of as "Italian", but turkey is one of many birds that are part of the cuisine of the Veneto we discover during our Italiaoutdoors tours.
We don't see a large roast turkey, but smaller birds – they raise many different breeds in this region, including pigeon, geese, guinea fowl, and duck –  prepared in a variety of ways. Braising is always a favorite of mine, so I developed this recipe for turkey based on a dish of pigeon and pears that I enjoyed in Ferrara, Italy. Add another traditional product found this time of year in Northeastern Italy – chestnuts – and you have a wonderful and deliciously different turkey for a small holiday celebration, or just a nice Sunday dinner.
Braised Turkey with Pears, Chestnuts and Rosemary
Ingredients
Serve 4, with leftovers
1 small turkey (6-8 pounds, or 3-4 kg)
kosher salt and freshly ground pepper
2 tablespoons vegetable oil
2 stalks celery, peeled and cut into ¼ inch dice
2 carrots, peeled and cut into ¼ inch dice
1 onion, cut into ¼ inch dice
½ cup (.12 l) white wine
4 cups (1 l.) turkey or chicken stock
1 teaspoon fresh rosemary, finely chopped
1 pear
6 ounces (170g.) dried pears, cut into ½ inch pieces
4 ounces chestnuts (115g.), coarsely chopped
Instructions
Cut the turkey into pieces. First, remove the two legs from the body. Separate the thighs from the drumstick. Then, using a boning knife and starting from the center of the breast bone, separate each breast and wing from the rib cage. Cut the wing away from the breast meat. You should now have 8 pieces: 2 thighs, 2 drumsticks, 2 wings, and 2 boneless breasts. You can do this early in the day, and then make your stock with the rib cage and back.
Season the turkey pieces with salt and pepper. Heat the oil in a large heavy pot. Sear the turkey pieces on all sides. Do this in batches if necessary, as you do not want to crowd them in the pan. They will steam, rather than sear. Remove from heat.
Reduce the heat to medium, and add the celery, carrots, and onions. Season with salt and pepper and cook until softened, about 5 minutes.
Add the wine and bring to a boil. Reduce for a minute or so. Add the turkey thighs, drumsticks and wings. Add just enough stock so that the liquid comes about ⅔ of the way up the sides of the meat. Cover first with parchment, and then with a sheet of foil. Cover with the lid. reduce the heat to low, and simmer slowly for 2 hours, turning the pieces over halfway through.
In the meantime, cut the pear in half and roast in a 350°F oven (180°C) until tender. Remove from oven. When cool enough to handle, remove the core and slice into 12 slices.
After two hours, lift the foil and parchment and add the breasts and the dried pear. Recover with the parchment, foil, and lid, and braise for another 30 minutes.
After the 30 minutes, uncover the turkey and remove all the turkey pieces from the braising liquid, setting them aside on a sheet pan. Turn up the heat under the braising liquid, add the remaining stock, and reduce until you have about ½ cup liquid (.12 l) surrounding the pear pieces. While the braising liquid is reducing, remove the meat from the wings, thighs and drumsticks. Cut each breast into two pieces. You will now have four breast pieces, and a pile of shredded dark meat. Save the bones for stock, if you wish.
Once the braising liquid has reduced, add the breast pieces and the shredded turkey meat back into the pan, and heat through. Add the chestnuts. Place one breast piece and some shredded turkey meat on each plate, and top with the braising liquid and 3 slices of roasted fresh pear. Serve with polenta, mashed potatoes, rice, pasta, even stuffing.
Kathy Bechtel
Kathy Bechtel's obsession with food and cooking began as a teenager. After years following a traditional career path as a telecommunications engineer, she left to attend culinary school and wine training, and is now combining her passions for food and wine, the outdoors, and travel as owner and Culinary Tour Director of Italiaoutdoors. In this role, Kathy leads small bicycle, skiing and walking tours that explore the authentic regional cuisines, local products and undiscovered wines of Northeastern Italy.