Your meat, beans and veggies all cook up in the same pot which means fewer dishes to wash after indulging in this hearty Italian-inspired dinner.
By Kathy Bechtel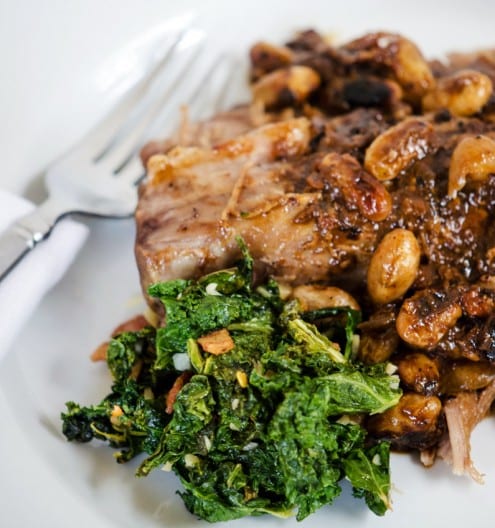 Braised Pork and Beans
Your meat, beans and veggies all cook up in the same pot which means fewer dishes to wash after indulging in this hearty Italian-inspired dinner.
Ingredients
2 tablespoons olive oil
4 pounds boneless pork butt
Kosher salt and freshly ground black pepper
2 medium carrots, cut into ¼-inch dice
2 celery ribs, cut into ¼-inch dice
1 medium onion, cut into ¼-inch dice
1 garlic clove, peeled and minced
2 cups white wine
2 cups unsalted chicken broth
1½ pounds fresh borlotti or cranberry beans, shelled
Instructions
Heat 1 tablespoon oil in a large wide heavy pot or Dutch oven over medium-high heat. Season the pork butt with salt and pepper, and sear, turning, until browned all over. Transfer pork to a plate.
Place the remainder of the olive oil in the pot. Add the carrot, celery, and onion, and cook until tender and starting to brown, about 4 minutes. Add the garlic and cook until aromatic, about 1 more minute.
Add the wine to the pot, and cook until reduced by half. Return pork to pot. Add the chicken broth and bay leaf, and bring to a gentle simmer. Cover with parchment, topped by aluminum foil, placed down close to the meat, then place the pot cover on top.
Cook slowly over very low heat until the meat is tender, and is easily shredded with a fork. Remove the pork and set aside.
Add the beans to the pot, increase to a simmer and cook until the beans are tender and the liquid is reduced, about 30 to 40 minutes.
Return the pork to the pot, cook until the pork is reheated, and serve.
Kathy Bechtel
Kathy Bechtel's obsession with food and cooking began as a teenager. After years following a traditional career path as a telecommunications engineer, she left to attend culinary school and wine training, and is now combining her passions for food and wine, the outdoors, and travel as owner and Culinary Tour Director of Italiaoutdoors. In this role, Kathy leads small bicycle, skiing and walking tours that explore the authentic regional cuisines, local products and undiscovered wines of Northeastern Italy.