Steep a leftover slice of pecan pie into this creamy bourbon milk punch cocktail for a delightful holiday drink.
By Mallory Leicht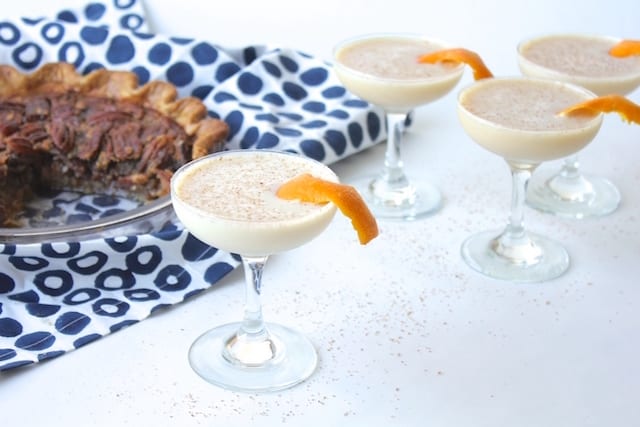 I won't ask you to hold off on eating that last slice of pecan pie, but if for some wild reason you end up with an overload of leftovers, shake up a batch or two of Bourbon Pecan Milk Punch cocktails.
Milk punch is a cocktail made with a spirit (traditionally bourbon or brandy), milk, sugar, and vanilla. This recipe calls for bourbon (I used Bulleit Bourbon), whole milk steeped in a slice of pecan pie, maple syrup, and orange blossom water. Steeping a piece of leftover pecan pie in cold milk brings in a new dimension of fall flavors, with vibrant echoes of maple syrup, caramelized pecans, and warm autumn spices in every sip. Coupled with the soft thrill of orange blossom water and the fragrance of fresh nutmeg, this cocktail is so enthralling you might just decide to bake an entire pie for the cause.
First, the pie. I fell in love with Merrill Strubb's Spiced Maple Pecan Pie recipe even before I had the chance to taste it. A quick glance at the ingredients list and instructions and I was hooked. Maple syrup completely replaces corn syrup and is infused with whole star anise. I adapted her beautiful recipe to use bourbon instead of dark rum and include additional autumn spices, clove, nutmeg, cinnamon, and vanilla.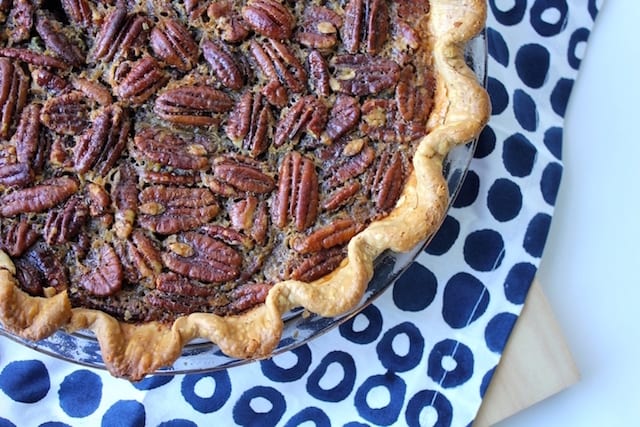 See Also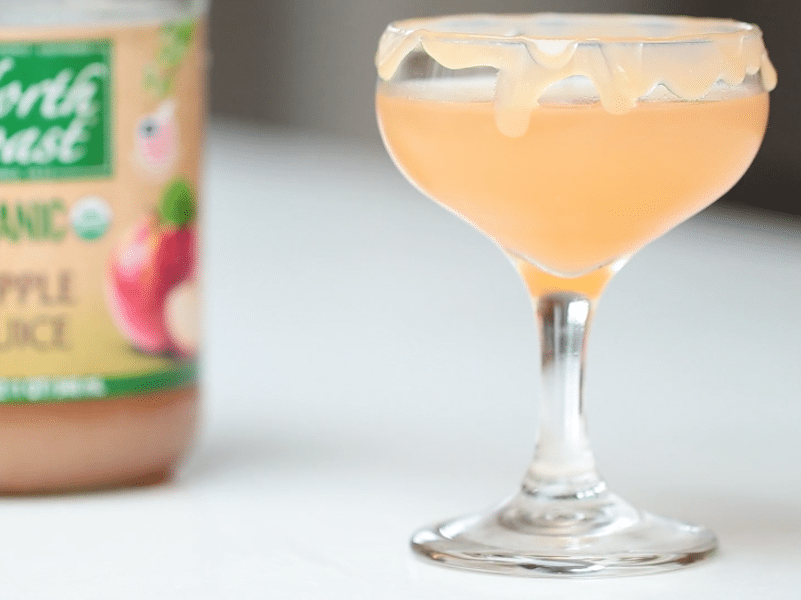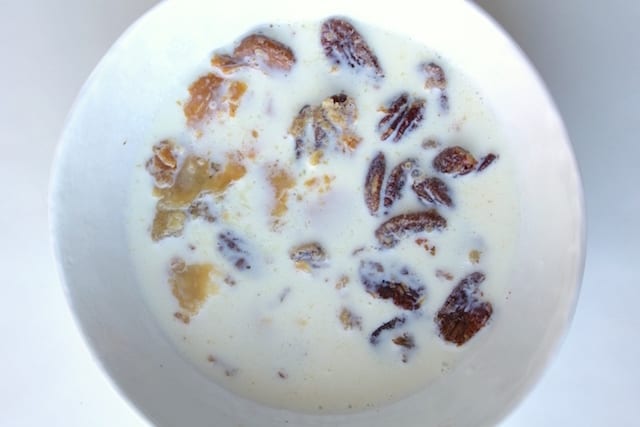 Click here for the perfect pecan pie recipe for this drink.
Bourbon Pecan Milk Punch
Steep a leftover slice of pecan pie into this creamy bourbon milk punch cocktail for a delightful holiday drink.
Ingredients
Pecan Pie
Click the link above for my favorite recipe
Milk Punch
3 ounces bourbon
2 ounces pecan pie milk*
1 ounce maple syrup
¼ teaspoon orange blossom water
orange peel and nutmeg, for garnish
*Pecan Pie Milk
1 cup cold whole milk
1 slice of pecan pie (see the link above)
Instructions
Combine bourbon, pecan pie milk, maple syrup, and orange blossom water in a cocktail shaker. Add a scoop of ice and shake vigorously for at least 30 seconds. Stain into coupe glasses. Rub the rim of the glasses with the orange peel, garnish, and top with grated nutmeg.
Pecan Pie Milk
Place the pecan pie in a bowl or cup and pour the milk over it. Break up the pie with a spoon, cover, and let sit at room temperature for 30 minutes or in the refrigerator for up to 3 hours. Pour the mixture through a fine-mesh sieve to strain out the solids. Use the pecan pie milk immediately or refrigerate for 1-2 days.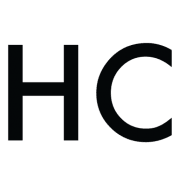 Mallory Leicht
Mallory is a food and beverage blogger and organizer of flavor-focused workshops with Chase the Flavors, a do-it-yourself resource with a Midwest perspective that celebrates savoring the special in every occasion with recipes and everyday inspiration in the kitchen, home, and beyond. Mallory is a librarian with a special interest in information access across new technologies, seed libraries, audiobooks, and non-dowdy cardigans. She loves to see the ways people use libraries to bring their dreams to life and believes that information access and education empower joyful, creative living. Beyond blogging and books, is coffee. Mallory keeps connected with the specialty coffee industry as a competitions committee member for the Specialty Coffee Association of America, helping judge deliciously inspiring coffee competitions.